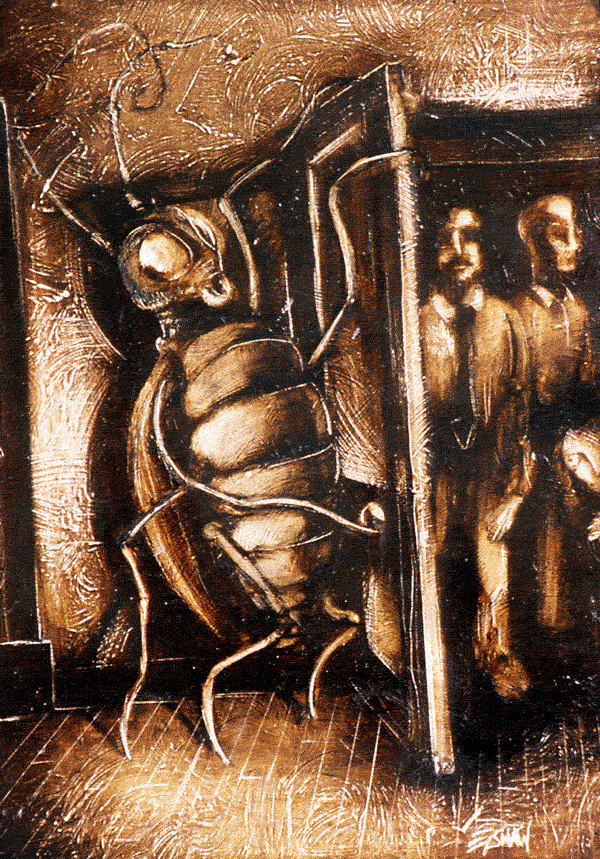 I can think of no other writer who can come up with the conceit of converting a German Willy Loman into a
ungeheures Ungeziefer
--- and make it stick. Kafka starts at the beginning, simply:
When Gregor Samsa woke up one morning from unsettling dreams, he found himself changed in his bed into a monstrous vermin.
And we go from there, a somewhat unbelievable happening dispensed with in the first sentence, letting us follow Gregor's remaining time on earth: his (and his family's) shame; the anger (how come our boy is acting up like this?); the attempt to hide the truth (Gregor covers himself with a bedsheet when he begins to venture out of his room); his coming --- briefly --- to enjoy himself (when he hangs from the ceiling); his murder (dad plugs him in the carapace with an apple); finding that there is only one person who sees the truth --- the chambermaid, who contemplates him with equanimity, saying "you're nothing but a dung-beetle;" and the metamorphosis of all the other characters in the story, including his once-loving sister:
You have to get rid of the idea that it's Gregor ... But if it were Gregor, he would have realized long ago that it isn't possible for human beings to live with such a creature, and he would have gone away of his own free will.
There is finally the moment when Gregor just gives up, "without his consent, his head sank down to the floor, and from his nostrils streamed his last weak breath." His sister was right: It's hard being a ridiculous-looking dung-beetle when your whole family wants you to stop showing off, go back to work, bring home the bacon.
§ § §
But this time around, I also had the chance to read Metamorphosis as a piece of high comedy. When Gregor figures out that he really has been transformed into a rather repulsive-looking bug, he locks himself in his room. His family --- and his office manager from his job --- are immediately at the doors, demanding that he open up: his mother at one; his father with the office manager behind him at another; and his sister at a third. It's a Marx Brothers comedy, but instead of the three of them and the crew and various visitors trying to get in the crush in the stateroom, there's a traveling salesman who has gone through a weird change of scenery, trying desperately to keep everyone in the dark to the fact that their old reliable breadwinner may not be on time today.
The effect of Kafka's direct, powerful style can extend beyond the printed page, may touch the reader in other ways. This morning, scarcely into my second reading of the story, I was navigating through the living room, filled as it was with last-night's ashes, take-out pizza boxes, beer cans, and other detritus of our merry-making.
A fair-sized roach was nuzzling at the crusts lying on the carpet. I found myself muttering to him (hoping my hungover guests wouldn't hear), "You. Gregor. For Christ's sakes. Get out." I shooed him out of sight, back into the bedroom --- hoping he wouldn't screw everything up. Like his famous brother did.