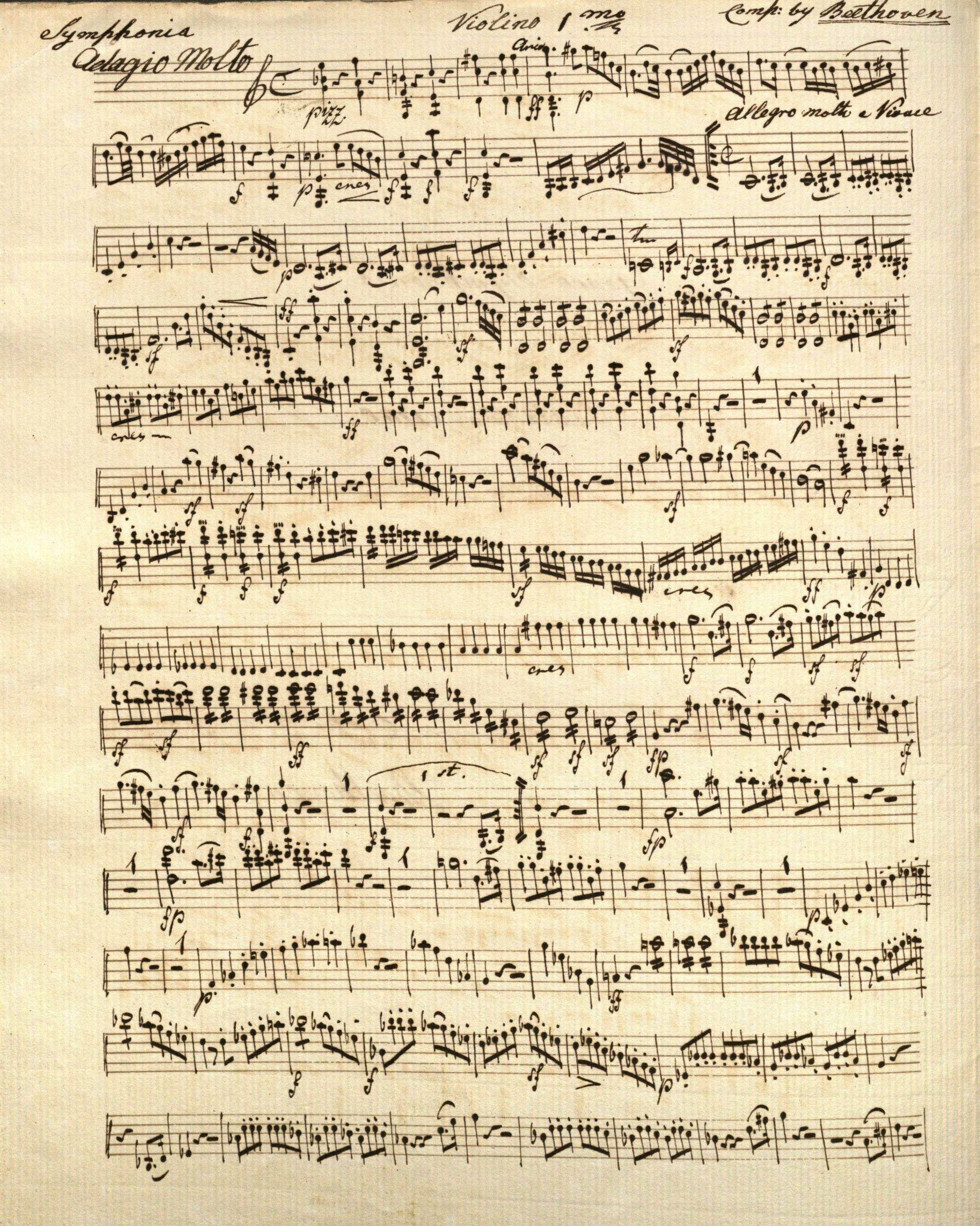 This brings up the vexed question of the proper relationship between creative artist and audience. Beethoven wrote his share of fawning letters to patrons and prospective patrons, whiny complaints to patrons and publishers, tried to sell some pieces of music twice, and did write a few panderish commissioned pieces for special occasions. But in his major works, Beethoven obsessively maintained artistic integrity, the insistence on communicating on his own terms. That was nowhere clearer than in the visionary final quartets he wrote in the last few years of his life. By then, Beethoven's code of artistic autonomy was coming into its own; it would soon become quite conventional, and would be called the Romantic movement.
But despite his claim of artistic autonomy, Beethoven was in fact supported by aristocratic patrons for most of his life. Music and history owe a debt of gratitude to these patrons, who were an unusually discerning bunch: they were able to put up with Beethoven's difficult personality, terrible manners, and his (purely theoretical) anti-aristocratic politics, in the interest of his musical genius. They themselves were not only music enthusiasts, but in many cases musicians of some ability.
Beethoven's chief patron was the Archduke Rudolf, youngest son of one Austrian emperor and brother of the next. Rudolf was a pianist, and a longtime piano pupil of Beethoven's. Amazingly, he also received instruction from Beethoven in composition! [If any compositions by Archduke Rudolf survive, it would be interesting to hear them; I'll bet they are not much, but who knows?] Count Andrei Razumofsky, a patron who was a Ukrainian nobleman and a diplomat of the Russian empire stationed in Vienna, was an accomplished violinist and also played the Ukrainian bass lute. The Count's brother-in-law, Joseph Frantisek Maximilian, the seventh Prince Lobkowicz, was also a violinist and a major supporter of Beethoven. Another important Beethoven patron was Prince Lichnowsky, who was a pianist and a composer.
Some of Beethoven's patrons were outsiders in the sense of suffering physical disability. Archduke Rudolf was epileptic; his lifelong devotion to music was perhaps related to exclusion, because of his physical condition, from imperial military and political machinations. Prince Lobkowicz, born with a hip defect, had to walk with a crutch, and was reportedly in pain much of the time all his life. The families of Lobkowicz and Lichnowsky, like that of another Beethoven patron Prince Kinsky, were Bohemian rather than Austrian. This may have made them outsiders, in subtle ways, in the social order of the imperial capitol. [An ironic side-note: the forbears of these Catholic Bohemian noble families, supporters of the Austrian Empire, had been on the conservative side in the Thirty Years War of the 17th Century, which abolished both independence and Protestantism in Bohemia; and here were their descendents, in turn-of-the-19th Century Vienna, financing that raging radical Ludwig van Beethoven.]
Whatever the reasons, these aristocratic patrons lavished plenty of money on their beneficiary over the years, and worshipped him to a remarkable degree. According to one story, even after Beethoven had broken with Prince Lichnowsky in one of his temper tantrums, the Prince would sneak up to Beethoven's flat in Vienna to stand outside the door just to listen to the great composer improvise on the piano. (Since Beethoven was deaf as a post by then, his improvisations may have been on the unusual side, which speaks all the more in Prince Lichnowsky's favor.)
The prince and other patrons seemed to understand and moreover to accept the insult which Beethoven, in his temper tantrum, had famously hurled at Prince Lichnowsky earlier: "There are thousands of princes," Beethoven is supposed to have shouted, "but there is only one Beethoven."