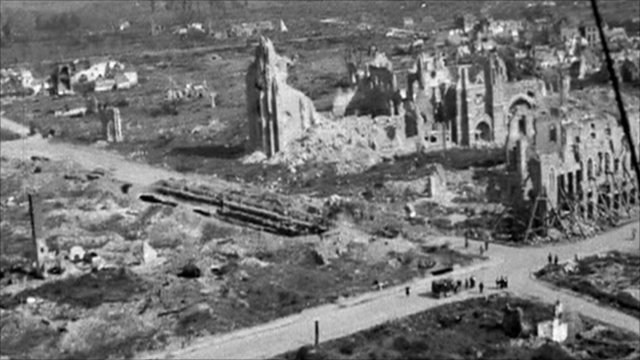 1914
is a short, emphatic, powerful, straitened narrative ... a new war as seen through the eyes of five boys from the countryside. Their learning (and dying) curve is quick and spectacular. As the first few weeks stretch into December, the men begin to seek "the good wound:" anything that will permit them to take their leave of ticks, lice, mud, rat-filled trenches; the sour odor of gas, of unwashed bodies, the new-found scent of the dead.
One of the men is "buried anonymously in mud without anyone caring or noticing." Another gets gassed, goes blind. A third --- because of family connections --- joins the flyers, and soon enough dies in a blaze when the pilot is shot dead. Then, in the beginnings of the new Spring, Arcenel is sure he has found the solution. He wanders off back behind the French lines, gets further and further from the valley of death, "moved solely by the idea of ambling around a little while, abstracting for himself a moment from the horrific shit hole, not even hoping --- because not even thinking of it --- that his stroll would pass unnoticed."
But he was wrong. Three men on horseback catch up with him. "Arcenel should have remembered about them, the gendarmes, so hated were they in all the camps, almost as much if not more than the fellows across the way." Deserters were not given the benefit of trial, are dispatched quickly. A firing squad, some from his own company, look away from him before he is blindfolded, before he is shot
Only Padioleau and Anthieme fare better. Padioleau returns home to learn to get around as best he can with a cane. But it was Anthime who, of all, may have suffered the most: he is found by a "tardy piece of shrapnel,"
from who knows where and one wonders how, as clipped as a postscript: an iron fragment shaped like a polished Neolithic ax, as a large shard of glass. Without even a glance at the others, as if it were settling a personal score, it sped directly toward Anthime as he was getting to his feet and, willy-nilly, lopped off his right arm clean as a whistle, just below the shoulder.
"Five hours later, everybody at the field hospital congratulated Anthime, showing him how they envied him this 'good wound,' one of the best there was: serious, of course; crippling, but not more than many others, really, and coveted by all as one of those that ship you away forever from the front."
They do not speak of the years of phantom pain and shock that will haunt him for the rest of his days.
§ § §
Many of us have long been fascinated by WWI. It burst on the world so suddenly, so illogically ... and then stayed around, it seemed, forever. Few authors have captured the first weeks as poignantly as Echenoz. We watch five fresh lads from the lush fields of the Loire caught up in a new mechanical noisy death-machine that consumes all in its path. We watch these young innocents learning the secret of sleepless days and nights, learning to survive in clay turned viscous (capable of drowning one), trapped from moving forward (by the enemy) or moving backwards (by the gendarme). You learn quickly that you are in jail where the only escape is losing part of your body or part of your mind (and often even that is not acknowledged). You lose your hope too, but there is nothing that can be done for that --- at least in WWI.
Several historians (Niall Ferguson, John Mueller) have commented on the fact that as we move into the latter part of the 20th Century and the early part of the 21st, fewer and fewer are being slaughtered in the name of god, or bravery, or love-of-country. Perhaps after so many centuries of narcissistic mayhem, perhaps we humans are finally catching on. That bombs, flame-throwers, pistols, machine-guns, cannon, and hydrogen bombs may not be the most sensible way to convince others that we have right on our side.