From: david rudloff
To: carlosamantea@yahoo.com
RE: Dictionary Sam Johnson's fingers and the penknife
Psoriasis sometimes only involves extensor surfaces on fingers, especially the thumb adjacent to the forefinger which aggravates it with shear stress. It may pit nails.
It is characterized by skin thickening, flaking, and peeling often with itchy pockets relieved by paring or peeling the outer dead skin.
Usually now, victims use sandpaper which offers smoother skin. I recommend 100-120 grit to start. It starts in adolescence, sometimes with spitting an peeling of thinner volar pulp skin opposite to nails as well.
For the skillful, a # 15 scalpel blade from ebay works better on thickened skin of adults than peeling with a knife or straight edge razor blade related to contour and sharpness.
The same behavior is sometimes seen in eczema, most often on the legs and sometimes complicating varicosities. Usually the instrument of choice there is a razor blade. It often makes it worse although it provides temporary relief.
Most patients suspect critters in the skin, and think they can scrape them off. Topical steroids are better.
Both victims are usually not nuts until symptoms start and eight or ten medics miss the diagnosis or don't know the tricks.
Or maybe Sam really was nuts.
Now, ask me why I think Old Stoney Gen'rl Jackson rode with his arm up in the air.
--- Cheers,
David A. C. Rudloff, MD, RET.
Indialantic Fl
Go to the
review
that inspired this letter
---
To: carlosamantea@yahoo.com
From: Helen Louise Miles
@sg.marshallcavendish.com
RE: Photograph used to illustrate Missing Believed Killed review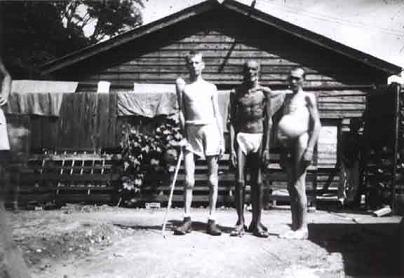 Dear Carlos Amantea:
I'm writing with an enquiry about the photograph used to illustrate the review of Missing Believed Killed, The Remarkable Story of a Japanese POW Camp Survivor by John Baxter (Arum Books) on your website.
Is this photograph of prisoners in Brunei or another part of Borneo?
Or is it somewhere else occupied by Japan?
It would be great to hear more details.
--- Many thanks
Helen Louise Miles
Senior Project Editor
Marshall Cavendish International (Singapore)
---
Dear Helen Louise Miles:
Thanks for your email.
We are as baffled as you are. The picture was taken directly from the book, so you might want to see if you can contact John Baxter through Arum books and see if he knows the source.
--- C. A.
Go to the
review
that inspired this letter