Go to the full
review
---
The Vivisection Mambo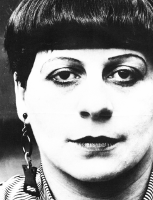 When she takes the sword, kisses the blade just so
And places it gently in my gut and slides it up:
I think on the lace she wears to the dance,
And before her, breasts like great engines
Pushing love around the ball, into all of us.
She does bite the blade, doesn't she? By my
White god I miss her, and her thighs lurking there
At the edge of my taste, the knowledge that she
In her ripe estates of lavender could so easily
Abandon those of us who love her god knows
Forever, a great streaming out forever.
She pushes love around the floor, ruffling the panes.
What in god's sweet name can she possibly mean?
Go to the
poem
---
The Benefits of Chronic Pain
An Interview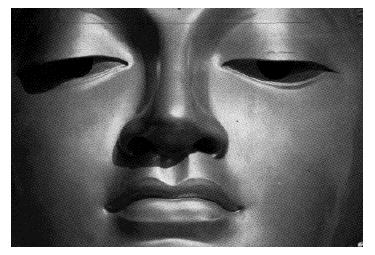 Q: As a Buddhist priest, which do you find to be the more salutary, misery or agony?
A: Agony, of course, is more dramatic. Not only can you describe horrendous circumstances to your friends without fear of interruption, but you can also write it down in books, and people will thank you for suffering so that they can have the experience vicariously. Misery is another story. People avoid us miserable ones, possibly tired of the complaining, the twisted features, the special diets. As a Zen priest, the basic thing that has been helpful to me is other people's misery. It makes them willing to come keep me company.
Q: How come you never hear about anyone getting enlightened while receiving a nice relaxing massage?
A: Actually masseurs and masseuses tell us this all the time, and it's absolutely true. You do get enlightened from having a relaxing massage. But just as Dogen wrote in "Only Buddha and Buddha," (though he was not exactly addressing the post-massage experience), we don't realize that the very next moment (when you put your clothes back on) is enlightenment too.
Go to the full
interview
---
The Wrong Stuff
Phil Scott
(Hylas Publishing)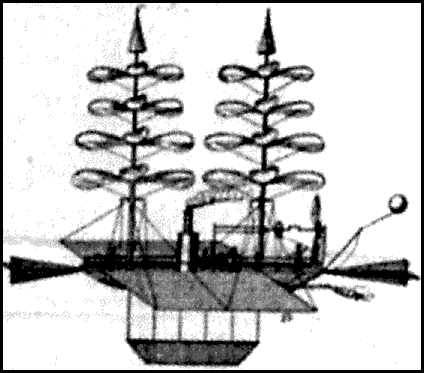 Flying follies don't only belong to the long ago. Northrop produced the XP-79, which resembles a flying wing with yaws. It had "two Westinghouse 19B turbojets of 1150 lbs. thrust each." Harry Crosby got to test it over Muroc Dry Lake on September 12, 1945. After fifteen minutes, Crosby and XP-79 went into a tailspin. Neither survived.
There are over a hundred turkeys shown here, including Da Vinci's "Great Bird" (which does look like a turkey) and Howard Hughes famous "Spruce Goose" (which does not look like a goose). The Wright Brothers' 1904 "Flyer" puts in a brief appearance. Scott reveals that it was shown to twelve reporters "who got to watch the machine run down the rail and plop off the end without raising a single inch." It was the 1905 machine, looking just as crazy as all the rest, that finally got off the ground.)
This is fun, and the layout of the book is a dream: huge photographs, all the facts you need. There are some ominous turkeys towards the end, including, gasp, the Convair X-6 which would cruise, said the Aircraft Nuclear Propulsion people, by means of a contained nuclear reactor.
Unfortunately, it was to generate 1800 degrees of heat which would bake the crew to toast and get the nearby maintenance people all aglow. In the case of a crash, would irradiate every plant, tree, dog, cow, bush, and human within miles. For some quirky reason, the geese --- or, better, the chickens in the U. S. Air Force planning department canceled the X-6 in 1953, before it could fly and fry us all.
Go to the full
review
---
It's 'Nudnick,'
Not 'Noodnick'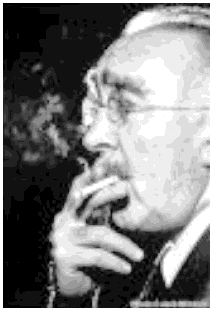 Q:
How would you describe the form you work in? You've called it "the sportive essay" in a previous interview.
A: I classify myself as a writer of what the French call feuilletons --- that is, a writer of little leaves. They're comic essays of a particular type.
Q: Are there any devices you use to get yourself going on them?
A: No, I don't think so. Just anguish. Just sitting and staring at the typewriter and avoiding the issue as long as possible. Raymond Chandler and I discussed this once, and he admitted to the most bitter reluctance to commit anything to paper. He evolved the following scheme: he had a tape recorder into which he spoke the utmost nonsense --- a stream of consciousness which was then transcribed by a secretary and which he then used as a basis for his first rough draft. Very laborious. He strongly advised me to do the same ... in fact became so excited that he kept plying me with information for months about the machine that helped him.
Q: Hervey Allen, the author of Anthony Adverse, apparently had the voices of his ancestors to help him. All he had to do was lie on a bed, close his eyes, and they went to work for him.
A:
I fully believe it, judging from my memory of his work.
Q: How many drafts of a story do you do?
A: Thirty-seven. I once tried doing thirty-three, but something was lacking, a certain --- how shall I say? --- je ne sais quoi. On another occasion, I tried forty-two versions, but the final effect was too lapidary --- you know what I mean, Jack? What the hell are you trying to extort --- my trade secrets?
Q: ...merely to get some clue to the way you work.
A: With the grocer sitting on my shoulder. The only thing that matters is the end product, which must have brio --- or, as you Italians put it, vivacity.
Go to the full
interview
---
Our Secret Eats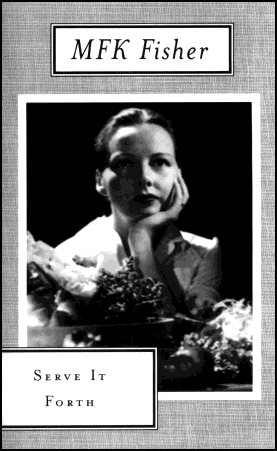 Almost every person has something secret he likes to eat. He is downright furtive about it usually, or mentions it only in a kind of conscious self-amusement, as one who admits too quickly, "It is rather strange, yes --- and I'll laugh with you."
Do you remember how Claudine used to crouch by the fire, turning a hatpin just fast enough to keep the toasting nubbin of chocolate from dripping off? Sometimes she did it on a hairpin over a candle. But candles have a fat taste that would taint the burnt chocolate, so clean and blunt and hot. It would be like drinking a Martini from silver.
Hard bitter chocolate is best, in a lump not bigger than a big raisin. It matters very little about the shape, for if you're nimble enough you'll keep it rolling hot on the pin, as shapely as an opium bead.
When it is round and bubbling and giving out a dark blue smell, it is done. Then, without some blowing all about, you'll burn your tongue. But it is delicious.
However, it is not my secret delight. Mine seems to me less decadent than Claudine's, somehow. Perhaps I am mistaken. I remember that Al looked at me very strangely when he first saw the little sections lying on the radiator.