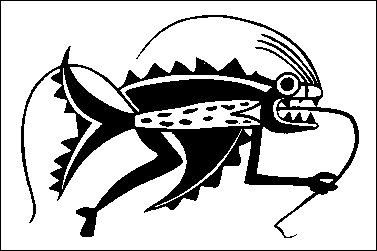 This is ostensibly an anthology of the best poetry that appeared in the peculiar quarterly called
The Fessenden Review
during its five year existence. If one pays attention to the sequence of the poems, and the names of the poets themselves, and the so-called "Introduction" (and even the "Index of First Lines"), one gets the distinct feeling that one is being diddled with. Indeed, this may be the first time, in late 20th Century English literature, that a book billed as an anthology of poetry turns out to be a Nabokovian chess game, with a puzzle of names right out of Joyce, and mystery worthy of Raymond Chandler.
The "Introduction" says that the magazine depended on its readers for reviews, but
We also created a stable of fake names so that people would think we had a vast staff awaiting our assignments: Ignacio Schwartz, Jeremy Colon, Wanda Felix, Carlos Amantea, T. F. Bierly, A. W. Allworthy...and my personal favorite, P. P. McFeelie.
Confoundedly, this anthology includes poems ostensibly produced by these very same "fake" writers. Furthermore, in one of the footnotes, the publisher states that The Fessenden Review featured on the cover of its penultimate issue names of such authors as

Günter Grass,
Nadine Gordimer,
Nancy Mitford,
Umberto Eco,
Lawrence Durrell


(even though neither reviews of works of these authors nor their writings appeared in the magazine.)
He then says that the list also contained
...names that sounded literary but that were strictly whole-cloth: Isabel Luis Corazon, Anwak Fayoumi, P. J. Weise, Jorge Amado, Lolita Lark, Laura Huxley. Names to test people. Just to make sure they were paying attention.
The puzzle here is that Laura Huxley is in no way "whole-cloth" (she is a respected writer and critic.) But even more peculiar, at least to this reviewer, is the fact that the very editor of
A Cricket
is the same (supposedly mythical) Lolita Lark. Unless, of course, there are many more Lolita Larks floating around out there in literary la-la land.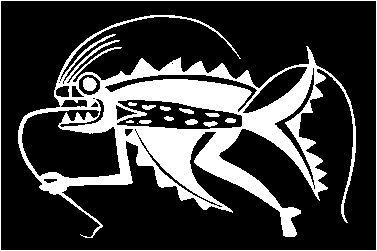 Finally, in the "Index to First Lines," we find not only poems carried in the collection, but Nel mezzo del cammin di nostra vita (which is the opening line of Dante's Divine Comedy,) and Arma virumque cano, Troiae qui primus ab orbis which is, I believe, the beginning of the Aeneid.
In all, A Cricket is a very peculiar collection of fancy, but --- despite all this tomfoolery --- the poetry some of the best to come out of America in the 80s and 90s. If there weren't so much dicking-around here, perhaps the volume would receive the credit it deserves.
To some, Tulku's Buddhism may not sound all that different from fundamentalist Christianity. The latter says that we are born sinners and we will die sinners because of the evil committed by our forefathers --- we are creatures of suffering because of evil propagated by those who came before us.
In Tulku's Buddhism, suffering comes from much the same cause --- sins; but they are sins committed not by humankind in general, nor our forefathers --- but by our own selves in previous lifetimes.
In addition, Tulku's "lower realms" don't sound all that much different from the hell of the Pentecostals.
The very worst human experience is still a thousand times more bearable than that of the least-suffering beings in the lower realms. Their suffering is so extreme that we can scarcely imagine it; the length of time it lasts is unfathomable. For some beings, even death provides no escape until hundreds of thousands of years, sometimes eons, have passed.
Dying is equally scary.
Upon death in our last incarnation, when our mind was plunged into the bardo, the frightening and chaotic intermediate state between death and rebirth, we were blown about helplessly, like a feather in the wind, without any stable frame of reference or support, experiencing terrifying sights and sounds. We finally found safety in our mother's womb...
Then, there is the master's sense of morality. On a question about the use of drugs, he even outdoes the DEA:
With drug use you will establish a karmic pattern in which you have little or no control over your mind. In your next rebirth, you may be mentally retarded or very unstable; you may even be born as an animal.
I called my friend Sybil. She and her husband Herb are regular pot-heads. I explained to her what was in store. She thought for a moment and said she'd be willing to come back as a ocelot. Herb, on the other hand, said he didn't care; he'd be willing to return as a spider --- as long as he could be near Sybil.
Go to the full
review
---
The Muckrakers
Arthur and Lila Weinberg,
Editors
(University of Illinois)
Baker also published a highly readable article on the railroads, how they cornered public opinion and managed to destroy editors who wrote deleterious articles about them. And Charles Edward Russell writes a moving story --- albeit with a bit of overheated prose about "chalk-faced children" playing under "weary trees" with "uncertain grass" --- on Trinity Church in New York. The church owned hundreds of tenement houses around the city, and fought vigorously any effort to clean them up. There is also a Russell piece on the Georgia prison system. The state rented out the labor of most of its prisoners to contracting companies who ran operations that don't sound all that distant from Dachau.
William Hard writes on the making of steel, and the agony of the workers who are ill-protected from faulty equipment. As with so many of these muckraking stories, it is the detail that provides what the reader needs to understand exactly why he or she should be enraged. Here he is addressing himself to the question of why a hook on a "slag pot" operated by the Illinois Steel Company slipped off:
It was attached merely to the rim of the pot, and not to the lugs. That pot had no lugs. It ought to have had them. Lugs are pieces of metal that project from the rim of the pot, like ears. They are put there for the express purpose of providing a proper and secure hold for the hooks. But they had been broken off in some previous accident and they had not been replaced.
Note the simple, teacherly repetitive language. Hard is not only a reformer, but an instructor here --- instructing the reader on how equipment in steel mills is supposed to work, and how, through company negligence, it does not.
Go to the full
review
---
Dream Whip
No. 14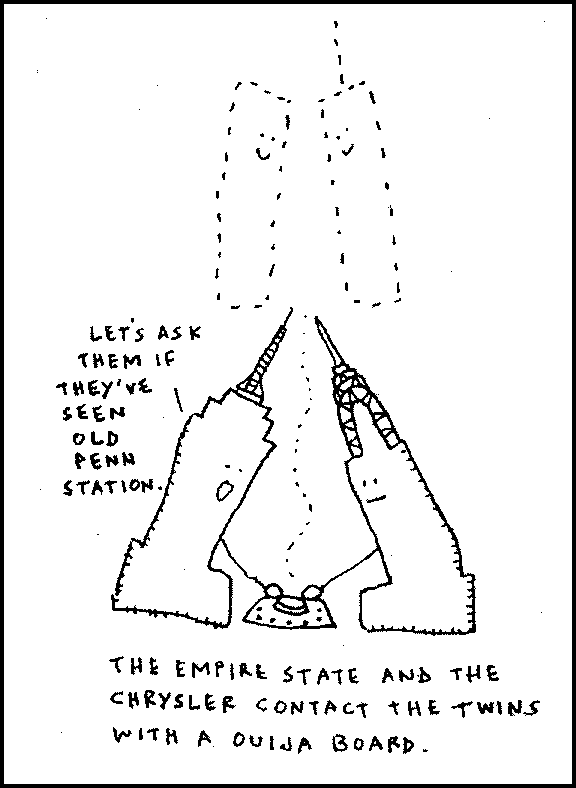 The Lakeshore Limited pulls into Penn Station in New York. Penn Station used to be one of the world's great train stations, designed by Charles McKim in the early 1900's and partly modeled after a Roman bath. But way better, because those old Roman baths were just full of naked Romans, while Penn Station was full of trains: sleek stainless steel trains highballing in from the hinterlands. Back in 1967, they knocked down the old station and replaced it with the current one: a big hole in the ground where commuter trains skitter around like fat dumpster rats.

I spend the night on my friend's couch in Bushwick. When I wake up in the morning, it's windy. A cold wind from Canada that blows away all that talk of an early spring. Puffy clouds, tattered and torn to shreds, scud over the city. Like the remnants of some cloud massacre that took place in the sky west of here, above Indiana or Ohio. And here's what's left: corpse clouds, dismembered and drifting downwind over New York. "Corpse clouds?" My friend in Bushwick says when I tell her what I'm thinking, "that's kind of fucked up."

When my friend goes to work, I take the subway to the village and get a slice of pizza at the kosher pizza place on Second Ave. It's a good slice: veggie sausage, olives, and some crumbled-up tofu. It's good, but it's not as good as I remember. Nothing's ever as good as that. This thought cheers me up. It means there's nothing to go back to, and there's nothing to keep you around. It means the next really good slice of vegan pizza is somewhere else, waiting for you, and the only thing to do is hit the road and go looking for it.

Go to the full

reading

---

Danse Russe
W. C. Williams

If I when my wife is sleeping

and the baby and Kathleen

are sleeping

and the sun is a flame-white disc

in silken mists above shining trees, ---

if I in my north room

dance naked, grotesquely

before my mirror

waving my shirt round my head

and singing softly to myself:

"I am lonely, lonely.

I was born to be lonely,

I am best so!"

If I admire my arms, my face,

my shoulders, flanks, buttocks

against the yellow drawn shades, ---

Who shall say I am not
the happy genius of my household?

Go to the

poem

---

The Tattered Cloak
And Other Stories
Nina Berberova
(New Directions Classic)

Every city has its own smell. Paris smells of gas, tar, and face powder; Berlin, when I was younger, smelled of gas, cigar, and dog; New York smells of gas, dust, and soup, especially on hot days and hot nights, which can only be broken by a sudden thunderstorm or a hurricane from Labrador or the Caribbean.

So much of Berberova lies in that vague word, pacing. We live with Evgeny during the heart-stopping sequence of digging up enough funds to emigrate to America; we are with her when she finds Ludmila in love with her; then, during all this, she turns, paints a picture of herself that is at odds with what we have experienced of her. A contrary self-portrait that, despite all that, rings true. For, she is like all of us, what we are and what we say we are must be in conflict:

"Ludmila Lvovna," I said. "Be quiet. I have no idea how you've managed to deceive yourself to such an extent. I lack what everyone else has --- the ability to die inside and come back to life. I don't like life or people, and I'm afraid of them, like most people are, probably even more than most people. I'm not free, I haven't really enjoyed anything for a long time, and I'm not honest because I didn't tell you anything about myself for so long, and now, when I do, it's so difficult."

With this singular speech ("the ability to die inside and come back to life!") she takes her leave of Ludmila, entrains for Chicago, ostensibly to find Druzhin. She has told all the others that ultimately she will go to Chicago to find Druzhin. And when she finally gets there, it turns out... o no: Druzhin doesn't exist. Never did.

It is this exquisite marriage of detail, imagination, paradox and perfidy that drives Berberova's stories --- drives them with a singularity that makes it hard to stop reading (often because we want to save some for tomorrow).

Go to the full

review

Democracy's Prisoner
Eugene V. Debs, The Great War,
and the Right to Dissent
Ernest Freeberg
(Harvard)

Well, Debs was certainly a prickly pear. After they arrested him, tried him, and finally stuck him in federal prison at Moundsville, West Virginia in 1919 --- he had more than a few chances to be pardoned. He refused them, saying that he would only consent to be set free of all other "political prisoners" were pardoned as well. Besides, he said, the speech that he gave at Dayton (the one that got him busted) was not inflammatory, and only broke a law that was unjust, unprecedented, and in violation of the Free-Speech clause of the Constitution. The feds didn't believe him. But the voters gave him almost a million votes while he was behind bars. The slogan was "From the jailhouse to the White House."

We learn from Democracy's Prisoner that Debs was conscientious, usually consistent, and a valiant old geezer. And he was a certified geezer: by the time they salted him away, he was sixty-seven, not in the best of health, beset with "nerves" and heart problems. If nothing else, we are left with no small respect for one that the various newspapers of the day (including the august New York Times and the Washington Post) labeled terrorist.

Go to the full

review

---

Reality Poems

(Teachers & Writers)

What is Reality?

Life formed on Earth

Does it exist with the energy of space?

Yes, no, maybe so

No one will ever know

Why are flowers used as a person's name?
Is it because they're beautiful and
have attraction
Do you think it's because they feel like it?

What is up in space?
Gases and features only?
They work in a special way
The sun as a light bulb, the stars as
fireflies, and the sky as blueberry juice

Does it exist at all?

--- Rose Garcia
Sixth Grade

Go to all the

poems

---

A Woman's Work
With Gurdjieff, Ramana Maharshi,
Krishnamurti, Anandamaya Ma & Pak Subuh:
The Spiritual Life Journey of Ethel Merston
Mary Ellen Korman
(Arete)

Ethel Merston was one of those insufferable not to say indefatigable English women who set out early on to have a Meaningful Spiritual Experience and ended up meeting with the five gurus listed in what must be one of the longest book titles in all of spiritualdom.

Merston, born in 1883, lived damn near forever, and visited, studied with, and --- we might say --- collected all these famous masters as well as a host of other celebrities, including Gertrude Stein, Ruth Benedict, Hemingway, Brancusi, Lipschitz, Joyce, Ghandi, and both of the Cayces. She doesn't mention becoming a familiar of Jesus, but we assume that may lie further on in the book. We wouldn't know for sure, because we got lost there somewhere between Bhagavan Maharishi and Krishnamurti, just south of the Arunachalesvara Temple in Tiruvannamalai.

One thing that Merston was good at doing was exasperating the bejesus out of the various mystics she scared up. Only Gurdjieff seemed to know how to handle her, she being the product of the agonized, stuffy English upper class. She and Gurdjieff were at his Institute for the Harmonious Development of Man, in France, and he told her that she was in charge of the cows. Huh? She didn't know squat about cows, but there she was, at five in the morning, milking two large bossies and giving them feed.

Go to the full

review

---

The Soul of a Dog
Named Found

He touched his master's hand with his cold, damp nose, someone really should have taught this primitive animal to proffer one of his front paws as all dogs trained in the social graces end up doing perfectly naturally, moreover, there is no other way of preventing the master's beloved hand from abruptly fleeing that contact, proof, if it were needed, that not all has been resolved in the relationship between human persons and canine persons, perhaps because that dampness and coldness awakens old fears in the most ancient part of our brain, the slow, viscous caress of some giant slug, the chill, undulating touch of a serpent, the glacial breath of a cave inhabited by beings from another world. So much so that Cipriano Algor really does withdraw his hand, although the fact that he immediately strokes Found's head, clearly by way of an apology, must be interpreted as a sign that one day he might react differently, always supposing, of course! that their shared life together lasts long enough for what currently manifests itself as instinctive repugnance to become mere habit. The dog Found cannot understand these subtleties, the use he makes of his nose is natural, it comes to him from nature, and is therefore more healthily authentic than the way humans shake each other's hands, however cordial that may seem to our eyes and touch. What the dog Found wants to know is where his master will go when he finally emerges from the state of distracted immobility in which he sees him now. In order to communicate to him that he is awaiting a decision, he again touches him with his nose, and when Cipriano Algor immediately headed off toward the kiln, Found's animal mind, which, regardless of what others may say, is the most logical of all the minds to be found in the world, led him to conclude that in the lives of humans once is never enough.