Don't feel bad if you don't know what a doodle is. In 1970, Norman R. Uris compiled a book of them by celebrities. When asked for a sample, Israeli Prime Minister David Ben-Gurion replied, "I don't know what is a 'doodle.' I did not find this word in the Oxford Concise Dictionary."
There are fifty or so that appear here. Some of the ugliest are by Benjamin Harrison (ghastly 'jack-o-lanterns') and Lyndon Johnson (hideous multi-faced women). Herbert Hoover's are strange if not overwhelming spider-webs). The saddest is by John Kennedy (an elegant sailboat done the night before his murder).
The most surprising in the book is by, of all people, Ulysses S. Grant: a draft horse complete with feedbag (it may not be a doodle though: it was a watercolor completed when he was at West Point).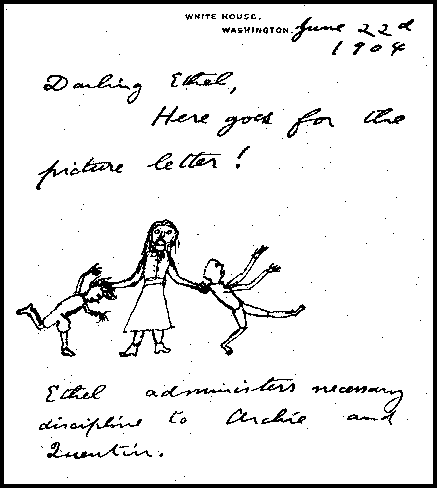 The funniest are from Theodore Roosevelt, sketches for his children, including one, a picture of two dogs with campfire, with the note, "We have a great many hounds in camp; at night they gaze solemnly into the fire." The most vulgar are ones Reagan sent to Nancy, including one written on a paper stamped "IF THIS GETS INTO THE HANDS OF THE RUSSIANS, IT'S CURTAINS FOR THE FREE WORLD." The note scrawled under this says,
I love you mucher & mucherthanthat. You are my cuddely [sic], wuddly [sic] little pink-Honey Pot.
It's signed "XXXXX Guess Who?" All this doodled, presumably, during a cabinet discussion of Russian/American nuclear capabilities or some other nonconsequential matter.