John Cage's
The Ruse of Medusa
performance was still, in spite of its departure from the Bauhaus model, the production of a scripted play. It was on his visit [to Black Mountain College] in 1952 that he radically disrupted previous incarnations of performance and inaugurated a dispersal of attention and a radical fragmentation of narrative. By the time Cage returned, he was utilizing pseudo-chance compositional methods derived from parameters provided by the
I-Ching.
But it was faculty member M.C. Richards' translation of Antonin Artaud's
The Theatre and Its Double,
with its call for a medium of theatrical performance beyond the scriptures of literature, that provided most fertile ground for the 1952 'Event.'
Cage and pianist David Tudor formulated an idea for a performance with multiple participants who would perform during various overlapping time segments totaling forty-five minutes. According to Cage, he proposed that Charles Olson and M.C. Richards read their poetry, student Robert Rauschenberg display his paintings and play records, and Merce Cunningham dance. Tudor was to perform on the piano, and Cage would read from a previously prepared lecture on Zen Buddhism. To Cage, the event represented the fairly specious possibility of events taking place without being causally related to one another, although he had in fact established strict time brackets and organized the event with particular temporal and location parameters.
---
Lusitania
An Epic Tragedy
Diana Preston
(Walker)
She was a gorgon of a ship, 785 feet long, with a beam of 85 feet, four boiler rooms, four propellers, designed for 2200 passengers and a crew of 850. The
Lusitania
could go twenty-five knots, and after it was launched in 1906, it was the fastest passenger vessel afloat, being able to cross the Atlantic in just under five days. She burned 1,000 tons of coal a day, and had four smokestacks, one of which was fake: the more funnels, it was thought, the faster the ship.
She was built by the Cunard Company, who had been transporting people across the Atlantic since 1840. She was underwritten by the English government, a product of the need to compete with France, Germany and the United States for domination of the seas. She was named by a Professor G. G. Ramsay who recalled the "evocative names of such ships as the Umbria, Etruria, Campania, and Lucania." Cunard named the Lusitania after Roman Portugal.
The disaster occurred in 1915, as a result of being hit directly mid-ship by a torpedo fired by a German U-Boat (officially the U-20). The Lusitania sank in eighteen minutes. Of the 1,959 passengers and crew, 1,198 died of injury, drowning or exposure, including 49 children. As the author notes dryly,
Compared with daily casualty figures at the Front, the Lusitania fatalities were tiny. But world reaction to what had occurred off the Irish coast Friday 7 May 1915 was enormous.
---
In the Shadow of Fame
A Memoir by the Daughter
of Erik H. Erikson
Sue Erikson Bloland
Viking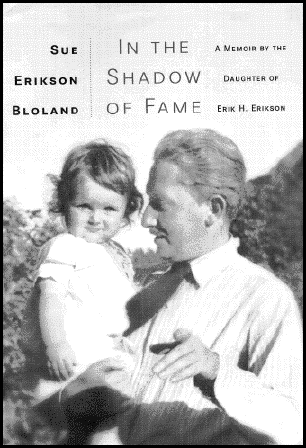 Bloland doesn't seem too impressed by her impressive father. Indeed, she dwells inordinately on the distance, the outbursts of temper, his apparent favoritism towards her older brothers. The god of the newest 1950s theories of family dynamics was, she is telling us, a lousy family man.
Big deal. As my friend Tom Connors used to say, another person with a monkey on her back. Her gloomy style, and her passion for repeating herself does nothing to set the reader on fire. How many times do we have to hear of Erikson's fixation on the fact that his missing father might have been of the Danish nobility?
It all turns into a bummer, especially for those of us who don't give a toot about the eccentricities of artists. Do you and I care that Norman Mailer beat up on his lovers, Gauguin died of syphilis, Hart Crane liked taking on sailors (and getting beat up by them), that Edna St. Vincent Millay was named after a hospital? The only perfect saint died 2500 years ago, and civilization isn't in any hurry to reproduce another.
---
Frogs' Legs and
BB Guns
Childhood
In America,
1945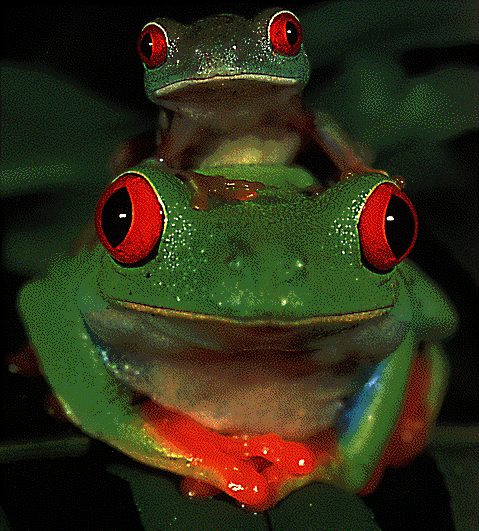 Alfred's father had given him a BB gun, perhaps to annoy Adelaide, and we went looking for things to shoot, crows mostly, though we did manage to score several large frogs around the spring. I had heard that the French ate frogs' legs, and somehow we prevailed on Adelaide to cook them up for us. They were all right but unexciting; the French version owes much to garlic, unknown in those days to white-bread Americans. Then there was something about moles, or possibly mice, that memory has mercifully smudged. This was my project, and I was going to make something, a little purse for coins, with satiny soft furs sewn together. Did I trap and kill moles? Or use mice from the kitchen mousetraps? I must have skinned them myself, and then tried to cure the skins, and I suppose they stank and I was persuaded to bury them. Forgotten, and just as well.
One year we collected the roots of young sassafras trees and talked Adelaide into making root beer. It smelled lovely, and was put up in mason jars on a shelf in the kitchen, and exploded. The jars blew up one by one at long intervals, usually in the quiet of the evening when we sat at the table reading, and we all jumped, and Adelaide would go for the mop. One year we concentrated on archery, with bows and arrows we whittled by hand, and practiced. We stood sideways to the target and squinted our eyes like professionals, and even I got fairly good, considering how crooked our arrows were.
---
In the
South Bronx
Of America
Mel Rosenthal
(Curbstone Press)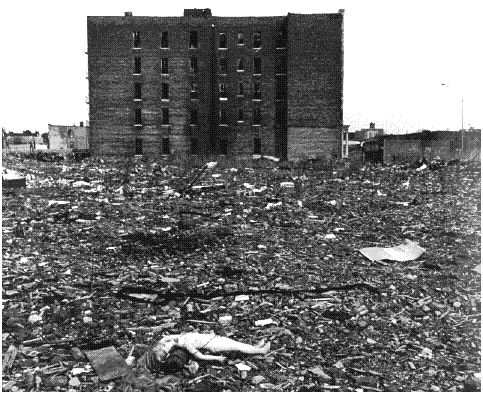 Mel Rosenthal grew up in what was once called the East Bronx. His memories of it are of a lively and vital community. He left to study, and do international charity work, but he always returned to take photographs of the area he had lived in. Later, he participated in the South Bronx Portrait Project.
It had originally begun with photographs of Vietnamese refugees and then graduated with pictures of the destruction of what had once been a stable community of apartments, homes, churches, schools, factories and stores. He began to show the citizens living in the midst of this wreckage, and became known in the area as "the picture man." He dedicated himself to showing people surviving in what he now thinks of as another Third World country (in fact, some of the denizens had asked that Russia post a diplomat there, so they could ask for foreign aid).
In the South Bronx of America consists of over a hundred black-and-white photographs of people working to survive in the rubble of what is essentially a dust-bin, with commentary by the author and pertinent quotes from others who lived there, still live there, or are familiar with the area.
---
Karl Marx
Francis Wheen
(Norton)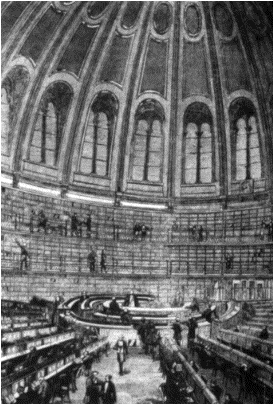 We always heard that Marx was a humorless drudge, the equivalent of a computer geek, slaving away in the British Museum Reading Room. Nonsense. He was a merry one, or at least as merry as one could be --- having been born in dreary Trier, Germany.
He was a dynamite speaker, especially when there was a brouhaha amongst his fellow rabble-rousers, as there usually was. He could round up the troops, get anything he wanted passed when he was running, say, the International Working Men's Association.
And he was wonderful at insults. Arnold Ruge, he said,
stands in the German revolution like the notices seen at the corner of certain streets: "It is permitted to pass water here."
Rudolf Schramm:
A rowdy, loudmouthed and extremely confused little mannequin whose life-motto came from Rameau's Nephew --- I would rather be an impudent windbag than nothing at all.
After he started
Das Kapital,
he was forever and a day promising to deliver the manuscript to the publishers, forever and a day putting it off. He had bad liver, pains here and there, and boils so terrible that he often couldn't sit to work. These carbuncles gave a colorful edge to his work. When he delivered
Das Kapital
to his German publishing house, the manuscript had blood all over it. Engels had to lacerate one of his more pernicious boils, sited on his...well, don't ask; I won't tell.
He and Frederick Engels were a pair. They used to go pub-hopping along Tottenham Court Road. There were eighteen pubs, and they vowed to visit each and every one. By the time they got to the last, they were drunk enough that they began to throw cobblestones at streetlights --- until the police came running. To avoid being caught, they ducked down alleys and jumped over fences like a couple of rowdy schoolboys. O these kids!
---
A Brief Review:
The 9th Amendment of
the U. S. Constitution
Robin Harris
The Bill of Rights is a radical document, so radical that most conservatives (and not a few liberals) probably wouldn't support it even today. Those working to deny our rights would just as soon we didn't know what it says. More than 200 years ago people believed so strongly in these ideas that they put their "lives, fortunes and sacred honor" on the line for them. And every generation since has been asked to do the same, whether in foreign or domestic battle.
§ § §
Popular culture continues to wrangle over some of the amendments; these are the better known. But there are others, more obscure.
For instance, the Third Amendment's rules about the quartering of soldiers are so uncontroversial that even Scalia hasn't found fault with them. The Tenth is too abstract: what are these unnamed powers not given the United States and reserved to the States?
---
Going Bats
My real change of heart must be attributed to the sheer delight of coming face to face with a cast of unforgettable creatures. We captured charming Honduran white bats with clown-like yellow ears and leaf noses that, within minutes, lay tamed in our hands, chewing contentedly on pieces of banana. I fed sugar water from an eyedropper to docile, long-tongued, nectar-feeding bats, the hummingbirds of the night. And then there were close encounters with the carnivores, such as the crafty fringe-lipped bats that tuned into the calls of amorous male frogs and snatched them midperformance. But to me the most elegant were the variety of fruit-eating bats, many with bold white stripes down their backs and on their faces.
Frank's discourses on the ecology of bats were delivered through formal lectures often spiced with humorous natural history anecdotes. He regaled us with descriptions of the marvelous New World bats we would meet if we followed in his footsteps, such as the industrious tent-making bats. The I. M. Pels of the bat world, these bats create their own shelters under a Heliconia leaf or banana frond by cutting the mid-rib veins and allowing the halves to collapse into a bivouac within which a family could roost safely out of sight. We might also befriend the bulldog bats that scoop fish out of the water like an eagle; the carnivorous false-vampire, the largest New World bat, which snatches birds and small mammals while they sleep on tree limbs; the delicate sac-winged bats, among the smallest species, weighing less than a nickel but with a social system identical to that of African lions --- the dominant male closely guarding his harem of breeding females from jealous competitors.
Ms. Moffett's First Year
is a wonky report on a silly experiment to rescue the New York's public schools from the state legislature, the teacher's union, and the school bureaucracy. All agree that changes --- deep changes --- are necessary. Students may already be starting the process of burning down the school buildings (excellent sentiment), but, unfortunately, many of the old ones --- both buildings and administrators --- are still around.
The state and local authorities are busy dumping even more money --- your money, my money --- into that proven blowhole of a decaying institution instead of passing a few laws that would allow the teachers to beat the shit out of recalcitrant, noisy, and out-of-control students.
Perhaps the school system could invest in a few dozen new rulers: When I was a student in the Bronx, fifty years ago, a swift swat across the knuckles was all that was needed to keep us interested in the proceedings. Our Ms. Daugherty was not at all interested in back talk, and she certainly wasn't stupid enough to try to plead with us to behave. She also didn't have to put up with the likes of a prison-guard clone vice-principal looking over her shoulder because she didn't need one.
She could handle us just fine: A whack or two was all that was required to keep us on course. In the principal's office downstairs, the back up, a wooden paddle called a "fanny-warmer" was always available in times of dire emergency .
Too bad that Goodnough isn't a good enough of a visionary to suggest this most appropriate solution. It's so simple, and being simple, everyone overlooks it.
I know now why they tried to get us to read
Pepys' Diaries
in university. He is a classic upwardly-mobile bureaucrat (his title was "Surveyor-General of the Royal Navy") --- a man who was a mover and doer; also he was one of a class of men, not unlike his contemporary Casanova, who barely survived a pesky if not exuberant libido.
His follies are memorable. Pepys had several affairs with respectable lady friends. At times, he was caught by his jealous wife; at other times, he worked around (if not under) her. His specialty outside provisioning naval warships was hunting down innocent housemaids; all peccadilloes were noted in his special code within the general code of the diary (the whole was written in something called "lachgraphy;" it was deciphered and published in bowdlerized form in 1825).
Pepys' love affairs were rendered into a strange mix of English, French and Spanish. His name was pronounced "Peeps" but, in keeping with his ubiquitous lusts, it is appropriate to find that some of his cousins pronounced the name with two syllables.
§ § §
He is constantly counting his gold (being part of the navy procurement service is, it seems, very profitable), and each of his end-of-the-year entries tells us of the gain to his net worth. He starts the diary with £20 in the till, and in the last, he is worth more than six thousand.
Where does it all come from? Well, he casually takes kick-backs on contracts. Very wary he is, too: In one case, he refuses to open the envelope containing his bribe until he gets home, in case he might be seen. He also advances ranking officers to better assignment in the Navy so he can be near their wives, being rewarded by sleeping with the eponymous Mrs. Bagwell, along with a Mrs. Lane ... both of whose husbands are known to him and, presumably, improved in their state if not approving of the liaison.
Ohio University Press plans to put out eight volumes of
The Collected Works of William Howard Taft,
a project whose bulk may only be matched by that of its progenitor. Taft was a big feller --- big as all outdoors --- but he was no pantywaist in the brain department, as proved by the contents of this volume.
Volume I consists of nineteen speeches given between 1895 and 1908, ranging from subjects as abstruse as Writs of Injunction and a close study of the 13th, 14th, and 15th Amendments to the Constitution, to broad public issues such as Self-Rule for the Philippines, the rights of unions to strike, and abuses by large corporations and railroads.
In all these, Taft proves himself to be articulate, wordy, serious, even --- dare we say it? --- a man of heavy thoughts. He was one of those smart cookies who today we would relegate to teaching torts at some state university. Certainly, in the age of Weight-Watchers, a Big Daddy like Taft could never hope to make it much beyond a municipal water district in the election sweepstakes.

Which is more the pity. These speeches were given before Taft was elected President in 1908. A hundred years later, we can only envy a time when we could have a would-be president who could speak, knowingly, on, say, Roman (Civil) Law vs. Anglo-Saxon (Common) Law.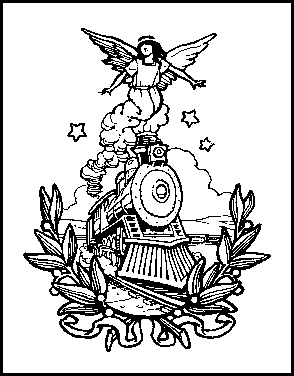 The best retelling of the murder of James A. Garfield was recorded fifty years ago by Bascomb Lamar Lunsford, the collector of Appalachian folk music. The record is long gone, but I can still remember him reciting, in his gravelly North Carolina mountain voice, "They say you are feeling mighty poorly, Mr. Garfield."
The second best retelling --- better than any of those history books they tortured us with back at Garfield High --- is this seventy-two page comic book by Rick Geary.
The facts are all there: that Charles J. Guiteau was well known in the White House; that he had harassed Garfield and Secretary of State Blaine endlessly during the summer of 1881 to be Consul to Paris; that he was presented with endless chances to murder the President (no Secret Service in those days); that once shot, Garfield lingered on in great pain from July 2 to September 19th (and was probably done in by incompetent medical help); and that Guiteau was the first of the Unabomber-style publicity-hound assassins --- in other words, using the death of others to get one's message across (the newspapers and magazines printed many of his writings).
It's an odd, a very odd way to get one's political thoughts heard, and Guiteau made it even more appalling by intoning such lines as "Life is a fleeting dream, and it matters little when one goes," and, "I presume the President is a Christian and that he will be happier in paradise than here," and, "I have no ill-will toward the President. His death is a political necessity."
Of course, Guiteau affected the operations of the United States far more than Garfield did. One man with one gun and two bullets created, single-handedly, the dratted Civil Service System which presents us with all those 8 am - 4 pm G-11 Civil Servants who will do anything to keep from answering our questions. He also started us on the path of separating our elected officials from the common folk. Which, if you doubt, just you try to get an appointment with your Senator or Representative --- much less your President --- to tell him what you think of his government.