Fear made fine bed-fellows. Sick with delight
At life's discovered transitoriness,
Our youth became all-flesh and waived the mind.
Never was such antiqueness of romance,
Such tasty honey oozing from the heart.
And old importances came swimming back -
Wine, meat, log-fired, a roof over the head,
A weapon at the thigh, surgeons at call.
Even there was a use again for God ---
A word of rage in lack of meat, wine, fire,
In ache of wounds beyond all surgeoning.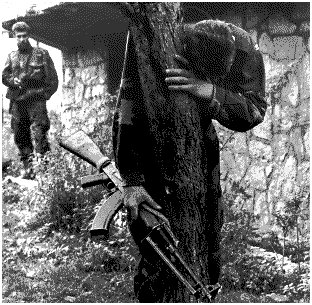 War was return of earth to ugly earth,
War was foundering of sublimities,
Extinction of each happy art and faith
By which the world has still kept head in air,
Protesting logic or protesting love,
Until the unendurable moment struck ---
The inward scream, the duty to run mad.
And we recall the merry ways of guns ---
Nibbling the walls of factory and church
Like a child, piecrust; felling groves of trees
Like a child, dandelions with a switch.
Machine-guns rattle toy-like from a hill,
Down in a row the brave tin-soldiers fall:
A sight to be recalled in elder days
When learnedly the future we devote
To yet more boastful visions of despair.