"When one officer was instructed to consolidate his advance position, he wrote back, 'It is impossible to consolidate porridge.'
"Trenches full of liquid mud. Smelt horribly. Full of dead Frenchmen too bad to touch. Men quite nauseated."
Woolf then wrote,
During the lulls the wounded called and groaned in No Man's Land, lingered for as much as a week, and usually died there, and sometimes screamed in their incoherent agony; while above them sounded the joyous songs of birds. The thrushes, especially, twittered wildly each morning, for they were used to the guns.
No-man's-land is not to be found in the Encyclopedia, between the "No-Conscription Fellowship," a British antiwar organization, and "Northern Barrage," a minefield in the frigid Northern Sea.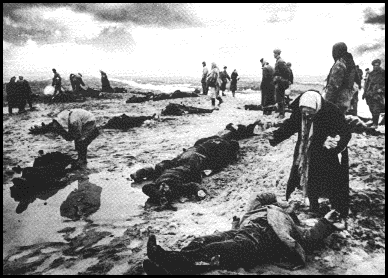 The Encyclopedia is thus one that makes WWI history not the agony of bombs, gunfire, despair, and death. There are hundreds of black and white photographs which convey some of the reality, but the truth of ten million casualties is vitiated by pure fact (1,200 entries, 175 contributors). The last volume, from pages 1353 to 1661, is given over to documents from the war, ending with the Treaty of Sèvres and, surprisingly, the bitter poem, "Recalling War," by Robert Graves (1938), which begins,
Entrance and exit wounds are silvered clean,
The track aches only when the rain reminds
The one-legged man forgets his leg of wood
The one-armed man his joined wooden arm.
I know, I know, I'm ignoring the entire Russian Front, the Treaty of Brest Litovsk, the Russian Civil War, the war at sea, the disaster of Gallopoli (the largest "amphibious landing in history ... until World War II"). But I plead regional interest and affect. My father and many of his brothers, cousins, and friends left the farm, went to Europe, and saw another world. By their later words, I know that this was a revolutionary experience for them if not for most Americans. It changed our lives forever.
And Armentières was a familiar name to these same Americans. Joining the war in the last year, the missed the irony of a song that proclaimed a place --- not where so many Europeans had lost their young lives, but rather --- one that told of a young lady who washed underpants and never got kissed:
Mademoiselle from Armentières, Parlez-vous,
Mademoiselle from Armentières, Parlez-vous,
Mademoiselle from Armentières,
She hasn't been kissed for forty years.

Hinky-dinky parlez-vous.

Oh Mademoiselle from Armentières, Parlez-vous,
Mademoiselle from Armentières, Parlez-vous,
She got the palm and the croix de guerre,
For washin' soldiers' underwear,

Hinky-dinky parlez-vous.
Our favorite war song of all time, also not included, but part and parcel of the British dogsbodies, along with the rats, lice, fleas,  trench knife, trench foot and trench fever, was