fortune, and Swiss freebooters.

King is no sourpuss, and the story is often quite merry. He lets us in on the rich eccentricities of the characters of the times --- not only Michelangelo Buonarroti, but Raphael Sanzio, Leonardo da Vinci, and most fun of all, Pope Julius, "Il Terrible." Indeed, Julius II reminds us of a lusty character out of Rabelais --- a fearsome hunter, a noisy warrior, an intemperate fighter, an opinionated crackpot. He was forever thumping people when he was angry (or ecstatically happy).

How strange it is in retrospect that this noisy, syphilic-ridden rowdy selected the young and inexperienced Michelangelo from all other possible artists to paint frescoes in the Sistine Chapel --- that holy of holies --- and continued to support him even when Michelangelo was being his most obstreperous.

The great figures --- over 300 in number --- that ended up on the 12,000-square-foot vault represent a radical departure in 15th-16th Century artistic tradition. They've been characterized as "twisted, muscle-bound supermen," placed by the artist in some of the most agonized postures possible.
---
Sam Goody Then . . . And Now, Matthew Lasar. I remember the New York Sam Goody record store at which I worked 25 years ago because it remains for me a symbol of a world that is gone. I'm surprised that I am still nostalgic for that peculiar moment in my life. Full of ridiculous quarrels and long, inexplicable feuds, "world" seems a pretentious description for the milieu over which Sam Goody presided (and in which I functioned) for a while.

Sam Goody Records --- bought in the 1970s by the American Can Corporation and later merged with Musicland Incorporated --- was the first independently owned record chain in the eastern United States. Approximately 20 Sam Goody stores existed when I first took a job with them in 1974, reaching as far north as New England as far south as Raleigh.

I was 19. I worked at the first store, the one located at 49th Street, off Broadway, in Manhattan. It had a sacred reputation within the network, being Sam's first operation. In it you could find many of the salesmen (and they were all men) who had started with Goody shortly after the Second World War. By the mid-1970s, some of these individuals had worked in the same locale for a quarter of a century.

And yes, they were characters.

Louis Weber, for example, had long since gained a city-wide reputation as classical music's occupational equivalent of the insulting Jewish waiter. A short, stocky man in his early 60s, Lou didn't suffer fools easily. Actually, I think he enjoyed fools.

Lou would camp out on the northeast corner of the store, and hum to himself cheerfully, waiting either for his first coffee break of the day (9:15 am) or for some naïf to torture. An elderly lady might walk up to him with two recordings of Beethoven's "Pathetique" in hand, one performed by Vladimir Horowitz, the other by Arthur Rubinstein. "Which one would you recommend, Mr. Weber?" she would ask respectfully. "Frankly madam," Lou would reply, "I don't think you could tell the difference." He would then politely hand her one or the other album.

During the four years I worked at Sam Goody's, I saw scores of people patiently endure this kind of treatment, and come back for more. One afternoon a customer came into the store and asked me to show him the "male vocals" section. I took him to the classical male singers bin, divided into names like Dietrich Fisher-Dieskau and Tito Schipa. He looked unhappy. "No," he explained to me, "I mean, you know, like Frank Sinatra."

Lou observed this confusion and waved a chiding finger in my face. "Matthew, Matthew, Matthew!" he said, affectionately. "Can't you tell by the level of mental perspicuity on this man's face what kind of singers he wants?" The man laughed and thanked us as Lou led him to the popular male vocals section, from which he took three Mario Lanza records to the cash register.
---
Fatty, Wanda Felix. Mack Sennett recalled meeting him: "A tremendous man skipped up the steps as lightly as Fred Astaire. He was tremendous, obese --- just plain fat. 'Name's Arbuckle,' he said, 'Roscoe Arbuckle. Call me Fatty! I'm with a stock company. I'm a funnyman and an acrobat. But I could do good in pictures. Watcha think?' With no warning he went into a featherlight step, clapped his hands, and did a backward somersault as graceful as a girl tumbler."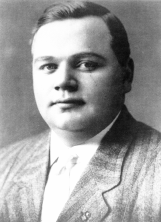 Adela Rogers St. Johns remembered the early days in Hollywood like this: "Everybody loved everybody. There were love affairs going on, and everybody had an excitement about the whole thing that I've never seen since. None of us knew even vaguely what we were doing. None of us knew what this picture business had come to; the greatest form of art and entertainment the world has ever known was put together there for awhile. It didn't last long but it was great, and here we were, right in the middle of the goldfish bowl, with everybody beginning to look at us."

By 1921 Roscoe "Fatty" Arbuckle was one of the highest paid actor/directors in the motion picture business. But on September 5 of that year, during a weekend party he was throwing at the Saint Francis Hotel in San Francisco, the water in the goldfish bowl turned murky. Virginia Rappe (Rap-pay), a girl attending the party, ran screaming from a bedroom, took sick and died four days later.

On September 17 Roscoe Arbuckle was arraigned in San Francisco charged with the rape and murder of Virginia Rappe. The legendary producer, Adolph Zukor (who footed the legal bill) tried to bring in the great trial lawyer, Earl Rogers, father of Adela, but Rogers was in ill health and couldn't take the case.

Adela remembered her father speaking to her about Fatty's plight, "They will make it very tough on him, because of his weight. A man of that enormous fatness being charged with the rape of a young girl will prejudice them, even just the thought of it."
---
My Bloody Life: The Making of a Latino King, by Reymundo Sanchez (Chicago Review Press). "My Bloody Life" tells us perhaps more than we might want to know about gang life. It's not just colors and dress and tattoos and what you say, how you say it, how you identify yourselves to others. There are the rules: defend your brothers with your life; avenge any wrong to any of them in the most brutal way possible; get a reputation as a killer --- it's the quickest method of getting one of the Queens in your bed; never rat on anyone, no matter how viciously you are questioned; when the police catch you and demand you identify the gang-member who did the most recent drive-by shooting, point at any member of any of the other gangs at random --- that's enough to get them sent to jail."