Go to the original

interview
---
The Lost King
Of France:
Revolution, Revenge, and the
Search for Louis XVII
Deborah Cadbury
(Fourth Estate)
Maximilien Robespierre, founder of the Terror Party, announced that the king, queen, Marie Thérèse and Daffy should stay in the Tour d'Argent since it had been demoted to two-stars by Michelin but later they were moved to the Great Tower of the Temple where the head cheese was said to be divine, "vaut le voyage."
The French Revolution finally ended up in the hands of the Flashers and because of his modesty, Louis decided to run away with his family to the Netherlands. They dressed up in fright wigs and capes and drove off in a deux chevaux. French transportation being what it is they got stuck in a traffic circle near Jersey City. The Assembly then ordered Louis and family back to Paris, and since the revolutionary urban renewal project had destroyed the Bastille, the royal family was forced to go back to the Toolshed.
---
Suicide in
The Desert
From Soul of Nowhere
Craig Childs
(Sasquatch Books)
Desire means nothing without a body, I told myself, holding back just enough so that the blade would not draw blood. I thought that words must be formed by a voice, by a pen on paper. Wilderness must take a form. What is it that the land has taught me? To be bound and unbound at once. To be seamlessly mortal and infinite. To live. Slowly, I withdrew the knife, staring over this darkening country. As the knife came down, the desert changed. It spread around me the way circles of water ripple outward when a stone has dropped into the center. I fanned into the land, rippling across the surface in all directions. I could smell the ground, its dark volcanic dust driven into crannies and protected beneath mats of stone. I felt the shape of every crag. At that moment I realized that I had fed my life to the land. But I was not dead. I was still here, amazed as I took in a breath, the air as palpable as water through my lungs.
---
FDR
And his
Enemies
Albert Fried
(Palgrave/St. Martins)
In the hands of a lesser writer, this might be called Five Characters in Search of an Enemy, but the book has something more going for it. Fried has taken the time and the energy to bone up on these five characters --- and they are dyed-in-the-wool characters --- and what he has to say about their rants, their angers, and their personalities is sound, and sometimes quite surprising.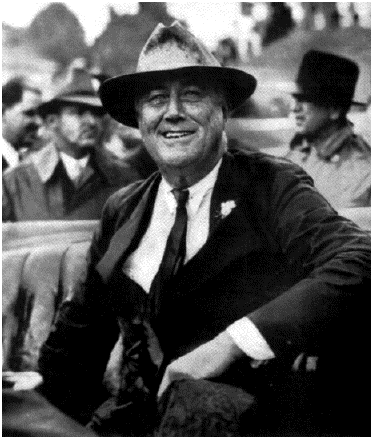 For instance, Al Smith chose as an enemy one whose program for bettering America was not too far from his own. Ditto for Father Coughlin. John L. Lewis got the power to create the CIO because of enabling legislation of "The Little New Deal" --- those bills passed during the last two years of Roosevelt's first term (most of them pushed through by the president).
Huey Long had reason to distrust the president. It was pure politics, and the Roosevelt administration was hitting him where it hurt, in the kickback system of Louisiana upon which his financial resources depended. If he had not been murdered in 1935, he would have been a serious threat at the democratic convention of the upcoming year.
Perhaps the most mysterious of them all was Lindbergh --- a man who professed to hate the spotlight, but went on radio again and again to blast America's slow move towards the rearming of England. Fried brilliantly explains Lindy's fascination with Nazi Germany:
Like everyone else he was extremely curious about Germany. In the three and a half years since Hitler took power Germany had miraculously changed. From a nation that had been paralyzed by conflict and depression and hopelessness Germany was now united as never before in her history, was prosperous, thanks to vast military and public works programs, and was the focus of world attention. She bore no resemblance to the Germany that had been crushed and humiliated by the Versailles Treaty.
He cites Lindbergh's political innocence that allowed him to be wooed by the likes of Göring and Hitler --- an alliance that was soon enough to doom his efforts to stop the end of American neutrality. In the hands of FDR, his innocence came back to haunt him and ruin his chances for success.
---
The Making
Of McPaper
The Inside Story
Of USA Today
Peter Prichard
(Andrews, McMeel &
Parker)
The purpose of this review is not to defame social workers, HEW bureaucrats, teachers, television station owners, fundamentalist ministers, and the other ne'er-do-wells who feed off the poor and untutored. Instead, we would like to concentrate on the sizable proportion of the population that is neither totally unlearned nor totally literate...namely, those who possess some reading and writing skills --- say, around the eighth-grade level.
Studies indicate that this bloc may encompass as much as a third of our country's population. 98 percent of all homes have television sets; 89 percent of the homes have two or more television sets, but it is found that television reaches out and sells itself best to these, the semiliterate, who constitute a great proportion of our total population.
The early history of America may be a study of political and religious forces, but it is, as well, a study of the growth and dominance of mercantilism in our culture. (Some have claimed that the Constitution is best understood studied as an economic document rather than a political one).
In the past century, considerable effort has been expended to reach this huge semiliterate market --- and not to sell them on further knowledge. Enlightened on-the-air schooling, ideas presented intelligently and well, might have carried the poor and unlettered into the higher levels of individual wisdom --- sorely needed by a functioning democracy.
But, somewhere it was decided that it was preferable to make consumers (rather than patricians) out of the citizenry, to avoid dangerous enlightenment. In this way, instead of marching in the streets and demanding their rights, the populace could be inveigled to a lifetime of consumerism, safely functioning as part of the spending society. Indeed, astute commentators have often stated that America long ago ceased to be an Adam Smith-style capitalistic republic; rather, it quickly become a pure Norman Vincent Peale-style consumerist one.)
---
My Bloody Life
The Making of a
Latino King
Reymundo Sanchez
(Chicago Review Press)
Sanchez is a powerful writer, but he isn't much for philosophy. He accepts the raison d'être of gangdom: create a cell, evoke blood loyalty, know that the gang provides a home, companionship, a way out of poverty (he is surprised at the sophistication of their marketing --- buying guns and drugs in quantity, making a sizeable profit in the markup, a true capitalist organization).
But he only incidentally touches on the core truth of gangs: why they are allowed to exist at all.
We all know that residents of the ghettos live in constant terror --- of getting killed, of losing family members to the endless warfare, of being robbed and beaten, of having their children get caught up in the violent world they've learned so well from the only teaching machine they have readily available: television. (Poorer children watch an average of ten hours a day, immersed in classic double bind messages: you must have this from the commercials, and here's how to get it from the "action" programs.)
The cant is that police are ham-strung by laws (and the ACLU), which prevents them from wiping out gang activities. But it's at once simpler and more cynical than that. Gangs provide needed services for urban centers as a whole. Inner cities are lifetime holding tanks for minorities --- keeping them away from the suburbs (except in menial jobs).
Escape is almost impossible. Powerful economic forces are in place to keep the poor and the minority in the war zone. Rents are cheap. If you are Latino or Black, the 'hood is where your families live. Poverty and unemployment are the rule, so those who want to survive must go into one of the accepted tax-free ghetto businesses: protection, dealing drugs and guns, procuring and selling stolen goods, prostitution. Thus the center of our cities is a jail carefully linked to other state-run jails (Sanchez points out that most of his gang activities were sanctioned by leaders serving time in the pen).
It sounds bitterly cynical to suggest that gangs at war can help to reduce the minority population, but Sanchez seems to confirm this.
---
Reds
McCarthyism in
Twentieth-Century
America
Ted Morgan
(Random House)
It is only when he gets to the very real conflicts, the astonishing dramas, and the wonderful characters in subversive-stalking does Reds come to life. But the chapters on early Joe McCarthy are worth the price of the book. They include his little-known involvement in the Malmédy Massacre controversy where, late in WWII, over a hundred American soldiers were captured and massacred by the German SS.
McCarthy headed up a senatorial investigation in 1949 which was, surprisingly, not about the death of so many unarmed American prisoners, but whether German troops captured later had been brutally questioned by the U. S. Army. Excerpts from the transcripts shows McCarthy's techniques in full flower: insults, sarcasm, innuendo and self-pity, plus a strange sort of interest in private parts. The Senator returns again and again to the question of whether SS men had been "kicked in the genitals," "injured in the testicles," "kicked or kneed in the groin."
---
The Lourdes
Of Arizona:
Five Days on the
Front Lines of
Psychotherapy
Carlos Amantea
I attract the attention of a wiry counselor from the eastern shore of Maryland by the name of Lisa. She is a helper, another that I define as a Trench Worker. She tells of alcoholics, the wife-and child-abusers, the lonely and the depressed, all the terminal cases that she sees in the course of a week. "The trouble with this conference," she says, "is that they tell you techniques for dealing with stuck families, or wife beaters, or alcoholic, violent fathers --- but they don't tell you how to deal with all of these in the same family: Where do you begin?"
---