white photographs, some of them taking up a whole oversized page.

We are in Gibsonton, Florida, zipcode 33534, the trailer park where old carney folk go to retire. The Fat Man I saw snoozing under the television antenna is there. His name is Bruce Snowden. He is shirtless and Schneider must have convinced him to drop his pants and shorts because they are there around his ankles but you can't see anything outside of his serious face and his two chins and his elephantine legs and his big belly (and big belly-button) because, well, he's the Fat Man. When I saw him long ago, at least he kept his pants on.

In 1985, our forebear The Fessenden Review put a picture on the cover of an old guy pounding a nail up his nose with a hammer. He's here. His name is Melvin Burkhardt. Only in this book, he's featured with a lady friend doing the pounding. It's a huge nail. He calls himself "The Human Blockhead" and his doctor once told him, "Quit or your brain will get scrambled." He never did.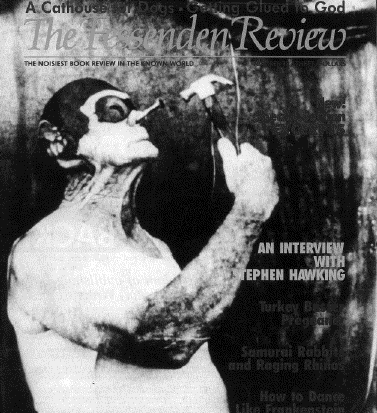 Norbert Terhune (Dwarf and Fire Eater) appears on the cover of The Last Sideshow. He's in retirement so he has a hearing-aid (regular size). We get a shot of him setting his mouth on fire.
The sideshow promoter and production manager is named Chris Christ. I once knew a guy named Cris Cross. The Half Lady gets around in a wheelchair because, well, she's only half there.
She tells us, "My mother said 'You're the prettiest little baby I ever saw.' This made me feel really good. It still makes me feel really good." Ward Hall, promoter, says, "Until you've sat up all night with the Fatman in a hospital emergency room, you can't be a sideshow expert."
Judy Tomaini is shown holding a pistol up to her cheek. She reports, "When your father is an 8' 4" giant and your mother is 2ft. 6 inches with no legs, some outsiders must think you have a really weird home life."
There's a picture of Christine who describes herself as "Model" holding a two-headed calf and, towards the end of the book, there's a photo of her clothed in a black shift waltzing with the Fat Man who is, once again, buck naked.
Burkhardt the Human Blockhead reports, "I like women. Billie Burke, a hermaphrodite, gave me a picture of herself and signed, 'To Melvin with very best wishes, a friend and not another blonde in your life.'"