"I have observed that, in the way people are strange, they grow stranger," says Ruth, our narrator. When she was young, her mother returned with her and her sister to Fingerbone, Idaho. Once there, she left the two of them on the front porch of her mother's house, then committed suicide by driving her car into a nearby lake. Ruth and sister Lucille are taken care of by the grandmother, two strange biddies named Lily and Nona, and finally by their aunt Sylvie.
The town of Fingerbone and its great dark lake and the dark long wobbly railroad bridge are as strange and wonderful as the characters in this strange story, become characters in the story. Aunt Sylvie likes to play Monopoly with Ruth and Lucille. Ruth "spent much of several games in jail, but Sylvie ... made us each a gift of three hotels." When they eat supper, they do so in the dark where, Ruth tells us, "we swung our legs and ate buttered bread." After awhile, Lucille can't take the weirdness of it all and goes off to live with one of her teachers. Ruth stays, says merely "I had no sister after that."
We first meet town and lake and the Fosters when Grandfather leaves Fingerbone on a train which "was black and sleek and elegant and was called the Fireball." The train pulled
more than halfway across the bridge when the engine nosed over toward the lake and then the rest of the train slid after it into the water like a weasel sliding off a rock.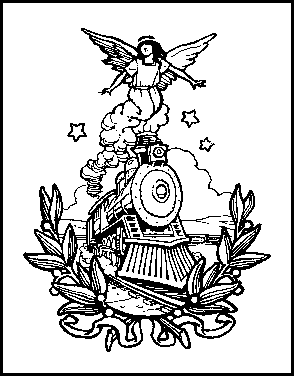 The town with its drowned train manages to get drowned itself by the lake every spring. Ruth thinks "Looking out at the lake one could believe that the Flood never ended."
If one is lost on the water, any hill is Ararat. And below is always the accumulated past, which vanishes but does not vanish, which perishes and remains.
The past of course is the drowned train and above it, but barely, is the rickety trestle upon which, finally, Ruth and Sylvie escape from drowning in the mores and fears of the townspeople.
§ § §
Housekeeping is a work of purest poetry, even though it pretends to be prose: "It was the wind, Alma said. The wind was as rank as a hunger and never the same twice."
At night it retreated into the mountains where the creatures prowl and whelp, and before day it came down again, smelling of blood.
Or:
"It was only from watching gulls fly like sparks up the face of clouds that dragged rain the length of the lake that I imagined such an enterprise might succeed."
Why do our thoughts turn to some gesture of a hand, the fall of a sleeve, some corner of a room on a particular anonymous afternoon, even when we are asleep, and even when we are so old that our thoughts have abandoned other business? What are all these fragments for, if not to be knit up finally?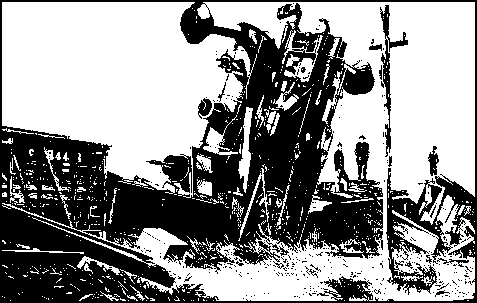 The real business of Housekeeping evokes the eccentric world of those who live around us but never see us, as we never see them. Sylvie has trouble with words and consecutive thoughts, not unlike a worshipper of religions from the East. She has "no awareness of time."
For her, hours and minutes were the names of trains --- we were waiting for the 9:52. Sylvie seemed neither patient nor impatient, neither comfortable nor uncomfortable.
She collects bales of newspapers and mountains of tin-cans in the house. Her stories are disjointed, about people she may or may not have known. Always around her are the ghosts of children playing and laughing, and she seems unaware of the difference between ghosts and the real.
The reader gets to be fond of her distracted way, and when, finally, the sheriff of Fingerbone points to her, tries to take Ruth away, we find ourselves rooting for this half-mad, not unsaintly woman, who teaches Ruth, like her, and in the lingo of the time, "to drift."
Housekeeping reminds us of The Little Girl Who Was Too Fond of Matches by Gaétan Soucy, another weird tale of the perils of familial isolation. Since Housekeeping came out in 1980, we can't help but think that there is a new oeuvre perhaps, stories of disfunctional and aberrant families, stories that expound on the roots of their blues, making them rather attractive in such a way that we sometimes wonder how we came not to be included.