management company with bad research and bad portfolio managers making bad judgments, that would be the end of that company.

Q: Yes, and I believe there's been a few examples of that. A: These people are delusional. They are deluded by the apparent military power of the United States. There are three levels of military power, and we have a great advantage in one: the middle level. The top level is the ability to produce atomic weapons and missiles. Now the Chinese can do it. The Russians can do it. The Israelis can do it. The Indians can do it. The Pakistanis can do it. The British can do it. Nobody has an advantage, and these weapons cannot be used without blowing the world to smithereens. In that sense, they are useless. The middle level is about projecting force, and that's what we're good at.

We have airplanes. We have aircraft carriers. We have guided missiles. We have electronics. We have all that in profusion. There we have an advantage. However, at the third level, we have no advantage at all, and that's in guerrilla warfare and in controlling territory. That's the problem in Iraq. We needed a multiple of the number of troops that we have there to control that country. Unlike the Russians and the Chinese and many of the European countries, we don't have a conscript army.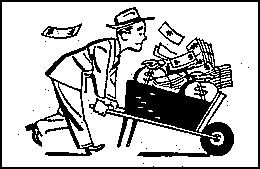 Q: Are you suggesting we'll reinstate the draft?
A: If Bush gets elected for a second term, and he's faced with an army that is overextended, there's going to be a draft. That will divide this country further. That's where the political crisis comes in. Because of the military overextension, you have some terrible decisions that have to be made. The draft is one. The second involves the budget. The war costs are much greater than they should have been.
Q: Bring this back to your point that our power in the world is diminishing?
A: The power diminishes because of this huge growth over the next 10-to-20 years of Asia. Also, our unilateral policies are angering the world, and it isn't unreasonable to consider Western Europe joining with the Russians and creating a huge power bloc against us.
Q: Describe your overall portfolio. Are you more long than short?
A: I'm more long than short. I'm net long about 15% to 20%. The shorts are mostly Standard & Poor's 500 futures, probably two-thirds of them, and some QQQs [Nasdaq 100 Tracking Stock]. The S&P is very heavily oriented toward retailing, finance and drugs. The oil sector, which I am long, is only 7% or 8% of the S&P. I am basically shorting the U.S. consumer.