This sex business is just part of the story; in fact as I read on, I realized that Ms. Juska is using this let-me-tell-you-about-my letch-side as a come-on so that we can read about her not so boring life. There are years of fat (she wore muumuus for several decades), growing up a proper doctor's child in Ohio, living a hippy's life in Berkeley, mixing amphetamines and scotch for years to get her through the days (and nights). There is also a career of championship teaching --- grade school, high school, teaching teachers, and in some of the most affecting passages, teaching writing to prisoners at San Quentin.
There is no little lust here, talk about G-spots and getting felt up in public by some of her would-bes and as always, her absolute non-stop, unrepentant, wild-eyed adoration of men's asses: one thing she learned from her first (and last) husband was appreciation for asses. They used to watch live football games from the end zone and discuss at length the various attributes of the glutes of the various players.
But Juska is just no simple foozle of a lust-bunny. As she says in her ad, she's nuts about Trollope. In fact, one of her orgasms (she claims) occurred in the rare book room of the very hard-to-get-into Berg Collection in New York City, where she is able to hold in her hands the manuscript of Trollope's novel Miss MacKenzie. She was afraid all the while that she would wet it (with her lachrymal glands, I should hasten to say), "for it would not do, would not do at all, for tears to stain these pages."
A lifetime of self-conscious embarrassment had kept her out of tanning salons and swimming pools, and she wore clothing that covered as much as possible all year long, which meant that her skin was translucent and soft, more taut than skinny people's skin, a dream canvas.
"A dream canvas." Most everyone else would look at her and think "fat." Griffin finds, instead, a home for graceful art. Michelle wants hummingbirds, "as many as it took, from the bottom of her shoulder blade, up and over her clavicle, down the side of her breast."
There was no black ink at all in Michelle's tattoo, no discernible outline. Each hummingbird was a different part of an Impressionist spectrum, and they were beautiful, hues of blue and green, red and orange, vivid against her pale skin.
---
Gay Block
(New Mexico Press)
This one is impossible to pigeon-hole. It is also impossible to leave alone. Pick it up, leaf through it, put it down, pick it up, look through it again, then, finally, start at the beginning, go at it page by page, merciless as it is.
And this is what happens: we get to experience year-by-year the tumult of living as daughter to one who some describe as beautiful, "the most generous person I ever met in my life." Too, a flirt, a queen, selfish, and, according to one, "she reminds me of the movie, The Three Faces of Eve."
As always there is the dialogue --- or, better, the monologue: Gay's words reversed on the background of the shots of her mother. In one, talking about her mother's affair from 1966 - 1974, behind the back of husband #2, with one seen here in a blurred out photo, referred to merely as D. K.:
You turned our family into an embarrassing soap opera.

Silence. Characteristically, you don't respond. But now, ten years after your death, I see the words on your face: "Who are you, daughter of mine, so relentlessly judgmental?" Yes, who was I? How could I? Why did you have to die for me to stop judging you?
The photographs and the writing come together in a spiral of images and words spun out of hurt and love and pain and the sheer weirdness of it all --- being born of a powerful charming flirtatious woman, one who could only love men. Thus Gay growing up a girl with a passionate man-lover for a mother --- knowing from afar that she will never be able to let that part of Bertha Alyce, the part of her inside, alone --- at least until mother was in pain.
---
Luis Buñuel
Abigail Israel, Translator
(University of Minnesota Press)
This is one of those literary works in which the voice of the author is so true that when it's over and done with, you want to set out and hunt him up and thank him in person for cutting off a piece of himself and putting it between the covers so you could know him and his wonderful ways, and in this case, his stunning visions that turned up in all thirty-two of his movies.
Going to a movie is going into a hypnotic trance, he tells us. (He also said that "Watching a movie is like being raped.") Such a funny man he is; such a hypnotist: reading such a glorious piece of writing by this eccentric, honest, beguiling, opinionated firecracker makes us sad that he didn't live long enough to make a movie of his Last Grand Sigh.
---
Popular Music from Vittula is episodic, just like our childhoods. Too, like our childhoods, it is filled with unreasoning terror and bursts of sunlight and laughter, people direct from Gargantua and Pantagruel with monstrous appetites doing monstrous deeds: drinking and eating and beating each other (and their children) until all are senseless.
There are some tales that will never leave you alone: Grandad's seventieth birthday where most of the drunken visitors end up laid out, row by row, on the floor; Matti getting trapped in an old boiler; a ghastly old witch-man, Russi-Jussi who, when asked for help with the ghost who will not leave Miila in peace, turns into a lovely woman,
She'd been there all the time, hidden under the surface. Now she was leaning forward inside him, as if behind a darkened window pane, pressing up against the old man's wrinkles and smoothing them out from inside. She was a beauty. Thick womanly lips, a smooth, high forehead, arched eyebrows, bitter and very sorrowful eyes.
---
José Saramago
Margaret Jull Coasta,
Translator
(Harcourt)
You may have trouble with this one at first. What do we care for a crabby old potter, we find ourselves thinking: a potter who is losing the potting business, the business of his father and grandfather --- making things to carry and things one can eat food off of and the like and then one day the Center where they sell his works says we aren't going to carry your pots any more come and get all your old ones you have two weeks to pick up everything you have here.
So Cipriano goes and puts them in his truck and instead of dumping them or taking them home he finds a hollow down near the river near his house and puts them in that dark cool place there in the ground and hopes that centuries from now someone will dig them up and wonder I wonder who made these they might be a treasure. See, I'm even beginning to write like Saramago.
Form and function, function and form. And magic. Saramago doesn't worry about those fake distinctions that most writers fret over --- all those type-setterly representations like open-and-close quotes and paragraphs and italics and breaks. All of The Cave is one big enjambment and at first it drives you mad like Joyce will drive you mad but then it begins to take hold of you, you become part of Saramago-land where description and speech are married to a monument built by a word-magician where the almost peasant-like Marta can speak profundities that work just fine for the reader but she herself isn't too sure ("Oh, I don't understand it myself") then come this other being called "the moment for caresses" which "came back into the room" and apologized for having spent so much time outside --- a moment apologizing! --- and then she tells her husband (another magic revelation) that she is with child.
---
Edward Tenner
(Knopf)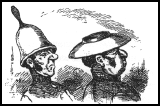 It is, on its own, so elegant that to write about it feels not quite right. I am reminded of Diderot's statement about coming up with a perfect map of the world. He wrote, "It would have to be the world." How can we write about such seminal works as this one (and Understanding Media and Seeing Like a State) except to tell others to take it whole.
The best I can do is to give a few choice samples, as I did above; explain that this is one you want to mull over for weeks if not months, as I did. Pick it up, and join the author in investigating the world of simple things, and in the process find out how complex they are: desks or chairs or shoes or keyboards or helmets or glasses:
The pince-nez, kept in place by spring pressure alone, was the first eyewear to become a fad among both men and women. Many ophthalmologists and opticians considered it difficult to fit, and the glasses fell off repeatedly. Yet ... contemporaries thought the design avoided the "elderly appearance" of spectacles with temples.
---
The Autobiography of Sokei-an,
America's First Zen Master
Michael Hotz, Editor
(Four Walls Eight Windows)
There is whimsy here, but no nonsense. Sokei-an tells of his nervous breakdowns, his fights with his master, ("You're a failure!"), losing everything to be a Zen monk (wife and child and work), his touches of madness, having to deal with Americans, and --- amidst all this self-revelation --- we get his wonderfully crabby asides.
For the first twenty years, he tells us, he "greatly benefited from Buddhism." In the second twenty years, he says, "I have been ungaining everything I have learned."
In conclusion, I should say I have gained nothing ... I went through such terrific agony studying this Zen. I lost everything I had, and I gained nothing. I am satisfied.
These last three words, piled atop everything that goes before, the tail on the donkey. It all goes to make Sokei-an a boot; what he gets down on the page encompasses the very essence of crazy wisdom, the wisdom that sets him above many of the other foreign-born masters, giving us the secure knowledge ... of the absurdity of it all.
We come to expect, demand, and enjoy the asides in Holding the Lotus to the Rock. Here's a man who obviously loves his religion but, too, loves all the people (and all the foolishness around him).
---
Collected & New Poems,
1967 - 2001
Norman Dubie
(Copper Canyon)
This Dubie is strange and wonderful and deserves your consideration. This particular volume lay around on my desk for a few months while I picked it up, pawed through it, put it down, picked it up again, wondered at the startling images, wanting to write it up, but hesitating, knowing, as all of us must know sometime, that we would be hard-pressed to get something like this down, to make it comprehensible to ourselves, to others. Dubie's images can be so fresh as to force one to go through it again, just to see how he pulls it off; and once savored, reminding one of the best of haiku:
The birches stand in their beggar's row Each poor tree Has had its wrists nearly Torn from the clear sleeves of bone. These icy trees Are hanging by their thumbs Under a sun That will begin to heal them soon...
To me, the most awful and successful of his writings are those that touch on the holocaust. It is rare, so rare, that a poet can somehow blend the sacred and profane so exquisitely balanced, the unspeakable tension between gloriousness, and brutality --- setting a tautness to the words that reminds one of a combination of Hemingway, Schwarz-Bart, Laurie Lee, Alain Resnais --- or perhaps, strangely enough, the mature Byron:
As a girl, in Poland, she watched her husband
Be dragged through the shade of five pines
To the execution wall. A year earlier
She had watched him bathe
In the bronze tub the landlord had put
Out in the field as a trough for horses.
---
Rockwell Kent
(Wesleyan)
There are a few surprises here. One is that Kent does not deny a mid-winter depression that lasted for the entire nine weeks of total darkness in the village,
Yet I welcomed the pitch-darkness of the most clouded nights as offering release from the continual restraint that I was under to conceal my trouble. Then, only in the darkness, could I be alone...
Another was that he fell into the habit of the Greenlanders of sleeping with anyone who happened to be about when it was bedtime. Because in the cold dark blanketless world of his village, at times it was only bodily warmth could keep one from freezing to death. He ended up sleeping with various traveling companions, male and female, and Salamina and several other housekeepers --- but he is shy about defining what it meant to be "sleeping" with someone. We wonder, indeed, why he names his entire book after his erstwhile housekeeper.
Another surprise is that his drawings, many presented here along with lovely chapter headings, are really not very good. He just can't get the lower parts to work. The various characters of the village often seem to be floating just off the ground, feet and body and legs at all the wrong angles, unanchored, going off to join with the auroras. Finally --- and this is no surprise, since he is a painter --- his take on the scenes around him are not only painterly, they are described in painterly fashion (note "madder" below --- which my dictionary tells me is "a moderate to strong red.") He too, it turns out, is a musician, and this appears from time to time:
Picture a Temperate sea and mountain view; Clear day, late afternoon in fall; blue sea, and golden-purple shadowed land, and pale-blond lower sky; purple to gold, pale light to deep-toned madder. Now, into that, like a shaft of sunlight into a lamplit room, like violins and flutes above the bass, high-pitched, ethereally pure, so clean, sharp, dazzling that it almost hurts, see ice appear. The pale-gold sky is somber now; sea, sky, and land are of one low tonality against which sings that poignant whiteness.