George Rodger was one of the premier photographers during the golden age of photojournalism. It all began with the new film from Kodak and Agfa using Leicas, portable 35mm cameras that could produce "such a fine grain that a full contact sheet could be used as a cover picture for an issue of Berliner Illustrierte, one of the pioneering German illustrated magazines."
Rodger, along with André Kertész, Henri Cartier-Bresson, David Szymin, Robert Capa worked for magazines that focused on picture over text ---
Life, Vu, Picture Post, Regards, and Münchner Illustrierte Presse.
It was a new artform, and its great impetus came from World War II which created a new view war. That is, that it stank. Between 1940 and 1945, Rodgers works came out of his assignments in England, North Africa, Iran, Burma, and --- during the last stages of the war --- Western Europe.
It was one of his last wartime assignments that changed his life, made him vow to never record the destruction of war, ever again. It happened on 20 April 1945, the day he entered the camp at Bergen-Belsen.
§ § §
I've always wondered about photographers, those who are there to record grief, mutilation, tragedy, bombings, blood and death. The one below I remember from the early days of WWII. We are told in the notes that the photograph was taken on the streets of Paris the day the Germans took over the city.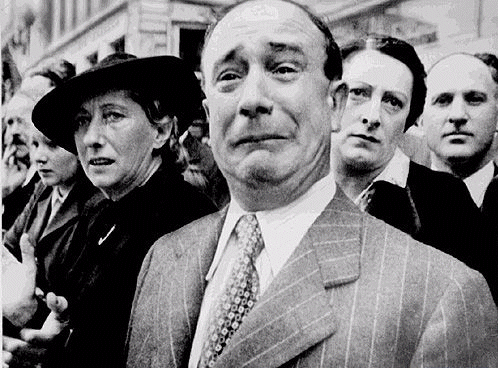 He's not handsome, this weeping man --- not beautiful. But there can be no doubt that this proper, well-dressed man is grief-stricken. More than those behind him, he seems to know what will happen to his city, to his life, to his world over the next four years. There are no words necessary. The photograph tells it all.
I've often wondered about the photographer who took this astonishing shot. What did he think? What did he feel? Did he worry about invading a man's sacred space? Did he think that because he was behind a camera he had a right to extract, even gain from another man's grief? Was he weeping too? Did he excuse himself for intruding himself on the man's sorrow (capturing a sorrow that can --- even now --- capture the rest of us?)
Every time I look in the newspapers or magazines or on TV and see just such a picture --- a woman after her son has been murdered; the face of a man whose son has died in the military service; a granny who has been divested of her home by some charlatan --- I think of the photographer who suddenly appears on the scene and without permission envelops someone else's tragedy, stealing it for his own.
Rodger had an answer before he went to the concentration camp. He was creating art. He even described the photos he took at Bergen-Belsen "artistic compositions." He was working, he wrote in his journal, with "honesty," "clarity," "simplicity of purpose."
But something else happened inside of him. Rodger permitted himself to be interviewed but once about his experience, towards the end of his life, in The Guardian.
This natural instinct as a photographer is always to take good pictures, at the right exposure, with a good composition. But it shocked me that I was still trying to do this when my subjects were dead bodies. I realized there must be something wrong with me. Otherwise I would have recoiled from taking them at all. I recoiled from photographing the so-called "hospital," which was so horrific that pictures were not justified ... From that moment, I determined never ever to photograph war again or to make money from other people's misery. If I had my time again, I wouldn't do war photography.
As Naggar reports, "Photographing at Belsen was for Rodger a personal disaster. It triggered a guilt even greater than that he usually harbored, as if being a witness to horror, and taking pictures of it, was something unspeakable and forbidden. As if it somehow made him an accomplice. He was so traumatized by Belsen that for the next forty-five years he could not bear to look at the pictures he had made there and wished he could erase them. Yet Belsen resisted being forgotten."
§ § §
Rodger spent the rest of his life taking pictures in the South Pacific, or in Africa --- with especial attention to the Nubians, the Tuaregs, the Bachimbiri. True to his word, he never photographed a battle more serious than Korongo wrestling.
I was still quite young when I saw Rodgers pictures out of Belsen. What I saw made no sense to me. I had so little experience with hunger and dying that to see piles of those who had been purposely starved to death was meaningless.
What I did sense was that a catastrophe in human behavior and human understanding had taken place. I also knew that those who created this disaster carried a something strange in their genes: that is, an ability to evade what we had always defined as human conscience.
I looked up Rodgers pictures from Belsen and remembered none of them. What I did remember were the four widely circulated shots of female SS guards, taken the day after liberation. They were women between twenty and twenty-five who, it was reported, were somehow prompted to be even more cruel than their male counterparts.
For some reason, I never forgot them, these mug shots of women who had created something I could never have thought possible; could not, until many years later, conceive.