To some, Tulku's Buddhism may not sound all that different from fundamentalist Christianity. The latter says that we are born sinners and we will die sinners because of the evil committed by our forefathers --- we are creatures of suffering because of evil propagated by those who came before us.
In Tulku's Buddhism, suffering comes from much the same cause --- sins; but they are sins committed not by humankind in general, nor our forefathers --- but by our own selves in previous lifetimes.
In addition, Tulku's "lower realms" don't sound all that much different from the hell of the Pentecostals.
The very worst human experience is still a thousand times more bearable than that of the least-suffering beings in the lower realms. Their suffering is so extreme that we can scarcely imagine it; the length of time it lasts is unfathomable. For some beings, even death provides no escape until hundreds of thousands of years, sometimes eons, have passed.
Dying is equally scary.
Upon death in our last incarnation, when our mind was plunged into the bardo, the frightening and chaotic intermediate state between death and rebirth, we were blown about helplessly, like a feather in the wind, without any stable frame of reference or support, experiencing terrifying sights and sounds. We finally found safety in our mother's womb...
Then, there is the master's sense of morality. On a question about the use of drugs, he even outdoes the DEA:
With drug use you will establish a karmic pattern in which you have little or no control over your mind. In your next rebirth, you may be mentally retarded or very unstable; you may even be born as an animal.
I called my friend Sybil. She and her husband Herb are regular pot-heads. I explained to her what was in store. She thought for a moment and said she'd be willing to come back as a ocelot. Herb, on the other hand, said he didn't care; he'd be willing to return as a spider --- as long as he could be near Sybil.
§ § §
At the end of each chapter, students are allowed to ask questions of the master. Some of these questions and answers make up the more interesting if not diverting parts of Gates to Buddhist Practice.
Question: What about all the nonvirtue we unknowingly create every day by eating meat or wearing cotton clothing when insects have been killed to harvest that cotton?

Response: It's true that, in order for us to eat or drink, other beings are often harmed. Some vegetarians think that they bear no responsibility for the death of living beings. Yet in the planting and harvesting of grains, vegetables, and teas, many animals that live in the ground are killed when the earth is turned, and many others drown when the crops are watered.

We in the Tibetan lowlands use to feel great compassion for the people of the lowlands who consumed a lot of grains and vegetables, because of the many insects that died so they could eat. When we ate yak meat, the staple of our diet, only one being had to die to feed many people for many meals.
Those of us who have been there before have to praise Tulku and his people. Indeed, they are brave beyond all understanding in their ability to down yak meat, one of the few world dishes that tastes like it sounds.
There are also questions about creepy-crawly things:
Question: What can I do about cockroaches in my home?

Response: There is no easy answer. Tibetans say that if you drop a hot clay pot it will break, but if you hold it your hands will burn.
Tulku then goes on to say that "it's best to remove insects from your home without hurting them."
With all due respect to the good master, I am tempted to invite him to spend just one night in my bedroom. Several mosquitoes, possibly sired by pterodactyls, have taken roost there --- seem capable of surviving anything I may hand out to them. When I'm on the edge of sleep, one of them is dispatched to sing in my ear. I turn on the light to see if I can find it. However, these creatures cannot only read my mind, they have been equipped with heat-and-light sensing devices --- the moment the light comes on, they disappear into their foxholes, or wherever it is that baby pterodactyls live. By the time I get my glasses on and my eyes adjusted to the sudden glare, they are nowhere to be seen. Yet the moment I turn the light off, they embark on another noisy air reconnaissance.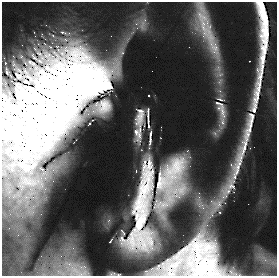 I can assure Tulku, as much as I admire his book, and his holy works, and his love for creatures great and small, that if I ever catch one of these buggers, despite his advice, I will squish it with gusto. However, because of my innate loving-kindness, I will also take the advice of W. Y. Evans-Wentz, who, in a tiny footnote to The Tibetan Book of the Dead, gave me and all other sentient creatures permission to murder ants, gnats, mosquitoes, deer-flies, no-see-ums, roaches, ticks and other disgusting blood-suckers --- as long as we intoned the following: "I apologize for your death, but at the same time, I invite you, in your next lifetime, to return in a somewhat more kindly, if not more beautiful, form."
--- Carlos Amantea
---
Mountain City
Gregory Martin
(North Point Press)
Mountain City lies in Elko County, Nevada, has a population of thirty-three.
Mountain City is one mile long, limit to limit. Birch and golden willow shade the yards and porches of low framed houses and trailer homes, and rusted chain-link fences, separate lawn from sage. In the meadow below town, the east fork of the Owyhee meanders north, past willows and ryegrass and fence posts and wire, and above everything, like a low, uneven wall, rounded hills rise up and circle the town, obscuring the view of higher mountains.
As Martin first sketches the town and his characters --- his grandfather and grandmother, Mel his uncle who runs Tremewan's General Store, the various friends and relatives --- it sounds like the world as it should have been, perfect small town America, the dream village filled with loveable eccentrics. Mel is obviously the town character, running the store with its own eccentric credit system:
Customers keep a copy of their receipt, the store keeps a copy stapled in a book under the customer's name, and then most customers pay their bill at the end of each month. Some people, like the Tompsons and the Donnelsons pay once a year in the fall, after they've sold off their cows.
And Mel has, too, that small-town humor --- mostly of the ethnic variety: in this case, the "Bascos" (they are in the heart of American Basque country):
An Elko man goes to the doctor and learns he has terminal cancer, six months to live.

"Doc, what am I gonna do?"

Now this old doc has been around a while, and he says, "What I recommend to you is this: Marry a Basco lady and move to Mountain City/"

"What good will that do?"

"Not a thing," the doc says. "But it will make them six months seem like an eternity."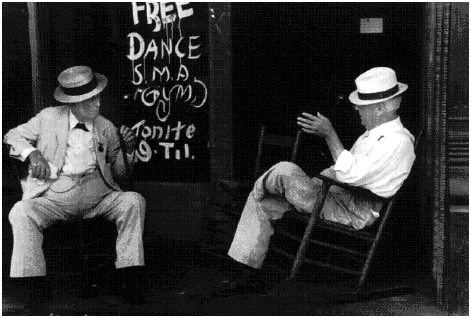 This is your normal small American town, in the high country of northern Nevada, the dream village of our childhoods, of all those Hollywood movies. But as we get to know it and the characters, we come to know that there is a sickness in it. Mountain City is dying of old age. The kids have all left, to never come back (at the end of his story, the author too says he will never return.)
But there are other ravages, as well. Mel turns out to be a boozer; Grandmother has astounding temper tantrums; Gramps is losing his vision, losing it so badly that one day he shoots one of his neighbor's favorite dogs, thinking it was a coyote. The Indians from the nearby Shoshone Reservation often break down the store's back door to get to the liquor. One of them, a fifteen-year-old named Woody, gets caught, threatened with jail, and kills himself.
Martin thus makes us participants in the sad death of small-town America. He writes in a reporter's style, with little emotion, simple language, and perhaps it is appropriate, for this is an obituary for a town, and for a culture. The store will close. The old folks will die off or go into nursing homes. The history of this high mining area will be lost forever.
Someday, perhaps, the "birch and golden willow" that shade "the yards and porches of low framed houses" too will be gone --- and all we will have to remember it by is a sweet book from long ago with the name Mountain City.
--- R. W. Rouse