When I lived in the decaying part of mid-city many years ago, my friend Jeremy showed me how cook without a stove. He'd fry up things like wieners by wiring them up. "It's as simple as a lamp," he said. "Just plug it into the wall. That's all there is to it."
He'd take your regular 120-volt wall plug with a short wire attached, strip the wires away from each other, clean the ends and stick a nail on each of them. Then he'd jam the nails into the opposing ends of a hot-dog and plug the whole contraption into a socket.
After a minute or so, the wiener would be snapping and popping and sizzling, filling the room with a heavenly scent and dripping fat on my best second-hand carpet. It may not have been California Cuisine but more Missouri Barbecue; but whatever it was, it was divine.
His way of dealing with animal life involved the same technique. Since we were in St. Louis, our roaches were the German variety. They must have been German Catholic as well, because they produced huge noisy insatiable families in the condos in the narrow space underneath the refrigerator.
They not only produced thousands and thousands of ugly six-legged babies, they gave picnics and dances, be-ins and had acid parties (this was the sixties after all), and, in general, drove us crazy.
What Jeremy did was to string two of the same cables that he had used for his hot-dog flambé about 1/10th of an inch apart across the narrow exit of roach condo. When Mr. & Ms. Roach and their 900 babies decided to go out for a stroll, they had to pass across the two cables. Their little bodies completed the electrical circuit: there'd be a flash, a puff of smoke, the house lights would dim, a ghastly smell --- and that was all she wrote..
I suspect that Marion Copeland. author of
Cockroach,
would not approve. Her volume is not necessarily a paean of praise to
Blattaria
but she does admire their sheer staying power.
They evidently evolved 300,000,000 years ago and their ugly little bodies show up in all manner of amber drips left over from ages past. There are, at this very moment, some 4,000 living species. They breed like, well, like roaches. It is estimated that if you took all the roaches now living on earth and put them in one giant vat, not only would the vat extend over 25 or 30 miles in diameter, you and I would probably pass out at the sheer ugly slippery slithering sheening gag-power of all those ghastly bugs bunched up together.
§ § §
Unlike butterflies and birds, most scientific research is spent on figuring out ways to murder their asses. But Cockroach is less of a how-to-do-in-the-bastards handbook and more of a jokey look at the literary and artistic manifestations of Blattariamania. Ms. Copeland seems to have tracked down every cockroach joke, story, fable, art, fact, apocrypha, and roach recipe: from the movies (Twilight of the Cockroaches, Doctor Cockroach, Mimic) to the double pun on the name of a character on Bill Cosby's TV show (cock is you-know-what; roach is the tail-end of a joint); from Kafka's Gregor to archy of archy and mehitabel; from the University of Nebraska's Cockroach Picture Gallery to Pliny's cure for "itching, scabbing and ulcers" (ground cockroach); from "La Cucaracha" to cockroach feasts, "best when fresh, beheaded, and delegged and then boiled, sautéed, grilled, dried or diced for sauces as they are both in Thailand and Mexico."

She reveals that
The New York Entomological Society holds annual insect food festivals aimed at encouraging the general public to acquire a taste for nutritious, protein-rich insects like mealworms, grasshoppers, and Thai waterbugs (cockroaches) which connoisseurs claim have the flavor of lettuce, seaweed or Gorgonzola cheese.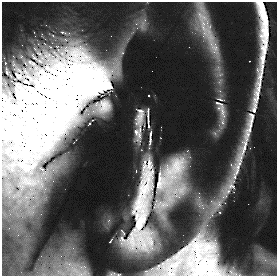 When I was growing up in Florida, we were besieged with a particularly gruesome roach in-law called palmetto bugs. These suckers are cockroaches with the girth of Falstaff and the general personality of Iago. They make a particularly noxious stink when disturbed, and a googy mess when stepped on --- one of those "Oh NOOOO" moments of truth when you accidentally turn around see what you have mulched into your new carpet.

The thought of even the august New York Entomological Society having these suckers for hors-d'oeuvres makes me more queasy than you'd want to know, even though Copeland advises us "how sound eating cockroaches is since it takes only a quarter as much feed to raise a pound of roach meat as it does to raise a pound of beef." Yes but cows don't hide in the bathroom sink and scamper up at you just when you turn on the light to brush your teeth.

There is a rare mint that cockroaches don't care for, but our writer, unfortunately, doesn't reveal where we can go to get it. I'll have a standing order for a bushel, please. The only place I found where roaches cease being a bother is where I live in Mexico. Our biggest home invader is what they call "barrenderas," a local variation of the army ant. When they appear on your doorstep, you don't fight them: you get the hell out.

But there is one advantage to be garnered from their call. They --- all 2,000,000 of them --- usually spend a day or so cleaning house for you. When you return, all other creatures are gone: geckoes, lizards, rats, mice, other species of ants, roaches, and any and all freeloading visitors from the North who happened to have moved in with you.