In their often vain desire to capture the divine, humans spend countless years (and countless billions) to build appropriate religious shrines. And each sect thereby reveals their vision of the godhead.
Some, such as the Baptists, Catholics, Episcopalians and Presbyterians will spare nothing to be sure that the world knows the depths of the usurious love they have for their gods. Others such as Quakers, Unitarians, and at times the off-sects offer a humble structure as their representation of the godhead. Thus it is a diverting practice for those of us who care about churches and architecture (and church architecture) to pick up a book of photographs of houses of worship, to leaf through it and try to guess which divinity is being addressed.
Over a hundred Minnesota churches are represented here, with mostly simple black-and-white photographs of the exterior. As the editor points out, there was a conscious choice, selecting houses of worship from every corner of the state, rather than concentrating on the large cities, and --- further --- to pick different styles expressing changing tastes in religious architecture over the last 150 years.
The earliest church represented, looking a bit ragged but comfortably homely is the Greek Revival Methodist Church in Monticello, dating from 1857. It is said to have cost $945 to construct and was built by a local carpenter.
One of the most recent (1984 - 1990) and certainly one of the most hideous is the Wooddale Baptist Church in Eden Prairie, with "a 193-foot spire with a six-foot-tall cross," a forty ton organ "with 6,294 pipes," seating for 2,000, complete with "gymnasium, shower, and locker area." Total cost, $9,700,000. So much for the starving poor in Africa.
The funkiest, and one of the most charming, is the First Unitarian Church of Duluth, built in 1911 with multicolored stone, looking just like a Hobbit house. Ah, the Unitarians.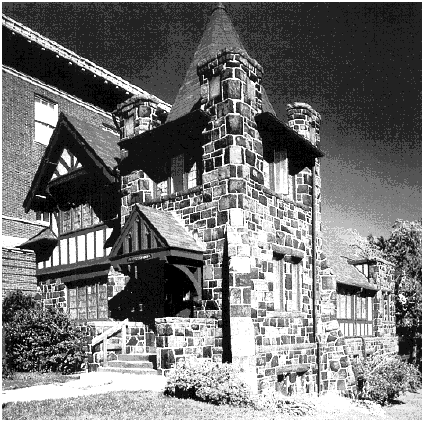 And the United Methodist Church in Faribault looks just like a bank. Ah, the Methodists.
One structure, all at sixes and sevens, is a Lutheran church in Harmony, with a weird mixture of Gothic with Romanesque. One of the most charming is the 1913 Church of the Annunciation in Hazlewood, defined by the author as Craftsman style, complete with tower with "open belfry, with wood keystones, corner piers, brackets, and modillions." If you understand all these terms you shouldn't be wasting your time reading this review.
There is a Methodist church in Lenora that looks just like the fabled much-sung-about "church in the wildwood" complete with classic hard benches so you know, after an hour or so of the service, that you are suffering on the behalf of the divine --- especially in the Minnesota winter, especially if you find yourself seated too close to (or too far from) the antique woodburning stove.

One we'd like to spend a day climbing about, without divine guidance, if possible, is the grandiloquent St. Stanislaus Polish Catholic Church in Winona. It is a combination of Romanesque and Baroque with a sanctuary
roofed in red tile [that] rises to a height of 100 feet capped by a round drum and dome that, were it not for the statue of St. Stanislaus atop it, could have come from a modest state capitol.
Another we would like to attend, but without any preaching, thank you very much, is the Redeemer Missionary Baptist Church in Minneapolis. It was built by two architects who once worked with Louis Sullivan. The building was constructed in 1909, with tall windows and those sweeping horizontal lines we are so fond of. It is of the Prairie School, Professor Lathrop tells us, which he describes succinctly.
[T]he emphasis is on horizonality, "honesty" (i.e., the requirement that the exteriors of the building reflect their purpose, or 'form follows function'); and judicious use of complex intricate ornament based on geometrical and vegetative shapes that serve to make buildings beautiful, not gaudy.
One of the least attractive, we are very sorry to report, belongs to St. John's University in Collegeville. The St. John's Abbey Church was designed in 1954 by a refugee from South Las Vegas named Marcel Breuer. The honeycomb building itself was, it appears to us, stolen from a nearby strip mall.

By far the worst feature is a flat-faced "bell wall" or "bell banner." It rears itself up on a hillside so it can, alas, be seen from everywhere. It looks, in all, like the backboard of a basketball court flown in by Martians.

The author calls it "striking." That's certainly what we would do with it.