San Diego, Texas is not to be confused with that other San Diego off there to the west somewhere. Of the latter, we once wrote,
Some of San Diego's contributions to the universe have been the last 19th Century Governor of California, Pete Wilson, and the KGB Chicken --- who are often confused for each other --- and the annual South California Championship flea infestation: each summer the fleas return, migrating back, presumably, from the likes of Sacramento and Palm Springs, causing the locals to twitch and jump like victims of syphilitic paresis.

In the summer, San Diego holds an annual Over-the-Line Tourney with teams bearing such exotic names as "The Ted Kennedy School of Driving," "The Booger-Eatin' Morons," "Club Baby Seals," and "Roses on the piano/Tulips on the Organ." It claims to be "America's Finest City," whatever that might mean, but, in truth, it is run in the usual way by the usual poltroons to profit the disgustingly rich at the expense of the disgustingly poor.
Contrariwise, San Diego, Texas in Turn-of-the-Century Photographs is evidently a place of some sophistication and affection for its past. The authors have brought together a hundred prints from 1898 to 1909 from the hand of amateur photographer William Hoffman.
San Diego TX is in Duval County where mysterious forces won elections for both Lyndon Johnson and Jack Kennedy some years ago. The town lies some 50 miles due west of Corpus Christi. In the late 19th Century, it had a population that was 90% Mexican-American. According to some of the letters reproduced here we find that it was (and, presumably still is) hot and dusty. The main business was farming and cattle. Soldiers who lived there busied themselves with drinking, whoring, killing rattlesnakes, and --- since they cleverly built their latrines uphill from their drinking water --- battling dysentery.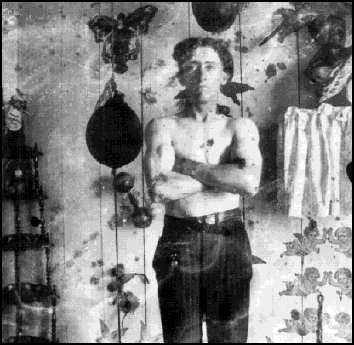 William Hoffman was a journeyman photographer and left behind 350 photographs from the era. Fortunately, he was a curious young man, and took pictures of houses, businesses, ranchers, Mexican-American families and workers. The photographs reproduced here come from negatives that have been damaged by moisture, by sticking to envelopes, by melting together with other negatives, and, we suspect, by extra-terrestrials.
Thus almost every photograph shows stains, blotches, blacked out areas, weird shapes, dark stars bursting from the skies, black dragons heaving up from the ground, bubbly thunder clouds bursting over people's stores, faces, horses, and hands. A shot of Hoffman himself on page 36 shows several black stars dancing across his chest and arms with whirly white spooks playing across his pants.
A picture of two Mexican ladies on page 70 shows a large black mountain wave growing up from the lower depths to envelop them and their shack. The Bruno Rios store on page 102 pictures goods and clerks standing about obviously unaware of a glorpy monster from outer space about to descend on them from the ceiling.
The same spumous creature threatens a general store on page 109, and on page 118 it blackly envelops two-thirds of a slaughter-house with workers apparently unaware of their fate. The Methodist Church on page 175 is awash with galaxies and flying saucers both above and below ground.
A veritable twister of white-black burbling snakes descends on an innocent man and his boy on page 125 in front of their feed store, and, in one of the most fearsome, on page 183, an all-consuming hellish smoke comes bellowing up out of the horns of an innocent but obviously devil-possessed Guernsey.
In all, we are convinced that at the turn of the century San Diego Texas must have been one of the scariest venues in the whole of the Southwest, if not on earth. Thank god we weren't around there to be so spooked and instead, spend our days merely avoiding The Booger-Eatin' Morons over here to the west.