I'm going to have a bit of trouble with this one. I mean, on getting Beverly's ideas down here ... concisely, cogently. It's not that they are wrong-headed, or stupid --- far from it: this one was hard to leave on the bedtable overnight.
On the Lam calls for a seismic shift in thinking. And the actors that the scholar calls into play here --- J. Edgar Hoover, Richard Wright, John Dillinger, Robert E. Burns, Ralph Ellison, Jacques Lacan, O. J. Simpson, Robert E. Sherwood, Paul Mini, Michel Foucault, Thelma & Louise --- are, to say the least, quite a mixed bag.
"The lam story is surely one of America's great minor genres," Beverly says, "but the fugitive has been too rarely discussed as a literary and cultural figure." The book, he explains, "will focus on the tensions between gestures of flight (the lam) and police pursuit (the manhunt) in American texts from the twenty years between 1932 and 1952." He uses as his criminal prototypes the Chicago gangster John Dillinger and Robert E. Burns, author of I Am a Fugitive from a Georgia Chain Gang! The authors he chooses to employ are Robert E. Sherwood, Ralph Ellison (The Invisible Man) and Richard Wright (Native Son). He also cites three movies, what we used to call B-movies (which he praises): They Live By Night, White Heat, and Gun Crazy.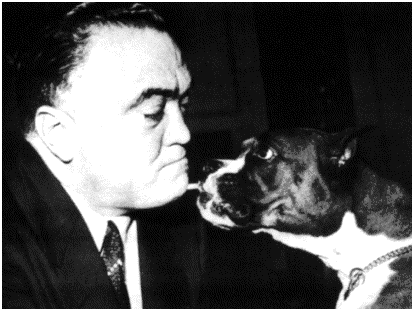 It's the chapters on J. Edgar Hoover and John Dillinger that are the most convincing, certainly the most enticing. The author sets much store by the fact that Hoover was born into a family of cartographers, working for the federal Coast and Geodetic Survey. Thus, he explains, the FBI grew immensely in power not only by Hoover's unending flair for publicity, but also his background in "cartography." Hoover's
scientific and organizational methods and discourse made the young federal agency's authority seem natural, progressive, destined not to successful coexistence with local jurisdictions but to ascendancy over them. By authorizing his own bureau at the expense of local and state agencies, Hoover managed to conflate law enforcement with his own visions of nationalism ... He figured centrally ... in disseminating a discourse on crime that used cartography to prescribe law enforcement antidotes. His discourse, and the federal policies it accompanied or made possible, changed the ground on which criminals walked (or fled) in the mid-twentieth century.
Hoover was, to those of us who grew up in mid-twentieth century America, a disaster to justice --- running his agency as he saw fit, unanswerable to anyone, disinterested in basic freedoms, a man who with his knowledge of most of the secrets of Washington, was able to keep the Congress and the presidents at his beck and call. If one listens to the Lyndon B. Johnson telephone antics on the CDs entitled "Bound for Glory," there are occasional calls to or from J. Edgar Hoover and his voice sounds like nothing more nor less than the stars of those black-and-white detective movies of the 30s talking out of the side of their mouths.
He was the embodiment of astute and scientific organization, creating agents that filled "a physical, intellectual, moral, and procedural ideal." His re-creation of the agency, says the author, led him to a "discursive redrawing of crime, policing, and Americanism." And when "Hollywood cinema shifted from gangster stars to police stars, it was the newly glamorized FBI that "found itself elevated to guardianship of the public good.'"
John Dillinger became for Hoover the first publicity challenge. For a while there, the newspaper coverage of the gangster --- to Hoover's intense irritation --- romanticized him. One wonders, says Beverly, why Dillinger "troubled Hoover so, even after his 1934 rampage ended happily for the FBI." The author sees them as a dyad --- "the two complemented each other marvelously as cat and mouse."
Cops need crooks to keep on working. The criminal is essential to definitions of lawfulness as well as law enforcement. In naming and pursuing a criminal, law enforcement defines itself and its dyadic opposite, and apprehending that criminal spells the end of a particular performance of the thematic difference.
By eluding the FBI as long as he did, Dillinger not only began to draw the sympathy from the public (some asked that he be pardoned by the governor of Illinois), he mocked Hoover's oft-repeated paeans to the new FBI and its ability to find the criminal through professionalism, "interrogatory imperative" and scientific techniques. Beverly points out that "When Dillinger was everywhere at once, his story was out of the hands of Hoover..."
The author is at his best when calling our attention to this "aesthetization" of Dillinger. Too, he is masterful in connecting the novels of Richard Wright and Ralph Ellison, books he sees as extensions of the realities of slavery out of the 19th century: where by simply being black one's freedom was mitigated in the highly constricted environment of the rural south.
On the Lam gives many poetic insights that delight and please those of us who are fond of obscure parallelisms:
The black experience of entrapment grew naturally from slavery and the slave environment was a prison for blacks with the whites as guards (in the 19th Century south, if a black man was seen out of his area, he would immediately be pegged as a runaway, caught, and, being a piece of property, returned to his owner for a reward);
Richard Wright went "on the lam" himself --- he spent his last years in Paris;
As part of Dillinger being "aestheticized" by the popular press, one finds his simple farmer father appearing prominently in later news stories with statements like, "John is a country boy, and likes to get back here once in a while for good green vegetables and home-cooked meals";
Dillinger changed his face and his fingerprints by cosmetic surgery at the same time that J Edgar Hoover did cosmetic surgery on the FBI;
News accounts of Dillinger often give him "phallic signifiers: Boldness, car, house, blonde sweetheart, machine gun too big to hide ... these details paint the picture of a hypermasculine outlaw.."
When captured, there was an aesthetic reversal: "the police strip Dillinger of his physical and sexual force and assurance, rendering him an obedient, shivering creature."