When you are looking at a volcano, you are not looking at a volcano. You are looking at a caldera, a shield volcano, a strato volcano, a somma volcano, or a lava dome. The latter is like one of those new sports stadiums, such as the Tacoma Dome, except that the games are played by teams of giants deep underneath the grounds. Sometimes, one of them slides into home plate, also called a Tectonic plate, and the result is a spray of lava, ash, steam, gravel, rocks, and Sunday newspapers.
The most damaging part of this is the Sunday papers, which coat everything with a fine layer of advertising supplements. The layers of this material pile up so thick that you can't even find the funnies. If you can, then the sliding plates can be counted as a mere Seismic Disturbance which is four points less.
All these events are scored on the Richler Scale, named after the author of The Apprenticeship of Duddy Kravitz. On this scale, true Eruptions are scored between 6.0 and 8.0 for noise, volume of gravel, and degree of lava flow. Seismic disturbances generally rate only 3.0, although sometimes they receive extra points for style.
Worst of all are the fires. Volcanoes enjoy what is called "effusive activity" --- shooting flames high in the sky. When you step out of the house to look they bonk you with rocks, stones, lava, gravel, and Classified Advertisements. On the other hand, volcanoes can also induce writers to write. This effect works particularly well when both the volcano and the writer are dormant.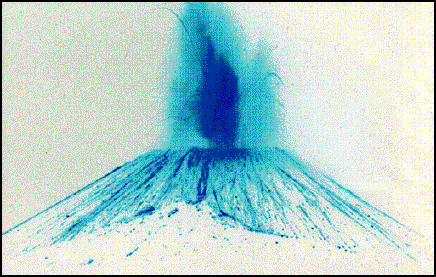 For example, Kilimanjaro in Tanzania went into retirement 500,000 years ago, but that still didn't prevent it from inspiring Hemingway to write "The Snows of Kilimanjaro." In the end, as we all remember from the movie, a smirking pilot takes the writer up to the top so he can become a snowman. Hemingway himself followed this story with a long period of silence to everyone's relief. The mountain has done likewise, so far.
Sometimes volcanoes overflow with what geologists call "fantastic spastic pyroclastics" which cook up everything left in their path.
In Pompeii, Italy, pyroclastic Somma buried the whole city while the townspeople were sitting down for lunch. This happened in 79 AD, and the Pompeiians have yet to finish their fettucine con frutti di mare, and will probably never get to the pineapple upside down cake. The Napolitanos are said to take things easy, but if you ask me this is overdoing it.
You'd think with all this that volcanoes would be bad neighbors. Not so. Many towns in Central America, Iceland, and Europe are proud of their little volcanoes ("volcancitos") and use them as a tourist attraction. People in Heimaey, Iceland have set up a bar and grill where they offer fried penguin and a hot, alcoholic punch called "glögg" so people can eat and get glöggy and watch the fireworks at the same time.
Unfortunately, Heimaey experienced a sudden redevelopment project in 1973 when their volcano blew it and coated downtown with lava, ash, and fried Icelanders.
The town of Galeras in Columbia invited some volcanologists to visit its fumaroles --- the "Smoking Area" of the mountain --- in 1988. When the scientists went there to have a smoke, the little volcano of Galeras had a gas attack, and several geologists were blown to their heavenly reward.
There are some volcanoes that are not volcanoes. For example, Mr. Rainier in Washington is included in this book, but it hasn't had a blowoff since 1500, at which time there was what they called "The Electron Mudflow."
The "Electron Mudflow" was named for the then owner of the volcano and the mayor of Puyallup, Fred Electron. He not only owned the only volcano in town but he claimed he could turn it off or on at will. However, volcanoes are tricky and you don't want to be fooling with them: one day the big mudflow caught up with Fred, and to this day, there he sits in the mayor's chair with lava up to his ears.
Nothing this exciting has happened in western Washington since then, except for the great Seattle Fire of 1893 and the later invention of Microsoft Word. However, help may be on the way. Paul Allen's Vulcan Corporation, which currently owns Seattle, plans to buy Mount Rainier and drill holes in the mountain to induce another blow-off. A good pyroclastic flow would cover the vast, perpetual traffic jam on Interstate 5 discretely in ash. Then the whole region, from Seattle to Gravelly Lake/Ponders could serve as a tourist attraction, and could be renamed "Vulcania" or the Experience Paul Allen Project.