Amphibians, The World of Frogs, Toads, Salamanders and Newts, Richard Hofrichter, Editor (Firefly Books). Amphibians is divided into five parts, with chapters from such experts as Doris Gutser, Ulrich Sinsch, Alois Lametschwandtner, Rudolf Malkmus, and Josef Schmuck and I didn't make up a one of these names. We are never ones to fault the cool scientific perspective, with whole pages devoted to "Pædomorphosis" or "Thermoregulation" or "The Ecology of Cæcilians," but we have to assert that the true worth of this volume, what one might assert to be The Jewel in the Forehead of the Toad, aren't the words, the maps, the evolutionary charts, the graphs, the complete list of species diversity and distribution --- but rather, the skin shots, some two hundred colorful photographs that are almost good enough to eat, if you are into eating toads and frogs. (Some people are: one of the more intriguing charts lists fifty-one species that are on the menus of the cafés in Indonesia, Malaysia, the Philippines, Africa, New Guinea, and Europe and America.)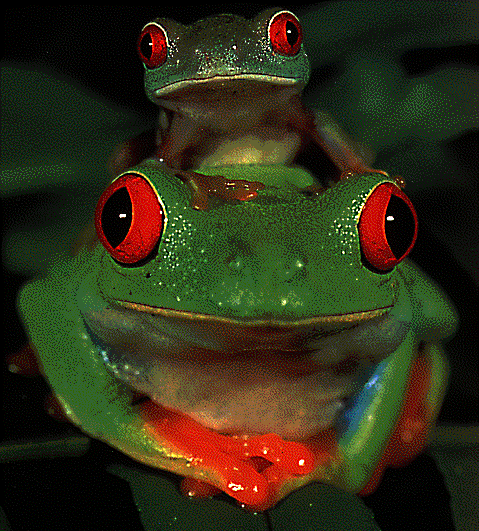 ---
---
In Search of Deep Throat, The Greatest Political Mystery of Our Time, Leonard Garment (Basic). The very name, Deep Throat, is a fine and ironic one. Linda Lovelace was the star in a blue movie of the same title, famous for her ability to accomplish penetrating acts of laryngectomy to satisfy her needy clients. To name a mysterious Republican mole Deep Throat says much about the character of politics in those days. However, based on the structure of this book, if Garment is still practicing law, god help the hapless clients. This document stretches on (and on) for some 270 pages, and is chockablock full of repetitions, backtracking, noisy personal asides, wheezy theories on the nature of politics --- all excessive verbiage of the highest order."
---
Treasury of Victorian Murder: The Fatal Bullet, Rick Geary (Nantier Beall/Minoustchine). "Of course, Guiteau radicalized the operations of the United States government far more than Garfield did. One man with one gun and two bullets created, single-handedly, the dratted Civil Service System which presents us with all those 8 am - 4 pm G-11 Civil Servants who will do anything to keep from answering our questions. He also started us on the path of separating our elected officials from the common folk. Which, if you doubt, just you try to get an appointment with your Senator or Representative --- much less your President --- to tell him what you think of his government. Geary brings the whole era --- and the two main characters --- to life, and its great comic book reading, and why didn't they have history books like this when you and I were going to school?"
---
In the South Bronx of America, Mel Rosenthal (Curbstone Press). It had originally begun with photographs of Vietnamese refugees and then graduated with pictures of the destruction of what had once been a stable community of apartments, homes, churches, schools, factories and stores. He began to show the citizens living in the midst of this wreckage, and became known in the area as "the picture man." He dedicated himself to showing people surviving in what he now thinks of as another Third World country (in fact, some of the denizens had asked that Russia post a diplomat there, so they could ask for foreign aid). In the South Bronx of America consists of over a hundred black-and-white photographs of people working to survive in the rubble of what is essentially a dust-bin, with commentary by the author and pertinent quotes from others who lived there, still live there, or are familiar with the area."
---
The Happy Years, L. W. Milam. "The Wrestling Room was a long, low-ceilinged room on the third floor of the gym. It was heavy with the aroma of sweat and jockstraps. During the winter months, it was also filled with the grunts and groans of the school wrestlers in competition with each other, or with the nearby schools that were supposed to be our enemies --- Hill School, George School, and my favorite (in name if not in reality) The Hun School. At Prom Time, the Wrestling Room was, however, transmogrified into another kind of wrestle. The school fathers knew that unleashing several hundred co-eds on our campus for forty-eight hours could lead to a series of fire bombs from the students' explosive, pent-up libidos. Rather than fight it, they set the weekend up in such a way as to let us get our rocks off in acceptable fashion."
---