Ta moko
is the traditional facial decoration of those of Aotearoa, New Zealand. The authors of
Moko --- Maori Tattoo
tell us that it is not only tattoo,
It is also a name used for lizards throughout Polynesia, and it carries all the mythical associations attached to such creatures...
Ta moko
was kept alive by older women who lived in remote areas beyond the pale of European condemnation. In the 70s, young urbanized Maori in search of powerful symbols of ethnic identity rediscovered the art, and
moko
found a new generation of skin.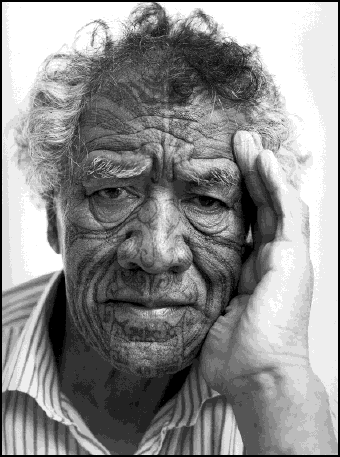 One guide, who assisted with this volume, said that with his moko, "I will never pretend I am white again." Indeed, many of those who appear in this book do not see themselves as "exotics" or "natives." There are students, workers, soldiers, and businessmen and most, apparently, are deeply religious. Statements that accompany many of these photographs are Maori translations of passages from the Bible --- hinting that an ingrained ancient culture has merged, to an astonishing degree, with the Christian.
§ § §
It's a question of face, isn't it?..."the face we prepare to face the world..." It is the part of us that presents the Me to Everyone Else.
Many women of the west painted their lips and cheeks, shaded their eyes and eyelashes, and hung decorations from the ears. This was supposedly to enhance one's beauty, make one more interesting or desirable. But if I am Hindu, a third eye painted above the bridge of my nose is not for sensual purposes, it, instead, tells the world of my religious beliefs.
Contrariwise, if I am a young American, sticking pins in the eyebrows, a jewel through the nose, a ring in the lips --- I am showing all who meet me that I am different, and that I am willing to go through pain to assert that difference.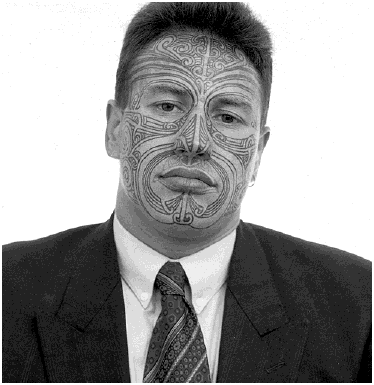 All these have one element in common: the third eye, the lipstick, the rings can all be removed. But there is no going back with the facial tattoo of the Maori. It is a painful process of design which states publicly one's passionate belief in one's people, and their ways, and their religion and history.
These photographs, almost a hundred in number, are a wonderful peek at a culture of artful difference. Some of the tattoos are delicate, understated. But some are a poke in the face, so to speak, at the world. Sinn Dog's decoration, running across the lower half of his face --- like a mask --- including nose, lips, cheeks and chin, proclaims MONGREL FOR LIFE. He is an ominous-looking dude, with or without tattoo. Meeting him in a bar, I would suspect most of us would speak to him with caution and some care. His life-time sign, right there before your eyes, says it all.