Sanchez is not very enamored of the ego. He says that it casts a spell over us. Far more important, in his view, is what others have called "the aetheric body" or "the spiritual self," what he calls "The Energetic Body." It's there, in or around all of us, because "we are children of the sun."
The energetic body is the biggest of mysteries. It is not possible to determine where it starts and where it ends. We may live part of its endless possibilities, but we cannot deplete them.
Sanchez has a system for self-healing he calls "recapitulation." Our interaction with others is, to him, an interchange of energy, some positive, some negative, some neutral.
Energetic exchanges were printed in our energetic body, and we live the way we live, we see the world we see, and we are what we are because of these exchanges and their energetic prints.
This energetic body remembers all the "damages that come from the past," so Sanchez proposes a healing process "to recover the state of energetic completeness and balance that we had when we were born."
Recapitulation is a two-step process. The first is one of revisiting all the interchanges that we have had over the years that have created these damages. Those of us who ended up loathing our fathers, for example, actually made a decision one day, saying to ourselves (probably when we were quite young): "He's a jerk, he's a son-of-a-bitch, to hell with him." We made the decision, and we stuck with it.
Sanchez wants us to relive those moments when we made such decisions and, once having done so, gives us a technique for undoing the hurt. We are to make a list of all these traumatic decisions, then construct a box, in which we will stay to rework these traumas.
He gives exact specifications --- height, width, depth, holes, location. He is insistent that we build the box ourselves --- no hiring carpenters --- because the energy of constructing the box is one key to its curative effects. Having written and reviewed our extensive list of traumas, we get in the box and with specific exercises --- including shouting, screaming, and dialogue with the source of our pain --- we begin the process of healing.
§ § §
Sanchez, through a fairly convoluted logic that escapes us, somehow ties recapitulation to the Toltec religion. But he didn't have to go so far afield. A quarter-century ago, those of us who were on the neurotic edge did something called the Fisher-Hoffman Process. With the guidance of a practitioner, we would devote six weeks to digging up the horrors of growing up with Mumsie, and another six weeks with Father. Included in the process was writing up a list of the ghastly characteristics of each parent. You'd never believe you could come up with "500 worst characteristics of my mother," but after we got started, sometimes it was impossible to stop.
Then we'd do punishment and forgiveness. We'd study this list, and, among the various exercises, would go to a meeting place with the other Fisher-Hoffmans. For several hours, with bats, broomsticks, pillows, and lots of screaming ("Why did you ignore me?") we would beat the hell out of the offending parent. Then we would start the process of forgiveness.
The theory was that all parents are abusive and all children have been abused. The definition of "abuse" was huge, and it made some sense: the very act of growing up means that the people that have cared for us and nurtured us have to make some mistakes along the way. It was those mistakes that Fisher-Hoffman sought to ameliorate.
§ § §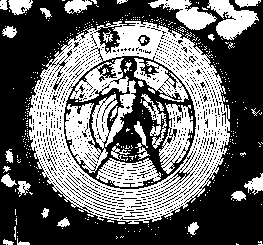 Sanchez's process for forgiveness is in the same general area, and if my arthritis weren't such a pain I'd consider building his Box and spending some time there. At the worst, a couple hours a day salted away between the boards couldn't be any worse than those times we are dealing with the Social Security people or having to listen to calls from telemarketers.
One thing we would suggest, however, is that Sanchez spend a little time spiffing up his writing style. This is not his only book: he footnotes himself and his previous volumes ad nauseam. Alas, his ability to parse is convoluted at best and silly at worst. When he writes,
It is because of our energetic body that we are simply a mystery in the middle of all the mystery surrounding us,
we note in the margin, "Hunh?" And when he follows this paragraph with a four word dicta, "We have no bottom" --- we want to ask him what the hell he thinks we are sitting on (in or out of his box.)