California Crazy
gives us almost three hundred photographs. Heimann points out that many of these delicious figures have been torn down, and until twenty or thirty years ago, were uniformly derided by classical architects. Of course: they are just too much fun (as the Mexicans would call them, they are "tacos de ojo" --- food for the eyes.)
But Heimann says the tradition lives on --- viz., the huge basket building [Fig. 2 above] built by the Longaberger Basket Company in Ohio and those wonderful trucks for pesticide companies which have big roaches, beetles, and other hairy creatures growing out of the tops of them.
Despite the title, it didn't start in California. The author takes us back to the 18th Century, to several antecedents: a barn in the shape of a cow by Jean-Jacques Lequeu, a garden kiosk in the form of an elephant by Charles-François Ribart, and the Colossal Elephant of Coney Island designed in 1884 but, alas, never built. The most charming, at least to this reader, is the Sad Doggie Diner on the cover [Fig. 1, above], the restaurant in the shape of an airplane [Fig 3 to your left],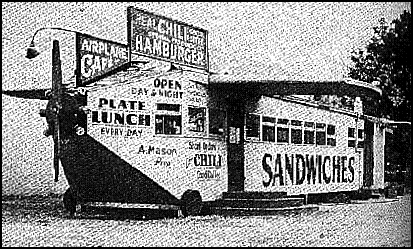 and a house in the shape of a beached boat, complete with anchor and portholes, owned by "a Hollywood starlet." Also not shown is the Pulaski Diner, on the Main Line just outside of Bryn Mawr in Pennsylvania which was an interurban car converted to greasy spoon, where we adjourned at midnight to fill up on hamburgers. But then again, that might be not what the author calls "programmatic architecture" --- in which you fashion a bowler hat, or a fat doughnut, or a big red tomato from scratch, and use it to sell your wares. Rather, it might be thought of as architecture of convenience or, better, recycling. For the Pulaski diner at one time did race along on rails between Philadelphia and West Chester. It just ran out of steam, and was parked along the Pike where they replaced the straight-backed seats with booths and a plentitude of grease and steam --- and a college diner was born.