Dr. Dhonden was physician to the Dalai Lama at the time of their exile from Tibet, and has continued to practice Tibetan medicine in India and teach its principles in the United States. It is a far cry from what we find in western medicine.
The tree of medicine [has] three roots, nine trunks, forty-seven branches, 224 leaves, two flowers, and three fruits...
The physician is expected to have achieved his own "spiritual qualities," that is, freedom from anger, greed, and ignorance. In other ways, however, Tibetan medicine is not too distant from European medicine's earlier concept of "humors,"
The afflictive elements of the body are the three humors:
Tibetan medicine demands the use of mental concentration, herbs, and mantras. For instance, in treatment of a person who has been bitten by a rabid dog, the practitioner writes certain mantras down on paper, rolls them up, and recites them over a volume of water. The paper is then given to the patient to swallow, and after taking fifty steps,
the doctor takes out a bell-metal mirror and tells the patient to say "Ha," expelling the breath very rapidly onto the mirror...The vapor from the patient's breath appears on the mirror, and, in some cases, a little image of a dog appears in the vapor on the mirror. If so, this indicates that the rabies has been cured...
A Tibetan doctor is concerned not only with the patient's physical health, but his mental health as well. Thus, if the patient has business activities that involve hate or greed, the physician would seek to effect a cure of those as well as the physical sickness. Tibetan medicine would, for example, view the fiscal objectives of upper level management at General Motors, General Mills, or General Electric as a form of deep illness, one that would contribute to physical deterioration. If the patient is to be made well, these spiritual deficiencies must also be addressed.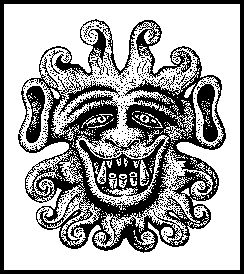 Dr. Dhonden states that there are minute organisms in the atmosphere which have
heads like that of a lizard with a big mouth, long tails like that of a snake, and many limbs like those of a centipede...They move about freely in the atmosphere, and they can enter the human body by way of the nostrils and through the pores.
When the body is weak from imbalance of the humors, these creatures take advantage of that weakness by invading it.
Tibetan medicine states that the herpes virus evolved from a tree called "seshing nama" (known as the "lac" tree in Japan and China). It's so powerful that a person
may also be infected with this virus just by lying in close proximity to a person only of the opposite sex who is infected, even without sexual intercourse. One can also be infected from the vapor rising from the urine of a person who is infected with this virus.
The cure involves medication, "including laxatives and emetics for six to seven months to rid the body of the virus. Sometimes ancillary treatments would be prescribed as well, including blood-letting, hot baths, and so on."
Another cure, called "great medicine," involves the patient sleeping with an "inch-long bar of silver held between the teeth. Then when the virus rises through the vapor of the mouth and comes in contact with the silver, it turns the silver dark." Sometimes the cure makes the hair drop out, and Dhonden cites a Tibetan mot that goes,
My nickels and dimes where taken by the physician, and my hair has been taken by the wood virus. Now that I am free of that virus, I can do whatever I like.
He sees AIDS as a mutation of this herpes virus, and claims to have cured one young man through the "great medicine." AIDS and other illnesses, according to the Tibetans, may not only be a product of our lives, but may come to us through the three poisons of the mind --- attachment, hatred, and delusion --- that are left over from previous lifetimes. In addition, there are "demonic influences" of six types, including 1080 types of elemental demonic forces, earth spirits, and "serpentlike creatures, many of whom dwell in bodies of water such as rivers and lakes."
Dr. Dhonden seems a serious type, but he has a merry streak. He tells of a time when Chinese doctors in the United States were being prosecuted for trying to treat AIDS, and tells of a time when two gentlemen called him for a meeting, claiming they were former patients of his. He scheduled the meeting moments before he was to take off on a cross-country trip. "I figured if they wanted to harass me, they would have to follow me to New York." Turns out that not only were they former patients, but they had been cured as well, and wanted merely to thank him.