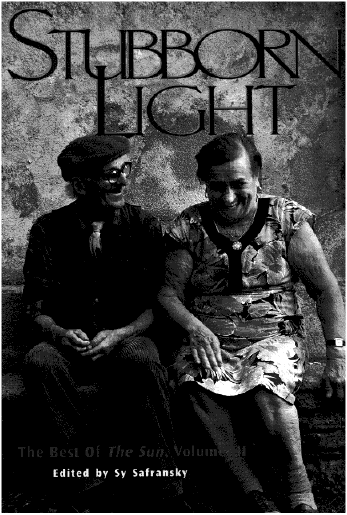 The Sun
magazine has been publishing for almost thirty years --- and this is anthology number three, with almost sixty stories, poems, interviews and articles, running the gamut from psychotherapy to education, from not breathing to total disability, from gardens to hooligans --- with
The Sun's
specialty --- mothers and fathers: loving and kind, horrible and cruel, bitter and forgiving, destructive and dying.
The magazine is known for its flinchless stories and articles --- real people describing real hurt. It's a peek into private lives --- the skin flayed, the muscles pulled away so you can gaze morbidly at the beating heart, the pumping kidneys, the pulsing lungs, the twisting, turning guts of people just like you and me.
In fact, over the years, the magazine has gotten the reputation of being almost too morbid, dealing again and again, in its stories, poems, and "Readers Write" section, with madness, abuse, cruelty, poisoned relations, hurt, agony and death --- to the point that readers occasionally accuse it of wallowing in masochism and pain to the exclusion of the joys and wonders of life.
This is ridiculous. The Sun is an important resource for those of us who want to study up on woe. You'll notice that the cover shows two shopworn but wonderful laughing geezers. You'll ask what they are doing on the front page of our primary resource for pain. It has to do with the delusional nature of life. Since agony is an illusion (albeit a painful one), maybe we should all be yukking it up, just like they are. Why are you laughing? Because it hurts so good.
The Sun is like that. It just hurts too good. Seventeen years ago, when Safransky went to put out the first collection of writings from The Sun, he said he wanted to call it A Stubborn Light. I told him that was not the right title. I said he should call it A Bell Ringing in the Empty Sky, because it sounded like a koan. Since all of us would-be Zen Buddhists are nuts for koans, we would be getting a 600 pager of them. Following the old publishing dicta, "If you don't know what you are doing, do it again" --- the book got to be so fat that Safransky ended up putting out two volumes. Thus we got two bells and several empty skies --- all for the same price. Doubled, like a doppelgänger.
When this new anthology was being prepared, he started in on that stubborn nonsense again --- and I complained bitterly. "I never saw The Sun nor Sy as being stubborn," I wrote him. "Misguided, at times. Innocent --- often. Foolish --- on occasion. Uncannily wise on getting good stuff before a variety of readers --- yes. But stubborn. Just stop it."
If there is hope --- and there must be hope around here somewhere (I'm still looking) --- it's on the spiritual side. For instance, there's the matter of the late Stephen Butterfield, now known to many of us as Stephen Butterfly. The three articles alone by him are well worth the price. But the best entry I believe is near the end, in the list of contributors --- around the middle of page 617. That may well be the koan of koans.