fame --- had a stroke. He survived, and he's now in a wheelchair. We have here a master (and a master writer) now deeply involved in spirituality and disability. He still, as always, is giving us the opportunity to eavesdrop on his personal quest. He still addresses spirituality --- how we can find it, what to avoid --- but he speaks from a new perspective. There are tools, he tells us, to protect ourselves from the terrors of loneliness, old age, disability and dying. There are some parts of this book which will disturb his disabled peers, but there is no way we can deny his basic compassion. The chapters on loneliness, embarrassment, loss of role, and the depression of the aged are excellent.
Like all of Moravia's novels,
Contempt
is a tale told with a spare elegance. Moltari is a poor screen writer, working for the producer Battista. Emilia, Moltari's wife cleans their rented apartment in such that he is convinced that they should have a house of their own. At the same time, he has a new job turning the
Odyssey
into a popular movie. Out of this simple story Moravia weaves a wondrous tale of elegant misunderstanding. It's the story of a man destroying love, his life, his happiness by being an endless, worrier, meddler and, worst of all, an intellectual. We've said before that Moravia is an anomaly: no other male writer in our experience knows how to plumb --- simply and wisely --- the heart of woman. Coupled with that is the gripping tale. When the moments of passion and madness arrive, as they must, they blow up into golden colors.
---
<Sacred Roads
Adventures from
The Pilgrimage Trail
Nicholas Shrady
(Harper/San Francisco)
Nicholas Shrady went on several pilgrimages --- and not the ones where you sign up with World Holy Travel and pay $4500 and jet into Israel for a few days with six dozen others of the Sun City set, staying at the Jerusalem Hilton and being hurried through the Stations of the Cross. Rather he went, on foot, as a pilgrim. His lively descriptions and acute blend of questioning and faith makes this one of the best travel guides we've come across, especially his descriptions of the upper reaches of the Ganges and Jerusalem. We are left with the feeling that Shrady is a true seeker --- there has to be a certain humility in the pursuit of the holy. He wastes little of our time with stories outside of his journey or personal history, but, rather, proves himself an indefatigable traveller, a fit companion for all pilgrims --- funny, skeptical of cant, opinionated, yet open to all that a holy journey can reveal to him, and to us.
---
<The Black Room
At Longwood
Napoleon's Exile
On Saint Helena
Jean-Paul Kauffmann
Translated by Patricia Clancy
(Four Walls, Eight Windows)
Napoleon, for the last six years of his life, was confined to a tiny house on a tiny rock in the south Atlantic --- St. Helena. This is where our author goes to create this work. In the hands of a lesser craftsman, this could be a lunky show-off literary exercise, but Kauffmann has a fine eye, an excellent ear for phrasing, intertwining the present and the past, building an odd double helix of time and history and thoughts and smells. Having been a hostage himself in one of those Middle East tangles, the author knows the meaning of isolation and hopelessness. He has immersed himself in the last days of Napoleon giving us a work plump with interesting facts. It is a delicate touching on key moments that reveal the past to the present. Napoleon turns out to be thrice caught: captured by the English, entrapped by his melancholia, and here, described by a writer who turns exile into a study of the claustrophobic past and the claustrophobic present. The people of the island form a chorus, for they are in their own exile, both physical and mental.
---
<The Grand Canyon
And the Southwest
Ansel Adams
(Little Brown)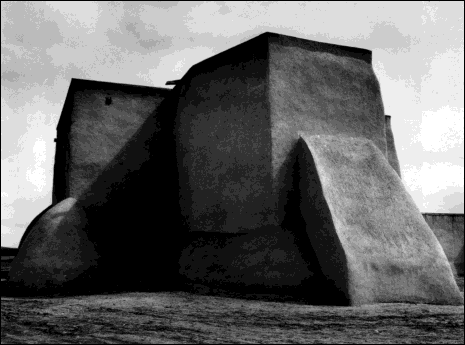 Editor Andrea Stillman gives us seventy Ansel Adams photographs here --- people, valleys, deserts, cactus, trees, cliff palaces and churches --- including those of the Mission San Xavier del Bac in Tucson, the Santuario de Chimayo, New Mexico, the New Church in Taos Pueblo, and the Saint Francis Church in Taos. All great photography must make us wish that we could dive into it, to hear and see and feel for ourselves what's going on. With nothing but an ancient 8x10 or 16x20 view camera and black-and-white stock, visually recording none but the most simple scenes, Adams has created heart-stopping photographic drama. The editor has included excerpts from his letters and writings. "I feel as if I had lived a whole life in this country, so perfectly does it seem to fit me."
---
<Living in the
Light of Death
On the Art of
Being Truly Alive
David Guy
(Shambhala)
It's not dying that creates the fear. Rather, it's the idea of dying: "When death actually comes it will be a moment like this one, an experience like any other, which we will try to stay awake for," the author tells us. Rosenberg teaches meditation in Massachusetts. As part of this, he guides his students in "death awareness." The messages he has for us are simple and direct, and this is probably one of the most easily accessible how-to-do-it books: how to deal with pain, how to deal with illness, how to deal with one's own upcoming death sometime in the next moment; sometime in the next hundred years.
---
<The Secret
Knowledge of Water
Discovering the Essence of
The American Desert
Craig Childs
(Sasquatch)
Craig Childs' specialty is water where you and I would expect none, in the middle of the high desert country of the American west. One of his tasks is to map water holes, but his descriptions of his various journeys through the Sonoran desert, up into the Grand Canyon and over into Utah are less those of a scientist and more of a poet. If the writing in his other titles is as rich as this, he will end up taking over the world of naturalist letters. The words he strings together are so lyrical that we found ourselves comparing him to that naturalist of the air, Antoine de Saint-
Exupéry.
---
<Children of a
Vanished World
Photographs of
Roman Vishniac
Mara Vishniac Kohn and
Miriam Hartman Flacks, Editors
(University of California)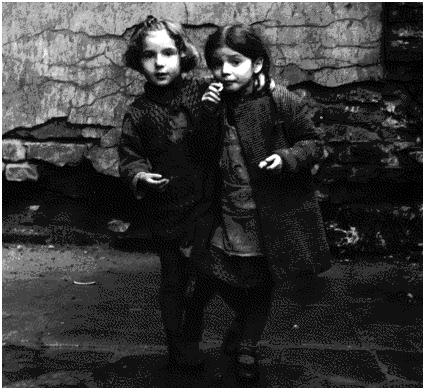 The photographer Roman Vishniac traveled extensively in Eastern Europe, making photographs of ghetto life between 1935 and 1938. Out of the sixteen thousand photographs that Vishniac took, seventy have been selected for this volume. On the pages facing the photos are Jewish children's songs, poems, and rhymes, given in the original Yiddish with translations by Miriam Flacks. A work like this becomes high art not only because of the intimacy of the photographs --- stark black-
and-white images, exquisite composition --- but, too, from our knowledge of history, the coming disaster. It becomes even more poignant with the songs and poems and children's rhymes that appear on every page, songs filled with unbearable irony, like the lullaby, "Oy, vi bin ikh, kinderlekh, mekane aykh atsind,"
Play on, dearest little ones,
For spring has come a-new,
For spring has come a-new,
Oh, my dearest little ones,
Oh how I envy you.
Oh, my dearest little ones,
Oh how I envy you.
Revel, revel, little ones,
Now, while you're still young,
For from the spring-time to the winter,
Is only an eye-blink long.