Jackie Napolean Wilson --- yes, that is his name --- is an attorney and historian in Detroit, who has the largest known collection, public or private, of African-American images in early photography. Hidden Witness is filled with lovingly reproduced Daguerreotypes of African-Americans of the first part of the nineteenth century.
The pictures are haunting, mystical --- moments in time preserved in amber, in this case, sepia, from 150 years ago. The photos evoke nostalgia. To me, a Lithuanian-Russian-American Jew, they sing of Stephen Foster, rather than the oppressive life of slavery and discrimination that Wilson means to convey. I cannot tell whether the antique gold frames that envelop the photographs are genuine, or the product of Adobe Pagemaker. Wilson's commentaries, printed opposite the pictures, reflect his own reactions and expectations:
This slave gardener made the scene himself. He was the "hidden witness" who saw this picture being created and was a witness to life at that time, and remained a testimonial to this day. This was a daydream picture. It appears he thought he was out of reach while watching these people who seemed to have everything and wondering what life would be like if he were in their place. I wonder what happened when they saw this picture with him in it when he should have been working.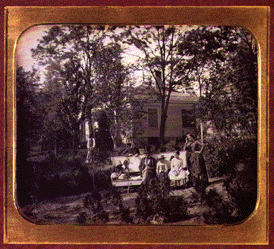 The wonder of these pictures is in their ambiguity. They stand alone and speak for themselves. They are like antique 78's, cut in acetate by a needle set a-vibrating by the sepia voices of Enrico Caruso, Tita Ruffo, and Amelita Galli-Curci.
When I was in medical school, some friends were in the process of buying a house up the street. Built at the turn of the century, it was in mint condition --- the 1900 mint, not a piece of work had been done to it in 60 years. It was inhabited by two elderly spinsters (they would not mind being called spinsters). The asking price was $47,000. My friends, a psychiatrist and social worker, offered $43,000. The offer was refused. $45,000 was refused, as well. Finally, they offered the asking price.
"How long do we have to decide?" the sisters asked their broker. My friend Donna, highly intuitive and empathic, understood what was happening. "Alec," she said to her husband, "If we get this house, I wouldn't change a thing. These pushbutton light switches, the cabbage rose wallpaper... you just can't get stuff like that anymore."
"All right, it's yours," said the sisters.
My friends called in excitement. "These sisters have a record collection that you would die for," they said. "Old 78's of Caruso, hundreds of them. Their brother collected them, and they have to get rid of them because they're moving to a two-room apartment in Hingham. They want to sell them to someone who loves opera, so we mentioned you." I drove by the house that night on my way home. There was a long silence after I twisted the manual ringer. Finally, the door opened about an inch, and an eye peered out:
"Are you the doctor?"
"I am. I'm Dr. Ingall."
"Doctor, are you a member of the Metropolitan Opera Guild?"
"Of course," I answered truthfully, "I just got my latest Opera News today. How about you?"
"All right, you can come in."
The door opened, revealing two frail sisters in their 80's. "Now we'll go up to Norman's room," said Edith, and led the way up the dark winding uncarpeted stairs. Norman? I wondered if their last name was Bates.
Norman's room was a shrine. Edith opened the closet. "Here are Norman's clothes." And there they were, wide-lapelled suits that Al Capone or my father would have loved, all neatly pressed. Norman's bed was made, his bureau neatly arranged.
It seems that Norman had lived in Camden, New Jersey, near the Victor Company. Every Saturday, he would go down to the factory and buy the week's latest releases. On Saturday afternoon, the conductor of the Philadelphia Symphony Orchestra would come to Norman's house to listen.
We descended to the basement. Was it Bates? The shrieking glissando of violins echoed in my ears, and I waited for the axe to strike. On the dirt floor of the basement stood two walnut Dr. Brown's Record Cabinets, each containing two rows of six drawers. I pulled out a drawer, and it dropped down, fanning out thirty dusty old 78's. I pulled one out: Enrico Caruso, La Donna e Mobile, 1917. Then Rachmaninoff playing Rachmaninoff, Paderewski, Heifitz, Tita Ruffo, Nellie Melba, Luisa Tetrazinni. I gasped.
In the corner, I saw an old gramophone. "Does it work?" I asked.
"We don't know," said Edith.

I took out a record by Caruso, L'alba separa dalle luce l'ombra by Tosti. I wound up the gramophone and set the rusty needle down. The surface noise sounded like the distant ocean. Caruso began forte, and built to double forte, and, after two minutes of a slow rise to a high b-flat, he hit it fortissimo.
Standing in front of the speaker, I felt actual throbbing in my ears. I could see Caruso's head stuck deep into the cutting horn, the needle vibrating onto the virgin acetate. What I was hearing was the actual vibration of his vocal cords of over 50 years ago. The voice stopped, and I could hear the sea again. Edith was sitting on an orange crate, tears streaming down her face.
"Well, Doctor, why don't you go home and think about it."
"Now, Edith," her sister spoke for the first time. "We have to move to that apartment, and you know there is no room for these things, and the doctor appreciates how fine they are, so Doctor, why don't you make an offer and we'll be done with it."
"I have no money," I told them in truth, "I'm an intern. This stuff is priceless. All I can give you is $100. I promise you I will never sell these records, and that I will treasure them forever."
"Take them, then," she answered. A month later, I sent them a cassette recorder and two tapes of the best of the collection. Today, Caruso sings in my living room, a sepia portrait, frozen in time.