Dear Ralph: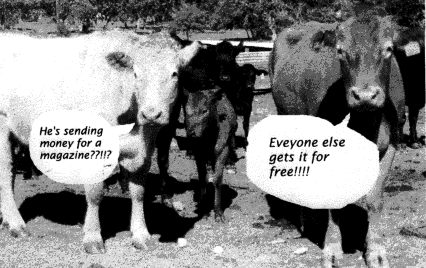 [Received with subscription]
--- ALJ
Boerne, Texas
§ § §
RALPH:
After reading Salon and Slate and McSweeneys, I conclude the problem with web zines is that there is no limitation of space out there on the web. Instead of a limit to words in an article, a limit to articles on a page, and a limit of pages in a magazine --- writers of articles in the zines just go on and on. What would be an interesting little squib becomes an article the length of The Pentagon Papers; what would be a sharp and pointed review is so padded in words it loses its sting.
Who do the editors think reads this bowl of pabulum? Endless stories on a daily basis, based on a passing thought, written without much research, fact or effort. Unlike news stories, these pieces strive for a style, a tone -- a voice as in E. B. White or Joan Didion; the New Yorker's Genet. They strive but they do not arrive.
This is not real writing; this is all Styrofoam and ReddiWhip.
--- HG1932@aol.com
§ § §
Dear RALPH:
In the article "Post Expressionism . . . " the author quotes the Nazi's as calling this "decadent" art.
Rather, it's "degenerate" art.

--- Art Student
srigby@sas.upenn.edu
§ § §
Hi!
I saw the review of From Here to Fraternity at ralphmag.org. I've been looking for a copy of this book for quite sometime. Do you know how/where I could get a copy? Any help would be appreciated as I'm at my wits end. Hope I'm e-mailing the right person!
--- Tom A.
TAAldrich@aol.com
---
Our Editor Answers:
You are.
The book is From Here to Fraternity by Robert Egan and it came from Bantam Books.
The review was taken from the original "Fessenden Review" in 1986 or 1987 (we reprinted it), so it was probably published in those years.
I looked in ABE book exchange and also at Powells. Neither of them had it.
There are a myriad of book search services on the web. I suggest you e-mail them and ask how you can get Egan's book.
Or even better, write Bantam and ask how you can get hold of him.
Authors always have extra copies of their titles.
Now my question: why are you so taken with it?
It was a wretched (albeit funny) book.
--- Lolita Lark
Editor
RALPH
poo@cts.com

---
RALPH:
I'm afraid I have no interest in your publication and recycle it when it arrives. Please remove me from your mailing list.
--- Thank you.
A. S.
stinnett.1@osu.edu
Ohio State University Press<