The KRAB Audio Archive
Radio Knocks on the Doors of Perception
Problems listening, or comments? Please let us know. E-mail archive@krabarchive.com
KRAB's explorations of altered states of consciousness ranged from programs by Alan Watts and Aldous Huxley to Timothy Leary, Krishnamurti, the philosophy of GJ Gurdjieff, and many others. We've decided to share at least some of these in a thematic page.
---
Education and Ecstatics; Alpert, Leary, Metzner, and Wescott - KRAB Spring 1964
Timothy Leary, Roger Wescott, Ralph Metzner, and Richard Alpert in a panel discussion about education and the use of psychedelic drugs. Recorded by KRAB-Seattle. [KPFA folio of Dec 7, 1964]
Actually, KRAB did not record this. KRAB received this and other tapes about achieving and prolonging "ecstasy" from someone, or some organization, in Connecticut, just down the road from the Hitchcock Estate in Millbrook, NY, where Timothy Leary, Richard Alpert, Ralph Metzner, and assorted followers had been living since Sep 1963. Apparently KRAB sent a copy of the recording to KPFA without revealing the original source.
For a time, it seems, having an "ecstatic life" was all the rage. In 1968 George B Leonard published his "Education and Ecstasy".
Most of the KRAB program guides of 1964 and 1965, some in bound editions, disappeared between 1977 and the mid 1980s. So we do not have an excact date when this program was broadcast on KRAB.
While Timothy "That's what I was going to say" Leary's voice is easily recognizable, the others are more difficult. They do occasionally use their first names.
Recorded off the air by Leonard Good. At the end of the recording Nancy Keith, KRAB's Program Director at that time, is heard announcing the program and giving a subscription pitch. KRAB was asking only $12.00 a year.


Listen now - Education and Ecstatics; Alpert, Leary, Metzner, and Wescott - KRAB Spring 1964 (63:53)
Recording courtesy Linda and Leonard Good, LG0002
---
Baba Ram Dass - The Transformation of a Man - Rec Sep 25, 1968; WBAI Nov 10, 1968; KRAB Nov 8, 1970
Baba Ram Das -Transformation of a Man - recorded by WBAl. The former Richard Alpert, Ph. D in Psychology, Professor at Harvard, and friend/co-worker of/with Timothy Leary, talking about the changes he has gone through. [KRAB program guide #205, Nov 8, 1970]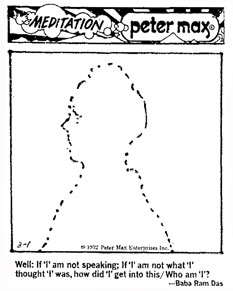 Seattle Times Mar 1, 1972
One version has it that Leary and Metzner and others at Millbrook (see above) had grown tired of Richard Alpert's daily attempts to achieve a persistent long-term "high" and persuaded him to seek "the answer" in India. Whatever the motivation was, he left for India in 1967. When he returned to the US in 1968, he had a new name, and a lot of stories to tell.
Here is WBAI's Nov 1968 folio piece about about the program:
The Transformation of a Man (Baba Ram Dass) Dr. Richard Alpert, former professor of psychology at Harvard University, was one of the original experimenters at Harvard with LSD and other drugs. He has also been a close friend of Dr. Timothy Leary for some time. The talk, recorded at Bucks County Seminar House, is the first appearance Dr. Alpert has made for some time. He tells of his long search for men who might have the keys to "enlightenment," and of the guru he found. This guru sent him to the United States for a year as part of his Sadhana. But "Dr. Richard Alpert never returned to the United States. Baba Ram Dass returned." Produced by Bob Bisom. [with technical assistance by Richard Brause]

Listen now - The Transformation of a Man (Baba Ram Dass) - KRAB Nov , 1970 (249:40)
Recording courtesy: 425AU0622, J. C. Gathings Collection, The Vietnam Center and Archive, Texas Tech University

Ad in KRAB Program guide #214, May 1971


L A Free Press Dec 6, 1969






Some additional material about Baba Ram Das (Richard Alpert)

An article in the L A Free Press, Dec 6, 1969, condensed from the S F Oracle

Los Angeles Times Obit. Dec 23, 2019: : Ram Dass, part of the '60s psychedelic movement, dies at 88

New York Times Obit, Dec 23, 2019: Baba Ram Dass, Proponent of LSD Turned New Age Guru, Dies at 88
---
If you possess any souvenirs (program guides, tapes, or photos) or have a story about your experience with KRAB you are willing to share, please email archive@krabarchive.com