Return to KRAB Audio Archives main menu
The KRAB Archive
The Penultimate KRABgrass April 7, 1984
in memory of JJ Tiny Freeman
Tiny Freeman - Like a train whistle around the bend,
you can still hear him long after he's gone - June 13, 2013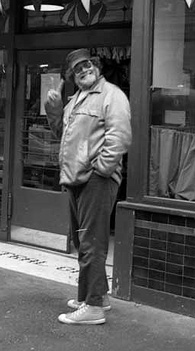 You can hear him play his music, including that opening theme, and give last call for the listening taverns.
This is almost the last KRABgrass, April 7, 1984. (There was one more 04/14/1984.) Five KRAB bluegrass producer-volunteers (Dennis Flannigan, Tiny Freeman, Bob Laclair, Shirley Oberg, and Marty Corey) played their music, and Tiny kibitzed all the while.

Listen now - in the KRAB audio player where you can play it all as a single stream (over 5 hours), or select individual segments
Photo and off-the-air recording courtesy Paul Dorpat
More of Tiny's programs on KRAB can be found at From Bluegrass to KRABgrass - American traditional music on KRAB
For a photo essay of Tiny getting physical, see Tiny Freeman - Concrete Buster - Feb 1969, a Photo Essay by Michael McKeag
Here's a T-Shirt from the Tiny Freeman for Congress Campaign in 1972
Here is A collection of articles appearing mostly in The Seattle Times featuring J J Tiny Freeman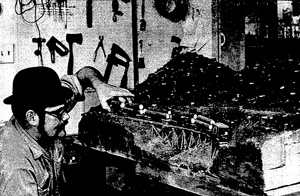 Bryan Johnson shares some photos and memories of Tiny
Mar 3, 1970 - Logging's Rich Past - Creating an exhibit at the Whatcom museum of history and industry, Michael and Steve Mckeag
Aug 8, 1970 - A Night With the Buoys - Searfaring, Glen Carter
May 9, 1971 - Galley Cooks can be dangerous to health, Glen Carter
Aug 4, 1971 - The Seattle Sea Farce, Glen Carter
Apr 4, 1971 - Coming Out, Paul Henderson
Sep 24, 1972 - Knock the Brock - Tiny runs for congress, John Bell
Oct 25, 1972 - Adams has easy tread on new turf - more on campaign, Shelby Gilje
Nov 2, 1972 - GOP Disowns Tiny, Richard W Larsen
Nov 8, 1972 - Last visit to campaign headquarters, John Hinterberger
Jun 22, 1973 - Cinderella Liberty - Tiny's brief Hollywood adventure, Paul Henderson
Dec 1, 1973 - Political Giant retires, John Hinterberger
Dec 3, 1973 - Back from the North - Return of the tugboatman, John Hinterberfger
Jul 17, 1976 - Tiny's into Fruit (stand), John Hinterberger
Feb 4, 1978 - Fat Tuesday, John Hinterberger
May 8, 1978 - More Fat Tuesday Walt Evans
Feb 6, 1986 - Mark Tiny's words - Tiny's passionate about Pioneer Square, Emmett Watson
May 25, 1990 - A Potourri - Tiny staying afloat , Rick Anderson
Jun 21, 2007 - Maybe big-living Tiny can bring character back, Susan Paynter in the Seattle Post Intelligencer

Dressed up with somewhere to go


Tiny's switch key from the
Snoqualmie Rail Museum

Photographs courtesy Mike Toennessen
James J. 'Tiny' Freeman: One of the reasons for the Paynter piece was that Tiny was moving back to Seattle after far too many years in rural Montana--he got a little tired of dealing with the Vet's Administration there about medical stuff. So there was a very nice fete in his honor in Dan Grinstead's machine shop--many old KRABbies, and others from Tiny's colorful past and present. He is indeed now back in Seattle, although essentially retired except for judging the annual tugboat races and a few other things. I'll alert him to this Crosscut inquiry--very big on the internet is Tiny, I get approximately 20 humorous e-mails from him a week, mostly forwards from what I suspect is a vast network of people who send him funny stuff--and perhaps he will respond. But as we all know, predicting what Tiny will do is always a haphazard thing. — G Palmer, Crosscut, Sat, Dec 1, 2007
And, a couple more photos of Tiny before Seattle and KRAB.
Here are two photos taken shortly before Tiny's arrival in Seattle. Is there anyone from the 84th Engineer Battalion, Company B, that can tell us about them?
| | |
| --- | --- |
| JJ Tiny Freeman (left front) | LeRoy Thompson and JJ Tiny Freeman |
---
If you possess any souvenirs (program guides, tapes, or photos) or have a story about your experience with KRAB you are willing to share, please email archive@krabarchive.com