Return to KRAB Audio Archives main menu
The KRAB Archive
Miscellaneous music programs - 1960s
Classical, Contemporary, Ethnic, Jazz, Electronic, Traditional, Blues, Baroque, Early
Go to KRAB music programming of the
Here you will find samples, some complete shows, many partial recordings, of music programs heard on KRAB, listed in rough chronological order. Where we have found multiple recordings of a series of programs, they have been placed in their own pages, which are accessible through the Audio Archives main menu.
Problems listening, or comments? Please let us know. E-mail archive@krabarchive.com
---
The KRAB Top 10 - Only to be heard on KRAB, over and over
What did you hear on KRAB, only on KRAB, that seemed to be played more frequently than necessary? Or maybe it just seemed that way. Here are some musical selections that I remember being very popular with volunteers and listeners alike.
Hey you! We are still waiting to hear from any of you that have memories surviving from listening to KRAB. Or did I just imagine all this? Nominate something you heard on KRAB that got stuck in your memory, that you believe to be "top ten" material. Remember, only heard on KRAB, and heard often. Write us at archive@krabarchive.com
Ketjak (Ketcak) - First scheduled on KRAB Nov 23, 1967 - "WE HAVE NO ART; EVERYTHING IS GENUINE. . . ", and again and again and again, including May 20, 1970 for a marathon with this description: "KETJAK: THE RAMAYANA MONKEY CHANT - A dance of exorcism recorded in Bali by David Lewiston. Traditionally, the chant is a re-enactment of the battle between Prince Rama and King Ravana, during which the good prince was saved by hordes of monkeys. We assure you this tale is not a parable of the KRAB financial situation, because that would make you subscribers the hordes of, uh . . . . ." - This is a short excerpt. [See Letters and Things Dec 9, 2018, to understand how Ketjak made it on to the list.]

An Avalanche for Pitchman, Prima-Donna, Player Piano, Percussionist, and Pre-Recorded Playback, by Lejaren Hiller (1968)

The Manhattan Transfer does the Java Jive - Gouda's Theme

John Cage and David Tudor: Indeterminacy - Story number 90 - No explanation necessary

The Crane, by Harry Partch, from the Twelve Intrusions (later reduced to eleven). These short works appeared on KRAB frequently. The earliest we can document Partch on KRAB was Apr 15, 1963 with Castor and Pollux in a concert of dance music sandwiched between Bugaku and two horos from Bulgaria.

Sundanese "Water Music" - In an ethnic music program from 1963, Bob Garfias mentions that KRAB has a sign-on theme. Why yes, of course. And the one he describes was immediately dripping through my head, Sundanese Water Music on a Folkways album. The sign-on themes changed at least as often as the person doing the morning show changed, and sometimes oftener. This one is a duet for suling and kecapi. The notes to the album were by Henry Cowell.

Whispered song in praise of a benefactor; performed on inanga and sung by Francois Muduga; 1967 (KRAB Jun 14, 1970)

Cosmic Love by Ralph Lundsten, from the album Olskog; 1970 (An electronic new-age interpretation of Serge Gainsbourgs popular and exceedingly self-indulgent J'Taime) (KRAB Jan 14, 1972)

Cantata Ich habe genug, by J S Bach; performed by Dietrich Fischer Dieskau ("Dishcloth" as he was known to his friends) [See also: Lorenzo in RALPH Magazine, and the BBC writes to Lorenzo and he writes back, and Johan Sebastian Bach and the Aliens]

Listen now: The KRAB Top 10
Point of clarification - As of today, the "Top 10" is only a top 9. Are there any former KRAB listeners in the audience with memories of what they could only hear on KRAB, but heard it, perhaps, a little too often?
---
NEW DEC 2018:

Deleted Records with Professor Jonathan Gallant - KRAB 1963-1967

DELETED AND FOREIGN RECORDS. J Gallant introduces several obscure compositions, including:
Big Little Willie Blind: The RNA Blues
G. D. Diasphoro: Concerto for Tabla Rasa
Little Mamma Big: My Baby's Done Gone to the NIMH
Sir Rawl Furbelow: The Faeries Twit Their Little Hornes
Russian (anon): The NKVD Fighting Song
When not chasing genes around a lab or commenting on the Greater Seattle organization's pursuit of significance, Professor Jonathan Gallant might be found hosting a program of LP's that had been abandoned by their publishers, but that he had rescued from various Seattle dustbins. On a couple of occasions the program was even titled "From the Dustbin". "Deleted Records" first aired Jan 4, 1963, a week before the first KRAB program guide appeared.
From Aug 1964 until Nov 1965 the program was hosted by Richard Frahm and the title changed to "Deleted and Foreign Records". When Jon returned he kept the name, with occasional variations.

The label and tape box appear to have become separated long ago, so we do not have a date for this particular recording.

Listen now - Deleted Records with Jonathan Gallant - KRAB 1963-1967 (57:05)
Recording courtesy Jack Straw Foundation, JSF M1510
---
NEW DEC 2018:

The Legends of the Ramayana as Sung in India, Thailand and Laos - KRAB 1963-1966

Another program for which broadcast information is missing*, but a tape recording was part of the KRAB ethnic music library. It is likely that the original recording was either loaned to KRAB by Robert Garfias or purchased as part of the original collection in 1963 or 1964. (Earlier this month we added "Ketjak" (a Balinese version of the "monkey chant") to the KRAB "Top Ten" (listener and KRAB staff musical favorites overplayed on KRAB). So Rama, Hanuman, and monkey heroes are on our mind.)

This was part 2 a 12 part series of radio programs produced by Alain Danielou of the French Far Eastern School of Oriental Studies for UNESCO. The musical examples are introduced by Robert Gladwin.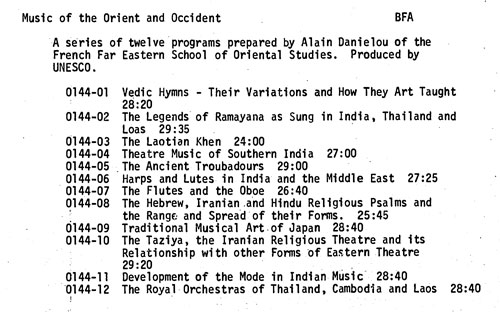 From a catalog listing of audio recordings in the Syracuse University Libraries, compiled in 1973 by George Abbott


Listen now - The Legends of the Ramayana as Sung in India, Thailand and Laos - KRAB 1963-1966 (30:33)
Recording courtesy John W Spellman, JWS0027
* We rely on program guides to confirm broadcast dates and other program details. Unfortunately, many of the earliest (1963-1966) program guides disappeared from KRAB's collection during the troubles the 1980s. Should you have any, please condsider sharing them with us so that digtal copies can be made and the content preserved. See "Wanted - KRAB Program Guides".
---
Music of Egypt from the Consulate of the United Arab Republic - KRAB 1964
In 1962 as KRAB was getting ready to go on the air, and then also during the first few years, Lorenzo, Jeremy and others sent letters out to embassies and consulates in the US, to United Nations member offices, and to radio broadcast systems overseas, requesting that they share recorded examples of their country's music, and spoken arts. The result was the occasional package with a one-time shipment that someone had scrabbled together, or sometimes KRAB made it on to a list, and there were regular shipments from Radio Nederland, Deutsche Welle, RAI, NHK, RSA, and others I can't remember.
I think there were six or maybe a dozen tapes that came from the consulate of the United Arab Republic. By the time they were sending material to us, the UAR was only Egypt. This is from two of the tapes - in my naive ignorance what I thought the best. You can judge for yourself. (Hekayet Shaab and Batal Al-Salam are phenomenal)
Note, the spellings (and translations) below are as found on the original tape labels, and not altered to conform to contemporary standards.
Program 1 (47:15)
Abdel-Halim Hafiz: Baad-Ein (It is too Late)
Abdel-Halim Hafiz: Abo Oyon Gariaa (Daring eyes)
Abdel-Halim Hafiz: Hekayet Shaab (The story of a Nation)
Om-Kolthoum: Batal Al-Salam (Hero of Peace)
Unidentified Egyptian sounds

Listen now - Music from the UAR, Program 1 - KRAB Feb 13, 1969
Program 2 (47:16)
Fayza Ahmed: Ya, Amma El-Amar Ala-El-Bab (Oh mother, my darling is by the door)
Mohamed Abdel-Wahab: Aziza
Mohamed Abdel-Wahab: Bent Al-Balad (Egyptian girl)
Mohamed Abdel-Wahab: Zina
Mohamed Abdel-Wahab: Balad Al-Mahbob (The home town of my beloved)
Om Kolthoum: two songs from "Rabaa El-Adawiea" (a very famous lady in Islam history)
Nagat el Saghira: Ariba Mansiah (Forgotten)
Unidentified Egyptian sounds

Listen now - Music from the UAR, Program 2 - KRAB Dec 26, 1964
Recordings collection of C Reinsch
Jul 23, 2014 - A former KRAB listener writes from Taipei regarding Program 2, "from 38:39 is not Arabic music, but South Indian". This is a mystery. The tape label says "Unidentified Egyptian sounds" (but has no timings), but it certainly sounds South Indian. Perhaps the tape onto which the original UAR program was copied had previously been used, and not properly erased.
---
Facade, An Entertainment, Dame Edith Sitwell and William Walton - KRAB Sep 29, 1964
FACADE with Dame Edith Sitwell. Miss Sitwell reads her poems with the original music of William Walton (written when he was 19). At the first performance of this work, in the early 20s, Noel Coward was so shocked that he left in the middle.
Click here to read the text of (some of) the poems. (LiederNet Archive)
A new biography of the avant garde poet Edith Sitwell is applauded by her great-nephew William Sitwell (The Telegraph)
Recorded off the air.


Listen now - Facade, An Entertainment, Dame Edith Sitwell and William Walton - KRAB Sep 29, 1964 (36:59)
Recording courtesy Linda and Leonard Good, LG00112
---
A Selection of Music Broadcast on KRAB 1965 - 1969
Recently we were loaned a number of tapes that may be dubs of recordings from the old KRAB archives, or may have been recorded over-the-air. We can't tell for sure. But the contents of the the recordings are without a doubt typical KRAB. Some have less than sparkling audio quality, and since the tape labels are sometimes not enlightening, only a sample of the tape is shared below.
If you would like to hear complete recordings with restored audio quality, you may be able to find them at Smithsonian Folkways.

Listen now - Open krabplayer to select what you want to hear
Amalia Rodrigues and the Fado - KRAB Mar 4, 1969 (4:29)

"Erros meus"

Bessie Smith, announced by Bob West (King Biscuit Time): Easy Rider,
Cake Walkin' Babies, Muddy Water (9:29)

Mississippi John Hurt - Cow Hooking Blues (3:34)

An excerpt from Ed Mignon's New Record Review (5:26)

Bobongo (song and dancing) by the Ekonda tribe of the Congo - KRAB May 28, 1966 (2:14)

Classical Oud Performed by Khamis El Fino - KRAB Feb 10, 1973 (13:44)

Om Kolthoom sings "Akoulak Ih-Aan EI-Shouk Ya-Habiby" ("How could I express my longing for you, my darling") - KRAB Mar 6, 1965 (30:41)

Lui Tsun Yuen - Chinese Classical Masterpieces for the Pipa and Chin - KRAB Aug 2, 1969 (14:22)

Russian Folk Music from commercial recordings collected by Robert Garfias (27:34)

Classical Indian Music from the UNESCO Collection - Svara Mandala, in mode Brindavani-Tilang played by Svami D.R. Parvatikar - KRAB Feb 23, 1971 (3:08)

South Indian Nagasvaram Music - Mamavasadavaraday performed by Karukurichi P. Arunachalam - KRAB Oct 30, 1967 (9:34) (Full piece is 17 min; only 9:34 is on the tape.)

Gagaku - Ranryo 0 (The Prince Lanling) and Etenraku (Ancient Chinese Court Music) - KRAB Nov 4, 1965 (25:40)

Gagaku Netori from Kagura Uta Suite (Shinto Ceremonial) - KRAB Nov 21, 1968

Evening Ceremony, Eiheiji Temple, Soto Zen service for the dead - KRAB Dec 25, 1967
Recordings courtesy Nancy Keith
---
"Can all you bongo-ists hear me out there?" - Three by Henry Jacobs, 1965
Beginning in the early 1950's, Henry Jacobs brought a sly wit and a kind of slapstick Zen to the production of electronic and experimental audio compositions. The forms and themes of these compositions, almost always manipulating sound with new uses of technology, include interview with fictitious characters, exploration of formats of educational radio programs about ethnic music, montage, sound effects, and social and philosophical commentary. Mix in a little Dada, and it became impossible for the listener to sort the seriously absurd from the absurdly serious.
There is something about Jacobs' productions that make me wonder what influence he may have had on a couple of other Bay area radio jokesters, Jim Coyle and Mal Sharpe, whom I used to listen to on KGO during the mid 1960's.

Listen now - Three by Henry Jacobs
Umdagumsubudu, KRAB Mar 3, 1965 (7:50)
Although this seems to have been later credited to Alan Watts, I recollect a 7" 45 floating around the doughnut shop with Umdagumsubudu on one side and with the credit to Henry Jacobs, and that is also how it was credited in program guide number 56.
Professor Irwin Corey interviewed by Henry Jacobs, KRAB Apr 20, 1965 (26:50)
Corey's rambling non-sequiturs were made for Jacobs' straight man. A re-mastered, and complete, version of the interview is available directly from Irwin Corey's web site. According to one source, if you visit New York, you may find him hawking CD's on the street. Be sure to get an autographed copy.
Recording collection of C Reinsch

La Bomba, a Mexican Dance, KRAB Sep 29, 1965 (31:40) - While many, if not most, of Jacobs' programs appeared first on KPFA, I cannot find any indication of La Bomba being broadcast anywhere except at KRAB. That it has not reappeared on any of the recent compilations makes me wonder if the master was destroyed in a 1995 fire. La Bomba was created somewhere between Dec 1963 and Sep 1965.
Recording courtesy Nancy Keith
If you are interested in hearing more of Henry Jacobs, take a look at John Whiting's web site where you will find a Conversation beween Whiting and Jacobs recorded in 1994 as well as of productions by Jacobs. There are also albums that have been re-released by Smithsonian Folkways and Important Records, and an article and interview at Smithsonian.
---
Steve Lalor and Group with a LIVE concert from the Doughnut Shop - KRAB Mar 12, 1965
Here is "Monte Curlew and the Rhythm Blossoms", with Steve Lalor, Danny O'Keefe, David Brooks, and Larry Van Over, and a bunch of others packed into the studio. It seems Lorenzo Milam engineered, wearing his engineer's cap (as pictured on the Richard AC Greene page. Lorenzo's scrawl is unmistakable on the label of tape 2. On Tape 3 David Cutler writes "Might be interesting as fill in place of records."
Tape 1 of 3 is missing, but what we have includes the following:

Looking Glass
After You're Gone (Hey baby)
Diamond Joe
Mean Mother Woman
?


Baby, What You Want Me To Do
The Look of Love
Steel Rail Blues
Parchman Farm (Devil Got My Woman)

Listen now - Steve Lalor and Group with a LIVE concert from the Doughnut Shop - KRAB Mar 12, 1965 (58:59)
Recording courtesy of the Jack Straw Foundation, JSF inv M0304 and M0305
---
Gagaku - Music of the Imperial Court of Japan - KRAB Nov 4, 1965
During the years Professor Robert Garfias was Music Director he permitted KRAB to make tape copies of LP's from his personal collection. I believe that he was the source of this recording. The KRAB copies sounded good enough, but since the phonograph album text was often not in English and the person writing the notes on the box likely not be conversant in the language used, the notes on the tape label lacked much substance.
The recording presented here may be from a three 12-inch Victor LP set titled "Gagaku Taikei – Kigaku Hen", although you would never know it from the tape label. The spellings of the titles on the tape label are different than those Garfias uses in his extensive treatise on the Tōgaku style of Japanese Court Music Music of a Thousand Autumns. Some other sources indicate these are interchangeable variants.
1 - The first short selection was labeled Hyō-jō Netori (Tuning in Hyō-jō)
The next 3 selections are each introduced on the album/tape with the title:

2 - Instrumental suite "Gojoraku" (The Five Virtues)
A - "Gojoraku-Jo" or "Goshōraku Jo" - Introduction

B - "Gojoraku-Ha" or "Goshōraku Ha" - Scattering

C - "Gojoraku-Kyu" or "Goshōraku Kyū" - Gathering and resolution

Listen now - Gagaku (26:13)
Recording collection of C Reinsch
---
Yokoku: Music of the Japanese Noh drama - KRAB Nov 13, 1965
Hagoromo

Miidera

Shishi

Listen now - Yokoku (31:16)
Recording collection of C Reinsch
---
Folk Music with Rolf Cahn presents Reverend Overstreet at The Cabale - Rec May 19, 1963; KRAB Dec 10, 1965
Folk Music: Rolf Cahn presents Reverend Louis Overstreet. KPFA
Well, the brief description above doesn't tell you much except it is "folk music". Rolf Cahn was a Jewish refugee from Nazi Germany who enlisted and served in the US Army during the war and also played and taught classical, flamenco, and folk guitar (there are classified ads in the KPFA folios for his teaching services). The Cabale, at 2504 San Pablo Avenue in Berkeley, was a folk club founded in late 1962 by Rolf Cahn, Debbie Green, Howard Ziehm, and Chandler A. Laughlin III. 
From Ernest Lowe: "Rolf did many folk, blues, and flamenco shows on KPFA in the early 60s, as well as a live series from his Berkeley club, The Cabal. I was his producer for most of this time."
Opening Jan 4, 1963, The Cabale continued, with eight name changes, into the early 1970's. Rolf Cahn appears in KPFA folios from at least 1949 to 1964, and in the summer of 1963 started doing live shows from The Cabale. This program was recorded at The Cabale the month before the live series started.
Rolf's shows were also carried on KRAB. Although most guides from 1963 and 1964 are missing, guide number 25, Dec 1963, describes "Folk Music with Rolf Cahn" as a "continuing series", and he is listed regularly from Nov 1965 until Apr 1966.
The schedule of the 1963 Monterey Folk Festival has Reverend Louis Overstreet and his four sons performing the afternnon of May 19, 1963. Later that night they did the show at The Cabale. Via email, Chris Strachwitz, founder of Arhoolie Records, writes "I recorded Rev. Overstreet at the Cabale where he played at Rolf's invitation - after his gig at the Monterey Folk Festival." Strachwitz had previously (Dec 1962) recorded Overstreet in Phoenix, AZ, and published portions of that session as Arhoolie's fourteenth release, F1014 - "An Evening with Rev Louis Overstreet".
Rolf Cahn passed away in 1994. For more about him, see Seve Terrell's "Rolf Cahn's Long Wild Song Winds to An End". Note: the link to the tape label (below, right) will also show you the cover of a June 1963 KPFA folio, with the announcement of the start of the live from The Cabale shows, and a photo of Rolf Cahn.
(I keep finding new connections between the players, performers, and others involved in these programs.) In 1964 Chris Strachwitz released another recording from The Cabale: "Mance Lipscomb, Live! at The Cabale". Rolf Cahn is mentioned in the liner notes, edited in 1999 for the CD version. Follow the link to chickenonaunicycle in the 2nd paragraph above, and you will find a schedule of concerts at The Cabale, and discover that many of the blues musicians that Bob West and the Seattle Folklore Society started bringing to Seattle in the mid to late 1960s, had been playing for years at The Cabale. . . . . This just keeps growing . . . . . See also this for more about folk culture in Berkeley of the 1960's, and watch how it morphs into KFAT.

The beginning of the program is lost, so the recording begins abruptly in mid-performance. Near the end, the final announcement is garbled, after which there is a recording of Hamza el Din playing two selections from his Vanguard album "Al Oud".

Listen now - Folk Music with Rolf Cahn presents Reverend Overstreet at The Cabale - Rec May 19, 1963; KRAB Dec 10, 1965 (48:30)
Recording courtesy Bob West Estate, BW0051
---
A Conversation With John Cage - KRAB Feb 23, 1966
The composer of sounds and spaces talks with Lorenzo Milam and Bill Holcomb of the UW School of Music
The earliest appearance of John Cage on KRAB that has been identified so far is April 11, 1963, just four months after KRAB went on the air. Over the next 22 years, Cage's explorations of sound (randomness, coincidence, silence, more silence) became regular features of KRAB's schedule. If KRAB had a "top-ten", Indeterminacy would have been near number one.
The exact date this was recorded is unknown, but sometime before February 23, 1966. This is the interview about which I have written elsewhere on the web site. I was pleased to discover that the tape box label confirmed my memory of the occasion. What I had forgotten was the

amount of cigarette smoke and ash that would fill the studio during and after a recording session. The label credits Lorenzo as the Producer. Unfortunately, someone added some background sounds to the tape, and they sometimes obscure the conversation.

Listen now - Composer John Cage in conversation (64:54)
Recording courtesy of the Jack Straw Foundation, JSF inv M1441
---
ISCM: Contemporary Concert - Recorded Apr 23, 1966, KRAB May 27, 1966
A concert on the occasion of a meeting of the International Society for Contemporary Music (ISCM) and the American Musicological Society in Seattle in 1966.
Transitoria, for clarinet and piano, by Terrance Kincaid (Michael Davenport, clarinet; Alastair Hood, piano)

Piano Sonata Op 1, 1909, by Alan Berg (Fay Bolcom, piano)

String Trio, by Alastair Hood (Dorothy Davenport, violin; Constance Whalen, viola; Lura Tuttle, cello)

Madrigal II, by Posseur (William Bolcom, harpsichord; Elizabeth Crooks, flute; Joanna Jenner, violin; Laura Tuttle, cello)

Concerto for Orchestra Op 24, by Webern (NW Chapter ISCM Chamber Ensemble, directed by Alastair Hood)

Aleatoric Study, by Stumpff (Alastair Hood, harpsichord; William Bolcom, piano; Joanna Jenner, violin; Elizabeth Crooks, flute; bar stools and fortune cookies)
Recorded at Piggott Hall, Seattle University, by Dave Calhoun.

Listen now - NW Chapter ISCM Chamber ensemble: Contemporary Concert - KRAB May 27, 1966 (41:03)
Recording courtesy of the Jack Straw Foundation, JSF inv M-0063
---
Education of a Record Collector with Ed Mignon - KRAB 1966
The Phantom (of the opera) Strikes Again. Ed Mignon hides in the wings with rapier drawn.
Between September 1964 and September 1966, Ed Mignon recorded about 25 programs, including reviews of new records, an interview of Julian Bream, commentary about music, and the series, "Education of a Record Collector".
Ed Mignon died January 17, 2012 in Tucson, where he had been living since retiring from the University of Washington. From the obituary published in the Seattle Times:
During the 1960s Mr. Mignon was employed by the Boeing Scientific Research Laboratory in Seattle. He left in 1966 to accept a fellowship for four years of study at the University of California, Berkeley, where he received a PhD in information science. While at Berkeley, he participated in research leading to the development of the Internet at Berkeley's Institute of Library Research. His research supervisor said the "the most intense, intelligent, and sensitive work came from the heart, head, and hands of Ed Mignon," a compliment Mr. Mignon valued above all others. Mr. Mignon later returned to Seattle and began his teaching career at the University of Washington, where he taught information science for more than 30 years.
After his retirement, he and his wife, Molly moved to Tucson, where Mr. Mignon became a friend of the Chandler Symphony Orchestra, writing a number of compositions performed by that ensemble, including "Frolic," which received its premier lastOctober, and "Optimistic Overture,"first performed in November, 2008. Another of his compositions, "A Short Symphony,"was performed by the Arizona Chamber Orchestra. Mr. Mignon continued composing music up to the time of his death.

So far two recordings of Ed's programs have been found. They are consectutive parts of a series he did on Opera. This first was recorded on July 17, 1966, sub-titled Opera #3 of 4, and described in the program guide with the above description.

Listen now - Education of a Record Collector, Opera Nbr 3 - KRAB Jul 17, 1966 (65:44)
* * * * *
Based on Mignon's comments at the beginning of this next recording, it was recorded Jul 31, 1966, and is number 4 in what was becoming a longer series than he had originally planned. In this episode he presents several singers, including Friedrich Schorr (1926), Lauritz Melchior (1941), Pol Plançon (1903), Lilli Lehmann (1905), Enrico Caruso (1920), and duets by Alma Gluck and Louise Homer (1920) and Beniamino Gigli and Giuseppe De Luca (1929). Unfortunately, we do not have guide number 93 (Jul 27 to Aug 10, 1966), so we do not know how the program was originally described.

Listen now - Education of a Record Collector, Opera Nbr 4 - KRAB Jul 31, 1966 (59:24)
* * * * *
NEW APR 2019: In this program Ed Mignon discusses Russian Song. We have been unable to identify the exact date of the orignial broadcast, but, assuming it is one in the Education of a Record Collector series, it would have been sometime in 1966.

Listen now - Education of a Record Collector, Russian Songs - KRAB 1966 (63:47)
At approx 9:55 minutes into part 1 of the program Ed introduces and then plays a recording of Moussorgsky's "Boredom", which we are certain is almost certainly the inspirational source of Tuli Kupferberg's "Nothing".
* * * * *
Jul 17 recording courtesy of the Jack Straw Foundation, JSF inv M1454; Jul 31 recording courtesy Saint Louis State Historical Society of Missouri (KDNA archive); "Russian Songs" is courtesy University of Maryland Special Collections and University Archives, collection of the National Federation of Community Broadcasters (NFCB) - umd-bcast-072150-0001 and 072151-0001
---
New Music for Solo Trombone Performed by Stuart Dempster (KPFA Aug 11, 1966) - KRAB Nov 18, 1966

Recital by San Francisco trombonist Stuart Dempster, with a personal repertoire of works of Austin, Cage, Erickson, Berio, Oliveros & Childs.
As you can see above, the description in the Guide did not provide a lot of detail. More information is available now: The program is announced by Charles Boone, a composer himself. The concert took place June 24, 1966 at the San Francisco Tape Music Center, which coincidently happened to be KPFA's San Francisco studio at 321 Divisadero Street.
At the time of this concert, Stuart Dempster was principal trombonist of the Oakland Symphony and a faculty member at the San Francisco Conservatory and San Francisco State College.
I have a vivid memory of playing the tape of this performance during my Friday night engineering shift. It is not a concert one would easily forget.

Listen now - New Music for Solo Trombone Performed by Stuart Dempster - KRAB Nov 18, 1966
Part 1 (62:50)
1 - Changes: In Open Style, for trombone and magnetic tape (1965) by Larry Austin;
2 - Solo, for sliding trombone (1957-58) by John Cage;
3 - Ricercar à 5 (1966) by Robert Erickson
Part 2 (41:09)
4 - Sequenza V, for solo trombone (1966) by Luciano Berio;
5 - Theater Piece, for trombone player, garden hoses, & tape (1966) by Pauline Oliveros and Elizabeth Harris;
6 - Sonata, for solo trombone by Barney Childs
This recording has been shared under a Creative Commons license by the Internet Archives, RADIOM, and the Pacifica Archives.
---
NEW DEC 2018:

Travelling [sic] Over the Underground - Love from J Lansman and P Sawyer - KRAB Feb 12, 1967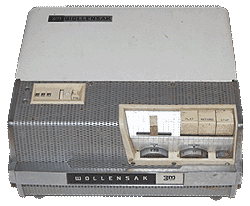 Before "Notes From The Underground with Tom Robbins", that would be months before, not minutes, there was another venture into altered state radio. It is hard to say when exactly this program of chaos and cacophony first broke through the aether (there are program guides and synapses missing, so it is difficult to reconstruct events), but we have a tape from near the beginning, if not during the big bang itself.
Is it the famous "Free Form Radio Program" that radio stations from New Jersey to Cicely, AK credit themselves as inventing? Is it "experimental radio"? Did the experiment produce reproducible results? It ran from about Feb to Apr 1967, and was "hosted", "orchestrated", or "wrangled" by Paul Sawyer and Jeremy Lansman, with the assistance of an unidentified but raucous and sometimes uncooperative crowd.
So, it is late at night . . . . . everyone is listening . . . . . no one is listening - except Leonard Good with his Wollensak tape recorder documenting another KRAB psychedelic hootenanny.
"Are you ready to hear it now?" (31:05)


Travelling Over the Underground - Love from J Lansman and P Sawyer - KRAB Feb 12, 1967 (104:49)
Recording courtesy Linda and Leonard Good, LG0004

---
Korean Temple Bells - KRAB Feb 17, 1967
A FESTIVAL OF BELLS. In commemoration of the signing of the Anglo-Korean Great Jurisprudence and Kayaguem Exchange Act of 1894, we will present three hours of Temple Bells of Korea, interspersed with nothing more alarming than silence. Believe me. [Program guide 107 listing for Feb 17, 1967]
Since starting the archive project, I had been hoping to find a copy of this program, so it is a strange coincidence that two copies should pop up this year, this one from Professor John W Spellman, and another in the NFCB collection at the University of Maryland.
The original set of records was acquired by KRAB Music Director Professor Robert Garfias during a 1966 tour of Asia. The notes on the tape box reveal that the recording was produced by the Oasis Records Co, Ltd of Seoul for the Korean Cultural Treasures Institute. During 90 minutes 79 bells are heard, with between 3 and 9 samples of each "bong".
For some reason, this program became immortalized in story, and like those word of mouth games in which the last person to hear it hears nothing like the first person said, the story got changed in the telling.
Lorenzo tells the funny version during the The Last Night founders and friends commemoration, but here is what really happened:  Someone (Lorenzo) scheduled the Korean Bells program for Feb 17 during my regular Friday night board operations and announcing shift.  He allotted 3 hours for it.  There were, maybe, six records in a fancy wooden box, but they were not full size, more like 10 inch EP's.  The instructions wrapped around the box indicated that the program should be taped for addition to the KRAB library.  OK, no problem.  There was little that I could tell the listeners about the program, as though there was a booklet, the text was in Korean and unintelligible to me. But each temple and its bell was announced on the records by a narrator with perfect pronunciation.
It did not take long to see that the records in the box were insufficient for three hours, in fact there was only enough for half that time.  Neither Garfias nor Milam could be reached by phone, so I was on my own to come up with appropriate "fill".  Since there was nothing like the bells in the KRAB library (which is why I was recording them), I chose the familiar path, and simply replayed the entire program.
As to the rumor that the tape may have been played in reverse:  That may have happened at some future date.  Full track tapes stored "tails out", if mounted on the tape deck without rewinding, would have played in reverse, and sound very peculiar.
Over the next few years the entire program, or parts thereof, were replayed a number of times: Jun 16, 1968, Apr 16, 1971, Apr 20, 1971, May 31, 1972, and Aug 31, 1973. After 1973 there is no further mention of the bells in the program guides. I suspect there may have been an additional broadcast sometime between Mar 1967 and Jun 1968, as the program is mentioned in the guide listing of Letters and Things May 14, 1968.
For full effect, turn the volume up.


Korean Temple Bells - KRAB Feb 17, 1967 - KRAB Feb 17, 1967 (90:21)
Recording courtesy John W Spellman, JWS0001
---
Night Into Day with Bob Fass and guests Arlo Guthrie and Jeff Outlaw - KRAB Jul 28, 1967
May 12, 1967 - 10:30pm - NIGHT INTO DAY. This program begins the regular playing of a series of late-night musicathons from WBAI in New York. They will include live and recorded music, as well as discussion and occasional interviews. The music is mostly folk and ethnic.
The above guide description announced the start of a new program on Friday nights, during my engineering and announcing shift. Sort of like a few other programs (Jean Shepherd and Martin William's "Scope of Jazz", for instance) KRAB received and rebroadcast, this one featuring Bob Fass with a variety of characters of late-night New York, including Marshall Efron, Bob Dylan, and Arlo Guthrie. "Night Into Day" was a one-hour selection of the best of the previous week's "Radio Unnameable" programs, with Bob Fass as anchorman.
On Jul 28, 1967 the guide announced: NIGHT INTO ETERNITY: Bob Fass, of late, sleepy WBAI fame, with Arlo Guthrie and Jeff Outlaw. Here Arlo plays piano and Jeff Outlaw guitar. Over the next six months it was played and played until the cows fled to Canada.
I kept a copy, as did Nancy Keith. The best parts of both are assembled here. And, there is another, the "Philadelphia" version ("Sam. Do you remember Sam?"). If there is enough interest, I might put it up.

Night Into Day with Bob Fass, Arlo Guthrie and Jeff Outlaw- Alice's Restaurant - The Multi-Colored Rainbow Roach Affair- KRAB Jul 28, 1967 (17:09)
Recording courtesy of Nancy Keith and C Reinsch, NK0003
---
Seattle Symphony Review with Geoffrey Hewings - Oct 10, 1967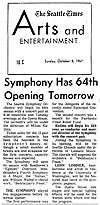 GEOFF HEWINGS comments on the Gala Opening of Oct. 9th, with "Belshazzar's Feast" and all.
Shortly after starting this web site, Geoffrey Hewings was amongst the first KRAB programmers I was able to locate via a web search: His KRAB volunteer work is mentioned in his CV. Between Mar 1967 and Jul 1969, he is heard in over fifty three programs: Commentaries; readings, discussions and occasional interviews about World Affairs; morning and afternoon classical music programs; a series of readings from "The English" by David Frost and Antony Jay; and reviews of Seattle Symphony concerts.
Here is Geoff's review of the opening concert of the Symphony's 1967-68 season.

Listen now - Seattle Symphony Review with Geoffrey Hewings - Oct 10, 1967 (9:38)
Recording courtesy Geoffrey Hewings
---
A 49 Hour Concert-Rally of the Music of South America-Mexico-Cuba-Guatamalan-Celebroffering to the Sun . . . - KRAB Dec 24 - 26, 1967
KRAB is throwing open her doors - coffee pot - & munchies . . . to visitors, friends, cohorts & other interested parties . . . anytime night, day or early early morning during the 24th, 25th & 26th.
A marathon without a pledge pitch, this is variously described as a 49 or 36 hour* concert of the music of South and Latin America. Robert Garfias had recently travelled to the southern western hemisphere, and returned with a crate of phonograph records. To expand the KRAB library's ethnic collection he offered to let KRAB make tape copies, and it seemed the most efficient method would include simultaneously putting them on the air.
*Note: If one adds up the scheduled hours, the actual duration of the concert would be 43 hours (17 hours on the 24th, 19 hours on the 25th, and 7 hours on the 26th.
The tape starts with a short excerpt of a Garfias ethnic music program about Mexican music. After an unidentified board op announcing the two selections of Argentinian dance music by Los Abalos Hermanos, there is a short break and the South American Marathon begins mid-sentence with Gary Wingert announcing. In addition to Gary, Dale Crouse is recognized, but another two board ops will be anonymous until they come forward and identify themselves. These tapes were recorded off air.

The broadcast schedule, consolidated from program guide nbr 129, can be found in the link on the right.

Listen now - 4.5 hours of 49 Hour Concert-Rally of the Music of South America-Mexico-Cuba-Guatamalan-Celebroffering to the Sun . . . - KRAB Dec 24 - 26, 1967 (272:06)
Recording courtesy Linda and Leonard Good, LG0010, and LG0013
---
The Service From the Seattle House of Refuge Church of God Pentecostal - KRAB Aug 18, 1968
Bishop R. J. Causey preaches and leads the congregation

Between Jun and Oct 1968, Sundays at 6:00pm KRAB would play a recording made of the morning's service. A similiar program was aired during 1975. On the right is a photograph of the House of Refuge Church of God Pentecostal, at 527 23rd Avenue, taken in the 1980s, and presented her courtesy of Martin Stallings. Click on the image for a larger, higher resolution, view. Today, the building is part of the Causey Learning Center.

Listen now - The Service From the Seattle House of Refuge Church of God Pentecostal - KRAB Aug 18, 1968 (59:07)
Click here for another KRAB broadcast from the House of Refuge, Dec 25, 1974
Recording courtesy Bob West, BW1028
---
Rock Service At Saint Mark's Episcopal Church - Rec May 26, 1968; KRAB Aug 24, 1968
An unusual and, according to reports, beautiful and moving church service. With the Seattle rock trio Uncle Henry and sermon by the Very Rev. John C. Leffler, Dean of St. Mark's. Liturgical material by Dick York, Vicar to the Bay Area underground.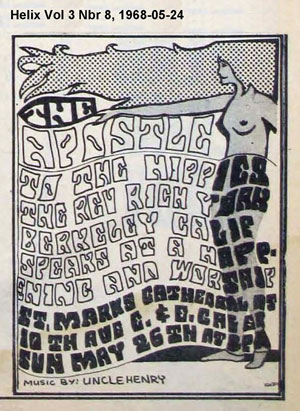 We only have 32 minutes of the 75 minute program scheduled for Aug 24, 1968. Missing is Reverend Richard York (The Apostle of the Hippies) and the sermon by Rev John C Leffler, Dean of St Mark's. The surviving portion of the Happening at Saint Mark's is a performance by the quartet* known as "Uncle Henry": Dick Stockton, guitar; Joe Mackie on bass and vocals; Marc Cutler, guitar; and Rich Condon, drums. Uncle Henry, from Bellingham, came to Seattle in Spring 1968 and appeared at a number of events including the ACLU Pot-test on Mar 24 (SFH** pg 93) and the Media Mash on Apr 21 (SFH** pg 96). The quartet played at the first two of St Mark's "Happenings in Worship" on May 26 ("The Apostle to the Hippies, Rev Richard York") and Jul 21 ("What's Your Hang-up?"), and band member Dick Stockton played alone at the third event on Sep 28 ("Blowing Your Mind").
Searching for "Uncle Henry" I found Keith Watkins writing in his blog in Feb 2012 about Richard L York:
"I heard York preach one time. He was guest at St. Mark's Episcopal Cathedral in Seattle for a weekend in June 1968 while I was on leave in that city. On Sunday evening he led a "Happening in Worship" in the cathedral stuffed so full that people were even sitting on the chancel steps. Presiding was the 68-year-old dean of the cathedral, and the music was provided by a group named "Uncle Henry." The Order for Evening Prayer was followed, with York, in paisley vestments preaching a breezy sermon summarizing classic Christian theology with a rather soft edge. On Tuesday night immediately following Bobby Kennedy was assassinated in Los Angeles." (https://keithwatkinshistorian.wordpress.com/2012/01/ - see comments)
Click here for an "interview" of Uncle Henry in Helix.
Click here for an article about Rev Richard L York in the Seattle Times.
Click here for Seattle Times Religion Editor Ray Ruppert's article about Saint Mark's Cathedral's 1968 youth outreach effort.


Listen now - Rock Service (Uncle Henry) at St Marks Episcopal Church - KRAB Aug 24, 1968 (32:02)
* Shortly after this was posted Dick Stockton sent a message, saying that regardless of the Helix article, the tape label, and the listing in the program guide, Uncle Henry was a quartet, not a trio, and that the fourth member was Joe Mackie on bass and vocals.
**SFH = (Split Fountain Hieroglyphics, Scott McDougall)
Thanks to Tim Leffler, Glen Beebe, Dick Stockton, and Robert Force
Recording courtesy Jack Straw Foundation, M1529
---
Dr Fred Exner Plays Some Jazz - KRAB Nov 29, 1968 or Nov 28, 1969
COMMENTARY: FB Exner
Dr Frederick B Exner was a regular commentator on alternate Fridays through the 1960's. Superficially he contrasted radically from the other Friday night commentator, Frank Krasnowsky, but there was more to both of them than just their political affiliations. Exner was by profession a radiologist, and spoke often about the dangers of fluoridated water. His other commentaries typically reflected a kind of conservatism not currently in vogue. Searching the Seattle Times, we found a series of articles (click here) relating to the appearance of an evangelist at several public schools in Seattle. Exner objected to two schools holding assemblies at which the evangelist made comments that the "Emergency Committee for Religious Freedom" (headquartered at Exner's office in the Medical Dental Building) thought were hateful (in today's language contained "hate speech"). At a hearing about a proposed bill to limit air pollution Exner was concerned that the bill did not address "invisible" gaseous pollutants. I remember him speaking about the dangers of interrupting the flow of too many rivers with hydroelectric dams.
In the mid-1940s he had a small recording company, Exner Record (click here), and produced several classic jazz records. Despite releasing only nine 78 RPM records, Exner was described by the Seattle Times (Nov 9, 1947) as "Seattle's No 1 jazz enthusiast". Among the performers listed on Exner's record label is Lowell Richards playing tuba in the "Rainy City Jazz Band" (click here) on 5 releases (1947). Years later Lowell would be Secretary of AFM Local 76 and producer of KRAB's first jazz program, "Jazz Now" (1963-1970). Perhaps it was Lowell who suggested to Lorenzo that Exner would be good for a commentary.
Also appearing on the record labels are two addresses. The first was 509 Olive, which, as noted above, was the Medical Dental Building where Dr Exner had his office. The second address was 1320 Fifth Ave, since 1941 the location of "The Record Shop" owned by Mrs Elva Whitefield, and staffed by daughter Miss Esther Whitefied (click here), and the place to pick up a copy of the Rainy City Jazz Band's latest. At some point after 1965 the address of The Record Shop changed to 1330 Fifth Ave, and then John Erling, Jack Graves, John Collins, Charlotte Brechemin, and Mina Brechemin Person all took a turn as owner. Sometime after 1975 it moved from the Skinner Building to the Rainier Bank Tower Concourse. And in 1989 "after nearly 50 years as one of the region's most respected retailers of recorded sound" it closed (Melinda Bargreen in the Seattle Times Jun 15, 1989).
My curiosity about the addresses on Exner's 78's led me to The Record Shop at 1320 Fifth Avenue, and to the discovery of the three women who built a record business on Fifth Avenue, that, fifty years later, was mourned in its passing. And yet, in the articles about the passing of Fifth Avenue Records, Charlotte Brechemin and Mina Brechemin Person, there is no mention of the Whitefields. Like so many other stories, it is the final act that gets remembered, but certainly in this case the first act also needs to be respected: The work of a divorced mother and her daughter opening a business just a month before Pearl Harbor, one that eventually became an important source of recorded music in Seattle.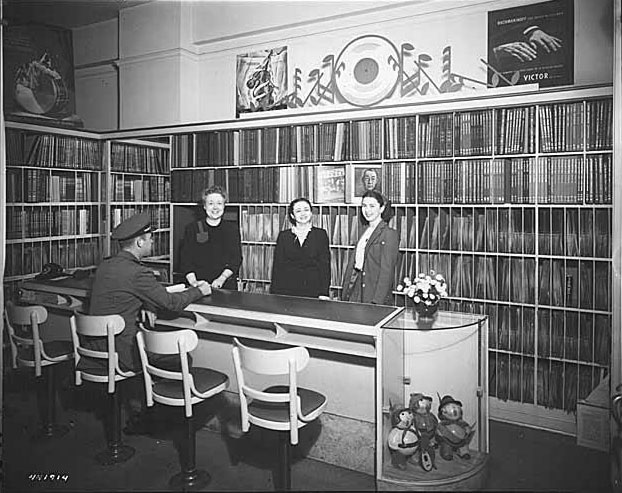 The Record Shop 1944 - 1320 Fifth Avenue
Elva M Whitefield (left); Betty Cumming (center); Esther L Whitefield (right)
Photo courtesy, MOHAI, PEMCO Webster & Stevens Collection, 1983.10.15126.1
Sometimes for his KRAB commentary Dr Exner would take a break from his favorite subject, fluoridation, bring some of his 78 RPM records up to the station and talk about music and musicians.
This recording comes from the NFCB collection at the University of Maryland. On either the tape box or in NFCB program offering catalogs archive staff appear to have found this program described as Exner's "Thanksgiving commentary". Aligning Exner's scheduled commentaries (on alternate Fridays) with Thanksgiving we were able to find only two possible dates for it's original airing: either Nov 29, 1968 or Nov 28, 1969.

Listen now - Dr Fred Exner Plays Some Jazz - KRAB Nov 29, 1968 or Nov 28, 1969 (26:32)

Recordings courtesy University of Maryland Special Collections and University Archives, collection of the National Federation of Community Broadcasters (NFCB) - umd-bcast-072212-0001
---
Go to KRAB music programming of the
---
If you possess any souvenirs (program guides, tapes, or photos) or have a story about your experience with KRAB you are willing to share, please email archive@krabarchive.com