Return to KRAB Audio Archives main menu
The KRAB Archive
Northwest Regional Folklife and Other Festivals
KRAB's first Folklife Festival broadcast was in 1974, two years after the first festival. I suspect it was Phil Williams' idea to broadcast the festival. He was on the KRAB board then as well, of course, of the Seattle Folklore Society. The Jun 1974 program guide contains this note:
As of this writing, half way through Memorial Day weekend, KRAB's live coverage of the 3rd Annual Northwest Regional Folklife Festival appears to be a complete success. In the 12 years of its existence, KRAB has never before engaged in a production of this dimension: technically as elaborate and sophisticated, and programmatically with such spontaneity and, such high a quality. By the time Monday night rolls around we should have brought to you at least 30 hours of live music from at least 50 different performers. This has been an intensive training program and learning experience for us here at the station; I hope you've enjoyed it as much as we. In the coming months you will hear many more live programs like this last one. I would like to thank all those (at least 25 different people participated throughout the weekend) who have donated time and energy to make the Folklife Festival broadcasts possible.
In 1977 Phil and Vivian Williams' record company Voyager, released an album sampling the music from that year's festival. In the liner notes Allan Swensson, festival Coordinator, wrote "Sponsors of Northwest Regional Folklife Festival include the City of Seattle, Seattle Center Department; the Pacific NW Region, National Park Service; and the Seattle Folklore Society. KRAB Radio, a noncommercial listener-supported station, has been a major contributor since 1975*. This first Folklife Festival Record, made from recordings of the 1977 KRAB Radio broadcasts, is a sample of the diversity and exuberance of traditional music in the Pacific Northwest. Even if you miss your favorite kind of music on this album, you'll find it at the festival."
*Allan seemed to have forgotten KRAB was also there in 1974.
If you should have photographs of KRAB at any of the Folklife Festivals, of memories your are willing to share, please contact us.
---
---
Northwest Regional Folklife Festival 1974 - KRAB May 30, 1974
Playing original material, Robert Rohde on guitar and Steve Kinzie on guitar and banjo.
Part 1 in the Playhouse (41:16)
Part 2 on the KRAB stage (19:45)
Steve Kinzie can be found in Discogs and bandcamp
1974 was KRAB's first broadcast of the Folklife Festival. So far this is the only recording we have found from that year. No one has yet come forward with photographs.

In addition to the KRAB stage, the mixer for switching from stage to stage, and the announce microphone were also in Alki Room, all set up on folding tables, with the wiring within easy reach of the dozens of Folklife participant children. I put up a sign: "Danger Red Ants" which started an endless debate of "I don't see any", "How big are they?", "Its a joke", "Why?".

Listen now - Northwest Regional Folklife Festival 1974 - KRAB - May 30, 1974 (61:01)
Recording courtesy Jack Straw Foundation, M0515
---
Northwest Regional Folklife Festival 1975 - KRAB May 26, 1975

Listen now - John Hendricks at Folklife Festival 1975 (12:37)
In 1975, for three days and more than 30 hours, for the second time, KRAB broadcast live from the Northwest Regional Folklife Festival on the Seattle Center grounds. Phil Andrus served as artistic director, selecting and coordinating artists, as we switched between six (?) stages, including KRAB's own stage in the "Alki Room". This was a very big deal for KRAB. Hard to believe we have no photographs.
This short recording (05/26/1975) is of John Hendricks, a Portland guitarist who, according to the tape label (right), played with the "Fly-By-Night Jass Band". He also performed with the "PH Phactor Jug Band", playing Mandolin, Mandola, Banjo, Guitar, Kazoo, Jug, and Vocals. The announcer introducing Hendricks is Phil Bannon, a long-time KRAB volunteer engineer and announcer.
Recording courtesy Robert Weppner
---
10th San Diego Folk Festival, broadcast live on Public Radio West and KRAB - Apr 24, 1976
".....and the women will continue." "I don't know if there are any available seats here in Montezuma Hall."
1975, 1976 and 1977 were big years for folk festivals, and radio joined up with Folk Festival USA - live broadcasts from festivals all over the country. This one is the Saturday night concert from San Diego. Dennis's notes insist that it was broadcast live on KRAB Apr 24, 1976, but it is not listed in the program guide. Perhaps the evening's programming was pre-empted. (In the Seattle Times "Tempo" published Friday Apr 23rd it says the concert would be "broadcast live tonight", which would have been a pretty good trick, since it didn't happen until Saturday.)
The performers include members of Mike Seeger's traveling "1976 American Old Time Music Festival (AOTMF)": Lily May Ledford, The Balfa Brothers with Marc Savoy, and John Jackson. On Apr 3rd AOTMF did a benefit for the Seattle Folklore Society and KRAB at the Masonic Temple. In July KPFK broadcast a series of programs they produced from this festival, and featured photographs by Richard Hammond. Here he captured this portrait of Napoleon Strickland (fife) and Othar Turner's daughter, Bernice (drum):
Here's a list of what we've got: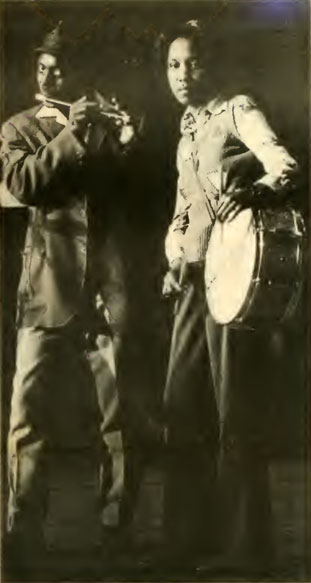 George Winston
Othar Turner with the Rising Sun Fife and Drum Band
John Jackson
Lily May Ledford, sometimes joined by Mike Seeger.
The Balfa Brothers with Marc Savoy
More from Othar Turner with the Rising Sun Fife and Drum Band
Mike Seeger and "the Group"
Hoosier Hot Shots
Ed Lowe and Tom Sauber
The Gypsy Gyppo String Band
The Mostly Sisters
Wilbur Ball and Cliff Carlyle, an interview
Hoosier Hot Shots, an interview

Listen now - The 10th San Diego Folk Festival, broadcast live on Public Radio West and KRAB - Apr 24, 1976 (150:41)
Recording Courtesy Dennis Flannigan, DF0225, DF0226, DF0227



---
Northwest Regional Folklife Festival - KRAB May 24-26, 1975 or May 29-31, 1976
We do not know the exact date of this recording. Is there anyone that can tell us whether it was 1975 or 76?
Here's what we've got, with Leila Gorbman and Phil Bannon making occasional announcing appearances.
Mark and Michelle O'Connor and The Tennesseans (Hank English, guitar) (24:24)

Curly Creek String Band with Mark O'Connor (Janice Maddy, guitar; Roger Maddy, mandolin; Larry Edwards, bass) (41:54)

Frank Ferrel introduces and plays a recording of an Old Time Fiddle Contest originally made by Benny Thomasson in Gilmore, Texas, circa 1955-58. Frank might have broadcast this on his KRAB program, at that time called "Country Fiddling" (33:31)

A brief interlude with dulcimer players Robert Force and Albert D'Ossche (5:42)

Some Scandinavian fiddling (Barbara Lamb?) (13:14)

The Tall Timber String Band (Vivian Williams, Phil Williams, Dick Marvin, and Darrell McMichaels) joined by Joe Pancerezwski (52:48)

The Trio (Stan Guernsy, Thelma McKibbon, Mac McKibbon) (31:22)

The Balalaika Trio (5:58)

Listen now - Northwest Regional Folklife Festival - KRAB 1975 or 1976 (208:43)
Recording courtesy Dennis Flannigan, DF0246

---
Northwest Regional Folklife Festival 1976 - KRAB May 29, 1976
Most of this tape seems to have originated at KRAB folklife central, the Alki Room. The technical quality is a little unfortunate, with some distorting over modulation and microphones not able to handle voices trying to be heard above the crowd, but it is worth a listen anyway. It is split into five clips that can be played one at a time, or as a continuous stream.
1 - Irish American String Band: Mark Graham, Frank Ferrel, and Mike Saunders (29:44)
Juliette Delany; Kesh Jig?; Morman Brave; Medley: Maid Behind the Bar, Sheman's Reel, The Cookies; ?; Bee's Wing Hornpipe; The Galoway Races; Blackberry Blossoms; Chicken on a Raft
Introduced by KRAB's Leila Gorbman
2 - Mark O'Connor with Custer's Grass Band: Cris Plummer, banjo; Dave Hackliff, bass; Bob Asberry, guitar; Les Panther, mandolin; Mark O'Connor, fiddle, guitar (30:46)
Huckleberry Hornpipe; Don't This Road Look Rough and Rocky; Kentucky Mandolin; I'm Just a Used to be to You; Alabama Jubilee; I'm Losin' You; Orange Blossom Special; Sally Goodin'
3 - Washington State Fiddlers' Association 1 (30:00)
Floyd Benton: Rag Time Annie
Tall Timber (Vivian and Phil Williams, and ?): Rabbit in the Log; ?; Come Back Little Pal
Art Erickson, harmonica: Country Roads; Cattle Call
Band from Mount Vernon?: How Far is Heaven; ?
Clarence Norberg, fiddle: Leather Britches; Red Apple Rag
Joey Hanson: Blackbery Blossom
4 - Washington State Fiddlers' Association 2 (47:31)
Barbara Lamb and the Tennesseans(?): Uncle Pen, Send me the Pillow that you Dream On
Mac and Thelma McKibbon
Mark O'Connor
Wenatchee?
Larry Chase and family
Al from Idaho
Archie Clevins
Keny Brand
Jim Snyder
Walter Saint George
Mike Plout ?
5 - Mark O'Connor with the Curly Creek String Band (36:43)
Begins, as the equipment is changed, with a bit of banter between two KRAB hosts, Molly (Mettler?) and Phil Bannon.
You All Come; Rock, Salt and Nails; I Saw the Light; Bluegrass Breakdown; I Couldn't Believe it Was True; Battle Hymn of the Republic; Keep on the Sunnyside; Katy Dear; Late Last Night; I'll be there Someday; There's no Hidin' Place Down Here

Listen now - Northwest Regional Folklife Festival May 29, 1976 (2:54:43)

If you have any photos of KRAB at the Folklife Festival or stories to tell, please consider sharing (send us an email).
Recording from the collection of Dennis Flannigan, DF0255

---
Northwest Regional Folklife Festival 1977 - KRAB May 30, 1977
From a Playhouse concert, perhaps.
Baby Gramps with "Diddy Wah Diddy", "Rag Time Millionaire", "Yas Yas Yas", and "Teddy Bear's Picnic"
Robert Rohde with "I don't pay those low down blues no dues today", "Down by the banks of the Ohio", "Stay home in bed and sleep all day", and "Going down to Washington (state)"


Listen now - Northwest Regional Folklife Festival - KRAB May 30, 1977 (38:17)
Recording courtesy Dennis Flannigan, DF1015

---
Northwest Regional Folklife Festival 1979 - KRAB May 28, 1979
This was the 6th year that KRAB broadcast from the Folklife Festival live, starting with a 3 hour concert on Friday, followed by 3 days of 10 hours each. This tape is from the last day, Monday the 28th.
The KRAB hosts were Molly Mettler, a Charles or Charlie ?, and Matt Holmes at the Flag Plaza Pavilion; Gouda Cremora at the Liars Contest; and Leila Gorbman wrapping it up back at the Flag Plaza.
From the Flag Plaza Pavilion previously occupied by the relics of King Tut

Buckdancers' Choice (11:37)
Joanna Cazden (31:14)
Hurricane Ridge Runners (28:17)
Curly Creek String Band with Steve and Maureen from Oregon (26:23)
Mike Lewis (28:34)
Round Town Girls (30:42)
From the Playhouse
Mike and Molly fill some time (19:41)
The Liars Contest - Judging the contest are Jef Jaisun, Michael J Shadow, and Claudine La France (72:10)
Back to the Flag Plaza Pavilion
May Thompson Bell (13:52)
The Tennessans (28:02)
Tom Lindsay (16:53)
Apple Blossom Ramblers (31:49)

Listen now - Northwest Regional Folklife Festival - KRAB May 28, 1979 (5hr, 37min)
Recording courtesy Dennis Flannigan, DF0287

---
American Fiddle Tunes Festival in Port Townsend - Jul 2 to 4, 1981
This appears to be the last of the American Fiddle Tunes Festivals to be broadcast on KRAB, though exactly when is uncertain - During Dennis Flannigan's KRABgrass show perhaps? The host announcer sounds an awful lot like Frank Ferrel. Is that you, Frank?
Heard here are:
Joe Pancerzweski with Sandy Bradley (33:19)
The Harmony Sisters: Alice Gerrard, Jeannie McCleary, Irene Herman (38:12)
Alan Block with Nancy McDowell (41:10)
The Hurricane Ridge Runners: Jerry Galleher, Mark Graham, Paul Kotapsh, and Armand Barnett (45:39)

Listen now - American Fiddle Tunes Festival in Port Townsend - Jul 2 to 4, 1981 (158:20)
Recording courtesy Dennis Flannigan, DF1011

---
Updated Mar 2018:

Northwest Regional Folklife Festival 1982 - May 28 to 31, 1982

By Memorial Day weekend, the Northwest Regional Folklife Festival will bring to the Seattle Center dancers, craftspeople, singers and musicians by the hundreds, and one solitary radio station -- KRAB. For the seventh or eighth or sixth or ninth time (we all remember differently, but "for sure"), KRAB will be spreading the festivity of Folklife weekend to the edges and corners of the Pacific Northwest, through some thirty-six hours of live broadcasting. Expect to hear bluegrass banjos and old-time fiddles, roughedged blues arid graceful caeli tunes, songs old and new, sounds from next door and from the world round. Should you come to the Folklife Festival in, person, we hope you will visit the KRAB stage in the Flag Plaza Pavilion. And when you are loafing at home, cruising in your car, weeding your petunia bed or swatting flies in your kitchen, you can be at the Folklife Festival then, too, front row center. Tune in 8:00 p.m. till 11:00 pm on May 22nd and throughout the long weekend: 12:00 noon to 11:00 p.m. on Saturday, Sunday and Monday.

So far we've found audio from the Sunday and Monday broadcasts. There's a little distortion here and there, particularly in one of Baby Gramps' numbers, but for the most part listenable. Performing are the following
Sunday May 30, 1982

From the KRAB stage in the Flag Plaza Pavilion (Doris Brevoort and John Jay announcing)

The Hurricane Ridgerunners (31:55)
Galanica - Linda Capeluto Assouline (35:28)
Larry Hanks and Laura Smith (38:46)
Cliff Perry and Richard Scholtz (37:51)
Chrissie and Roy (29:32)

(Tiny Freeman and Gary Bannister announcing)
Baby Gramps (43:20)
Dumisani Maraire Marimba Ensemble (52:06)
Bill Moeller as Mark Twain (15:54)
J.W. McClure and Sam Morgan (29:20)

(Susan Madden (KBCS) and John Lindemann announcing)
Sons of the Profits (24:44)
Bonnie Carol and Mark Nelson (29:13)
Magical Strings - Philip and Pam Boulding (33:47)
Frosty Mountain String Band (27:21)
Shortbread (32:33)

From the Playhouse (Katherine Bates announcing)

Kukrudu (38:26)
Almandina (48:24)
Hester Street Klezmer Band (31:16)
Ruzice (37:29)
Dumisani Maraire Marimba Ensemble (64:44)

Returns to the KRAB studios: Kathryn Taylor with The Music Room (14:38)

Monday May 31, 1982

From the KRAB stage in the Flag Plaza Pavilion
(Paul Stanbery and Mary Wanner announcing)

Rural Delivery (23:14)
RSVP Windjammers (26:21)
Cascade Mountaineers (31:51)
Laurie Brown and Rob Macintosh (33:29)
Cheap Grass (28:58)
Down Home Gospel (28:42)

From the Playhouse (Robert Rohde announcing)

Linda Capeluto (23:10)
Andy and Josh Blyth (31:05)
Bryan Freeman (28:55)
Tattoo (28:17)
Continuum (22:33)
Motherlode (26:44)
Baby Gramps (20:46)
Robert Rohde (6:34)

Phil Andrus signs off from the Seattle Center

Listen now - Northwest Regional Folklife Festival 1982 - KRAB - Sunday May 30, 1982 (696:52)

Listen now - Northwest Regional Folklife Festival 1982 - KRAB - Monday May 31, 1982 (365:41)
Recordings courtesy Dennis Flannigan, DF1272 and DF1012

---
If you possess any souvenirs (program guides, tapes, or photos) or have a story about your experience with KRAB you are willing to share, please email archive@krabarchive.com